Hall of Fame reveals cap selections for plaques of 2014 inductees
The Hall of Fame has revealed the logos that will be on the caps in the plaques of the six inductees in 2014, and two of them (Tony La Russa and Greg Maddux) will feature blank logos.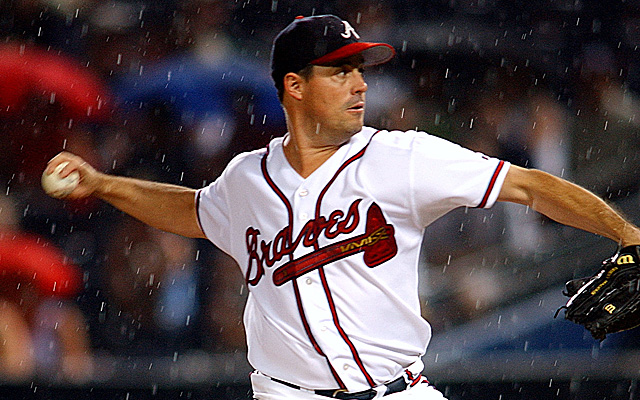 Thursday, the Baseball Hall of Fame announced the cap selections for the plaques of 2014 inductees Greg Maddux, Frank Thomas, Tom Glavine, Tony La Russa, Joe Torre and Bobby Cox.
Unsurprisingly, Cox and Glavine will be wearing Braves caps on their respective plaques.
Also obvious was the selection of Thomas sporting a White Sox hat. Torre gets a Yankees hat, which isn't terribly surprising considering he was selected as a manager, not a player.
The other two -- La Russa and Maddux -- are going to get plaques with blank caps.
Here's the rationale, via the Hall of Fame's official website.
"The Museum staff works with each inductee by suggesting an appropriate logo option, or no logo at all," said Jeff Idelson, President of the National Baseball Hall of Fame and Museum. "For those whose most compelling contributions clearly took place with one team, a logo makes sense. For those whose careers were built significantly among multiple teams, not having a team logo is equally acceptable. Regardless of the selection, a Hall of Famer belong to every team for which he played or managed, as well as every fan who followed his career."
La Russa managed the White Sox for eight seasons, the Athletics for 10 years and the Cardinals for his final 16 seasons. He won three pennants and a World Series with the A's while taking home three pennants and two World Series in St. Louis. He won manager of the year twice in Oakland and once in St. Louis. Not choosing between the A's and Cardinals make some sense here.
Maddux spent parts of 10 seasons with the Cubs and 11 with the Braves, but his numbers are substantially different as most of his prime came in Atlanta. Here are his numbers with each franchise side by side:
Braves: 194-88, 2.63 ERA, 163 ERA+, 1.05 WHIP, three Cy Youngs
Cubs: 133-112, 3.61 ERA, 112 ERA+, 1.25 WHIP, one Cy Young
It seems logical to say that Maddux should be wearing a Braves cap and that the plaque itself could mention his involvement with the Cubs. But here is Maddux's statement:
"My wife Kathy and I grew up in baseball in Chicago, and then we had just an amazing experience in Atlanta with the Braves. It's impossible for me to choose one of those teams for my Hall of Fame plaque, as the fans of both clubs in each of those cities were so wonderful. I can't think of having my Hall of Fame induction without support of both of those fan bases, so, for that reason, the cap on my Hall of Fame plaque will not feature a logo."
Fair enough. I wouldn't argue with my all-time favorite player, so rock that blank cap, Greg's plaque.
The Tigers essentially fired Brad Ausmus on Friday, but things are going to be ugly for a...

The club made the announcement on Friday

Plus the Tigers will make a change in the dugout and all of Friday's action
The Rockies are clinging to the second NL wild card spot at the moment

Plus Matt Olson and Kevin Kiermaier heroics, a look at Zack Greinke's dominance and more

Plus the Indians are now 27-1 in their last 28 games. Here is everything you need to know from...