In Arizona, gritty is good, and Upton may not have been gritty enough
Why would the Diamondbacks trade a 25-year-old All-Star? If you guessed that Justin Upton just may not have been gritty enough for the tastes of Diamondbacks management, you might well be onto something. General manager Kevin Towers admits that he and manager Kirk Gibson want a gritty-type team.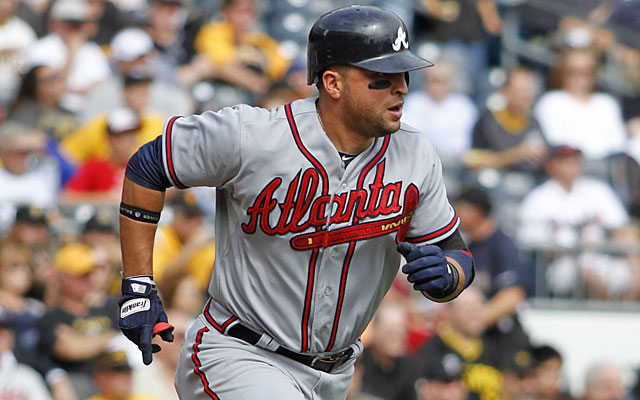 Perhaps Martin Prado fits in better with the kind of 'gritty' players the Diamondbacks want. (Getty Images)
The Diamondbacks like gritty.
Kirk Gibson-type gritty.
"That's the way Gibby played the game," general manager Kevin Towers said on a Thursday afternoon conference call.
And although Towers stopped short of saying the Diamondbacks didn't consider Justin Upton "gritty" enough, he never used that exact word as he praised Upton on the day that he finally traded him away.
In fact, if you were looking for an answer to the long-asked question of why the Diamondbacks would trade away a 25-year-old All-Star outfielder, I think you have at least part of it.
"That's how we won in 2011," Towers said. "Justin was a part of that team. We kind of like that gritty, hard-nosed player. I'm not saying Justin isn't that type."
But he wasn't exactly saying Upton was that kind of player, either.
Towers suggested that although he thought Upton played hard, his style may not have always made that clear to people watching. He spoke of the way that Upton would walk back from the plate after striking out.
And he suggested that the players whom the Diamondbacks received in Thursday's deal, including Martin Prado but also some of the minor-league prospects, were gritty-type guys.
Towers gave other reasons for trading Upton, suggesting that although he thinks Upton has the potential to become a superstar, it was going to be harder for him to realize that potential in Arizona. Because Upton came up to the Diamondbacks at age 19 and had success at a young age, Towers thinks there was more pressure on him there than there will be with the Braves, where he won't come in as the face of the franchise.
Even with all that, Towers insisted again that he wasn't as determined to trade Upton as it seemed. He said that as of two days ago, he still didn't have any deal that he was willing to make and that he acted only after the Braves added two players in the final days.
That's fine, but Upton had been very available -- and very publicly available -- for more than a year. Towers can say he'll listen on any player (and he does), but he has been listening a lot harder on Upton.
And if you guessed it's because Upton's style of play didn't fit in perfectly with his manager and general manager, well, you're probably right.
Does the Jackson signing mean the Giants are out on Lorenzo Cain?

Acuna edged out Shohei Ohtani and Vladimir Guerrero Jr.

There's no reason to run over the cases for and against Bonds, so let's have fun instead
The coveted right-hander would certainly be a fit in Milwaukee

We rate the best mustaches from random baseball cards because, why not?

Colon wants to break a Dennis Martinez record