Looking at Slammin' Sammy Sosa's Hall of Fame credentials
Sammy Sosa, one of the most prolific home run hitters in baseball history, is eligible for the Hall of Fame for the second time this year. Here is his case.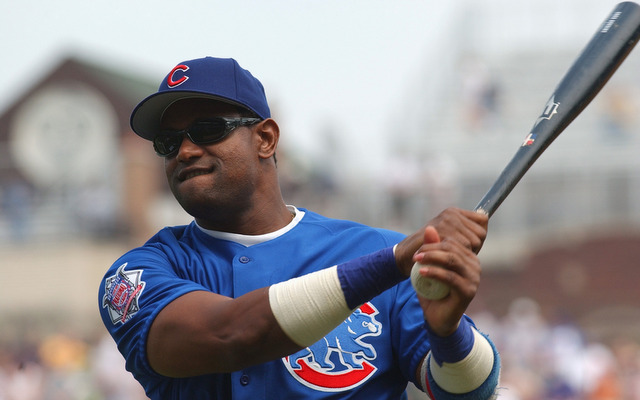 Hall of Fame cases: Luis Gonzalez | Moises Alou | Lee Smith | Fred McGriff | Don Mattingly | Jack Morris | Rafael Palmeiro
The BBWAA Hall of Fame announcement is less than a month away, so, between now and then, we will analyze each of the Hall of Fame candidates individually.
The idea is simple: we'll attempt to paint an argument as each player being a Hall of Famer and then create an argument as to why the player is not a Hall of Famer. Some will be easier than others but most are not obvious. When we're done, you can decide for yourself if the player is Cooperstown-worthy.
Today we're going to cover outfielder Sammy Sosa.
THE BARE ESSENTIALS
Sosa played in parts of 18 seasons from 1989-2007, almost all with the Cubs. He also played for the Rangers (twice), White Sox and Orioles. Slammin' Sammy retired as a career .273/.344/.534 (128 OPS+) hitter with 609 home runs and 1,667 RBI. He never played in a World Series and went to the postseason only twice (1998, 2003 Cubs).
This is Sosa's second year of Hall of Fame eligibility. He received only 12.5 percent of the vote a year ago. As a reminder, a player needs to appear on 75 percent of the ballots to be elected into Cooperstown.
THE CASE FOR INDUCTION
Sosa is one of the most prolific home run hitters in baseball history. His 609 career dingers are the eighth all-time and he is the only player in history with three 60-plus homer seasons. Sosa hit 66 homers in 1998 (third most in a single-season), 64 homers in 2001 (fifth most) and 63 homers in 1999 (sixth most). He is also the all-time home run king among players born outside the US.
Sosa is the quickest NL player in history to 300 homers (1,052 games), 400 homers (1,354 games) and 500 homers (1,651 games). He also hit the most home runs in a five-year span (292 from 1998-2002), a six-year span (332 from 1998-2003), a seven-year span (368 from 1997-2003), an eight-year span (408 from 1996-2003), a nine-year span (444 from 1995-2003) and a 10-year span (479 from 1995-2004) in history.
In addition to the homers, Sosa is also one of only two players to drive in 160-plus runs for an NL team. He plated exactly 160 runs for the Cubbies in 2001, second most in NL history behind Hack Wilson's 191 RBI back in 1930. Sosa's 158 RBI in 1998 are the fourth most in NL history (Wilson drove in 159 in 1929).
During his peak from 1998-2002, Sosa hit .306/.397/.649 (167 OPS+) while averaging 60 home runs, 145 RBI and 6.8 WAR per 162 games played. He led the league in homers twice (2000 and 2002), RBI twice (1998 and 2001), total bases three times (1998-99, 2001), runs scored three times (1998, 2001-02) and games played three times (1995, 1997, 1999).
Sosa was a six-time Silver Slugger and a seven-time All-Star who was named the 1998 NL MVP. He finished second in the voting in 2001 and received MVP votes in seven other seasons.
THE CASE AGAINST INDUCTION
Like many of his homer-hitting comtemporaries, the case against Sosa revolves around performance-enhancing drugs. He was reportedly among 104 players to fail a 2003 drug test conducted as part of a screening process prior to a testing system being implemented. The results were supposed to remain private but Sosa's name was one of several to leak.
Sosa was also one of several players to testify in front of Congress in March 2005. He infamously claimed to not speak or understand English well enough to testify. His attorney made this statement on his behalf:
"To be clear, I have never taken illegal performance-enhancing drugs. I have never injected myself or had anyone inject me with anything. I have not broken the laws of the United States or the laws of the Dominican Republic. I have been tested as recently as 2004, and I am clean."
Sosa was not mentioned in the Mitchell Report and he did not fail a drug test under MLB's and MLBPA's collectively bargained testing program.
In addition to the PED issues, Sosa was also suspended eight games in 2003 for using a corked bat:
---
In terms of on-field performance, Sosa should be a first ballot Hall of Famer because he was a historic home run hitter. The PED stuff casts a big cloud over everything, however.
Wednesday: The cases for and against Edgar Martinez.
Wright was arrested at his home Friday

The former Tigers teammates were voted into Cooperstown by the 16-person Modern Era Commit...

The Yankees still have room for a good-sized signing even after Saturday's trade with Miam...
St. Louis gets some much needed help for their bullpen

Keep tabs on the top 50 free agents right here

Morrow thrived with the Dodgers last season