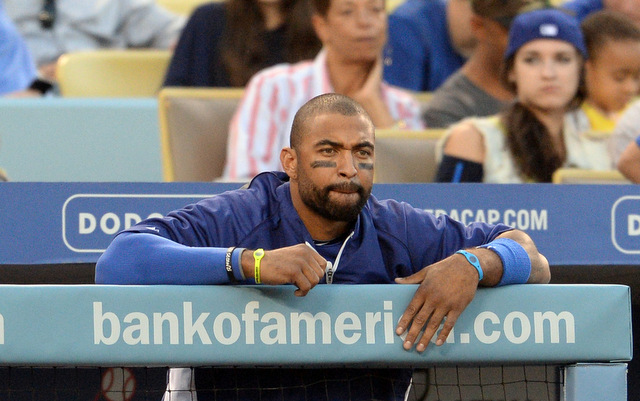 More MLB: Scoreboard | Standings | Probable Pitchers | Sortable Stats | Odds
Two years ago, Matt Kemp was an absolute monster for the Dodgers. He hit .324/.399/.586 (172 OPS+) with 39 home runs and 40 steals while leading NL position players in WAR (8.1). That performance earned him a second-place finish in the NL MVP voting and an eight-year, $160 million contract extension.
This year, though, Kemp is hitting just .261/.313/.344 (86 OPS+) with two homers and seven steals in 47 games. He has been below replacement level at -0.1 WAR according to Baseball-Reference, meaning Los Angeles could get more out of a spare Quad-A outfielder that teams typically have stashed in the minors.
There's reason to believe Kemp's struggles are just physical, however, specifically having to do with his left shoulder. He had surgery in October to repair a detached labrum in the shoulder after suffering the injury crashing into a wall and playing through it in the second half. Kemp insists he's healthy, but on Friday manager Don Mattingly hinted that might not be the case.
"I noticed his swing getting cut off, but nobody's said anything medically that his shoulder is tight," said Mattingly to Steve Dilbeck of the Los Angeles Times. "When his swing is good, it's center field, right-center. He still topspins the ball to left field and always has ... If he's topspinning in left-center and left field, it tells me he's getting extension to a certain point and he's cutting off just a little bit, but not that much."
In a piece of Baseball Analytics, Peter Gammons wrote about the importance of the lead shoulder and how hitters can lose power and effectiveness following injuries. Adrian Gonzalez and Jacoby Ellsbury are two more examples. The entire article is worth a read, but these quotes from Dr. Neal ElAttrache -- he performed the surgery on Kemp's shoulder -- are especially relevant:
"Trying to re-establish ones mechanics after surgery is a complex process," says Dr. ElAttrache, speaking generally. "It's extremely delicate. It involves rebuilding strength, and all that goes into the swing from the front shoulder. It takes perfect mechanics to regain bat speed and the swing path. Sometimes it takes a year, sometimes more.

"A player may think he is fully recovered, especially after all the work that rehab entails, but regaining the mechanics doesn't come easily," says the doctor. "Sometimes we can see a hitter opening up too quickly. He may step out with his front foot to catch up to pitches, and also so he doesn't have to finish off his swing, which puts a great deal of pressure on the shoulder, especially the front of the lead shoulder.

"Sometimes those mechanics can be just a tick off, and they are hard to re-establish. I'm certain there are cases where the shoulder is never exactly the same as before an injury or the gradual wearing down process. It is mechanical. It can be mental. For the hitter, a shoulder injury isn't really any different that a shoulder injury can be for a pitcher."
Kemp's shoulder might be structurally sound, but that doesn't mean he is 100 percent and back physically to where he was before the injury. Based on his performance, it's easy to see he's still a long, long way from being the guy whom he was two years ago or even early last season, when he hit .337/.402/.584 with 17 homers in 77 games before running into the Coors Field fence.
The Dodgers are struggling big-time this year, and Kemp's poor performance is a big reason why. Mattingly yanked him from the game as part of a double switch on Saturday and sat him on the bench on Sunday, something that would have never happened just a year ago. Kemp isn't old -- he'll turn 29 in September -- so it stands to reason he will get back to being himself at some point. Seven months out from left shoulder surgery is not that point, however.