MLB injury, news and rumors roundup for March 15
It's time, once again, for our nightly roundup all of that was in MLB news, rumors and injuries. We'll hit upon Stephen Drew, the Tigers, Josh Hamilton, Mike Minor, Jurickson Profar, Gordon Beckham, the Astros, Mets and more.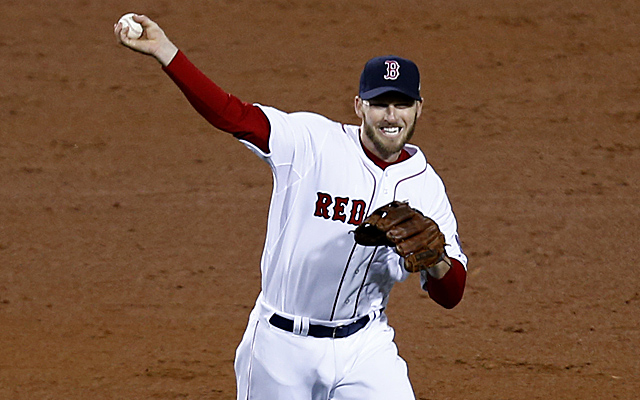 MORE: Spring Training | Scoreboard | FA tracker: hitters | FA tracker: pitchers
Might one of the two remaining free agents with draft compensation attached have gotten a bittersweet break Saturday? It's entirely possible. Let's touch on that in addition to some other news, including injury updates.
THE BIG NEWS
Tigers/Jose Iglesias/Stephen Drew? Tigers shortstop Jose Iglesias appears to have a pretty serious leg injury (Jon Heyman has the full details). And while a fellow player would surely not like to see one of his peers suffer a serious injury, it does open the door for a possible Tigers signing of free agent shortstop Stephen Drew. Absent Iglesias, Drew seems a perfect fit for the Tigers, both offensively and defensively, on a one-year deal.
TRADE
Nationals: They acquired infielder Brandon Laird from the Royals for a player to be named later or cash (Nationals.com via Twitter). Laird, 26, hit .169/.224/.423 with five homers in 76 plate appearances for the Astros last season. He entered Saturday hitting .385/.467/.462 in 15 spring PA.
INJURY UPDATES
Angels: Outfielder Josh Hamilton has been running on his injured calf and has a shot to get back into game action Monday (Angels.com).
Astros: Pitcher Mark Appel, the top overall pick in last June's draft, could make his Grapefruit League debut next week as he recovers from an appendectomy (Ultimate Astros).
Athletics: Starter A.J. Griffin will begin the season on the DL with an elbow injury, but Saturday brought good news, as there isn't any structural damage.
Braves: Starting pitcher Mike Minor is set to throw his first live batting practice session Monday as he works his way back from a balky left shoulder (Braves.com).
Cardinals: Former closer Jason Motte, who is coming off Tommy John surgery, faced live hitters Friday for the first time since his procedure (stltoday.com).
Diamondbacks: Expected opening-day starter (and remember, that opening day is just one week away) Patrick Corbin left his Saturday start with forearm stiffness.
Marlins: Second baseman Rafael Furcal had to leave a game early due to a hamstring issue for the second time this week (sun-sentinel.com).
Orioles: Third baseman extraordinaire Manny Machado hasn't run in five days in his recovery from knee surgery and had to cancel an appointment for re-evaluation.
Rangers: After shoulder woes and then getting his wisdom teeth removed, second baseman Jurickson Profar is ready to finally start taking part in game action Tuesday. Manager Ron Washington said the Rangers will instead work him in slowly, "but I'm glad he feels that way." (dallasnews.com)
Rays: Reigning AL Rookie of the Year Wil Myers left Saturday's game with a thigh bruise, which was done as a precautionary measure. In fact, if this were the regular season, Myers even said (via Associated Press) that he would have stayed in. 
White Sox: Second baseman Gordon Beckham has been shut down from all baseball activity for at least seven days with a strained left oblique muscle (suntimes.com).
OTHER NEWS and RUMORS
Astros: Think they like N.C. State lefty Carlos Rodon for their top overall draft pick right now? Astros GM Jeff Luhnow drove 10.5 hours round trip to see a game where Rodon just happened to be facing the No. 2 team in the nation (Florida State).
Braves: They lost Kris Medlen and then signed Ervin Santana, but if Brandon Beachy is indeed done, the Braves won't be adding another starter, says GM Frank Wren to Ken Rosenthal of Fox Sports.
Dodgers: Carl Crawford and Dan Haren are both -- as things stand right now -- going to skip the trip to Australia for their two-game series against the Diamondbacks.
Mariners: They're still open to adding a pitcher (Rosenthal) ... and are also still working on signing Kendrys Morales, per Jim Bowden. Earlier this week, our own Jon Heyman reported there was a gap in negotiations.
Mets: Drew is unlikely to sign with the Mets, per nypost.com. That report came before the Iglesias injury news, for whatever it's worth.
Gallardo spent the first eight years of his career in Milwaukee

MLB revenues are at a record high right now, but teams aren't spending it on players

Chicago added Tyler Chatwood earlier this offseason but might not be done adding to the ro...
The Dodgers and Braves pulled off a whopper on Saturday

Sabathia will reportedly spend a 10th season in the Bronx

Fowler suffered a knee injury at Chicago's Guaranteed Rate Field