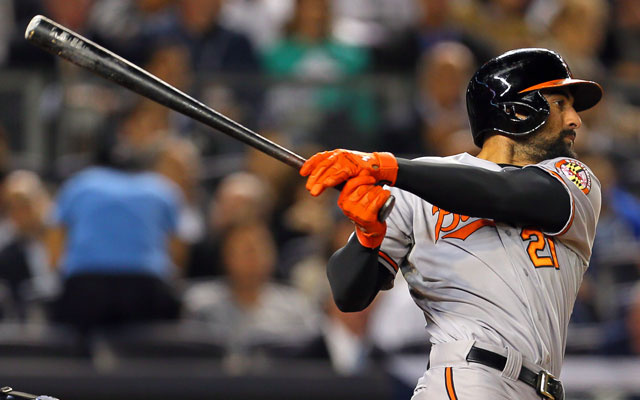 Veteran outfielder Nick Markakis, who seemed for a while to be a pretty good bet to return to the Orioles, is listening to outside offers now and said to have interest from the Braves, Blue Jays and Giants, among others.
Atlanta is an interesting entry since Markakis grew up in Woodstock, Ga., went to Young Harris College and has a home in Georgia (as he does in Maryland). The Braves traded right fielder Jason Heyward and are listening to offers for another top outfielder, Justin Upton, so there definitely is room for Markakis.
Toronto has been lurking for a while, as it hopes to add at least one outfielder, with Melky Cabrera and Colby Rasmus both free agents.
San Francisco could go a number of different ways, and its participation may depend to some degree on what star free agent starter Jon Lester, who had a visit with Giants brass Monday, decides. Some suggest Markakis may be more likely to stay east -- though at one point Baltimore seemed almost like a forgone conclusion, and it's not now.
Markakis appeared to be in fairly serious talks to return to the Orioles back at the GM Meetings, which came as no surprise since he has an excellent relationship with owner Peter Angelos, manager Buck Showalter and others there. However, the Baltimore Sun's Dan Connolly reported Monday that the chances for the sides to remain together are "less than 50-50" at this point.
The Orioles remain interested, but the sides obviously still have a lot of work to do to complete a deal that seemed natural. The sides were discussing a four-year deal at one point, but it isn't known where things stand now.
It's no surprise Markakis has a solid market after another very nice season, in which he hit .276 with 14 home runs and 50 RBI, and also took home his second Gold Glove award. The one hurdle was probably the perception that it's a fait accompli he'd remain with Baltimore. What may be a surprise is that the hometown Braves are among teams in the mix.