Note from Babe Ruth sale to Yankees goes for $151K in auction
A Babe Ruth themed auction concluded over the weekend, and the biggest seller was a promissory note from the Yankees to the Red Sox to buy Babe Ruth's rights.
More MLB: Power Rankings | Expert Picks | Latest news & notes | Fantasy news
Back in 1919, Boston Red Sox owner Harry Frazee notoriously sold the rights to George Herman "Babe" Ruth to the New York Yankees for a sum of $100,000. As we all know, Ruth would continue his excellent career and would go down in history as perhaps the greatest player in the history of the game.
Via Goldin Auctions, the following promissory note was part of the paperwork for the transaction: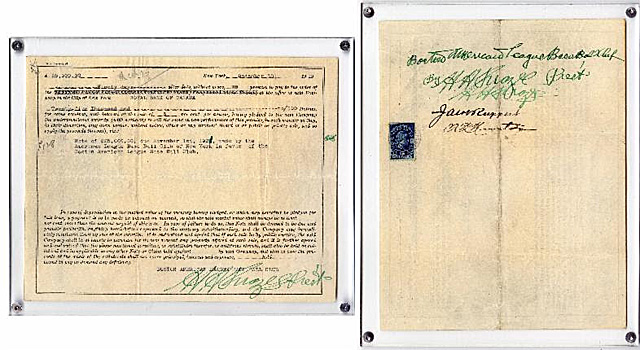 From the Goldin Auctions website, some details: 
The $100,000 payment was to be distributed with $25,000 in cash at the signing, plus three promissory notes each for $25,000, payable over the next several years at a rate of 6% per annum. The $100,000 sale of Ruth was double what any other ballplayer had previously been sold. Offered here is one of the original three promissory notes given to Frazee on that day in payment for Babe Ruth's contract, and was originally owned by famed baseball collector Barry Halper. The 7.5" x 9.5" note is dated "December 30, 1919", and the type reads "Note of $25,000, due November 1st, 1921, made by the American League Base Ball Club of New York in favor of the Boston American League Base Ball Club." The due date of the note originally read "1920." However, Frazee changed the "0" in "1920" to "1" and initialed the change along the right border. Frazee has signed the note along the base, "H H Frazee - Pres't." On the back of the note, Frazee has written "Boston American League Baseball Club," below which he has signed his name twice with "By HH Frazee Pres't" and the second time "HH Frazee". All of Harry Frazee's writing on this note was performed in bold green fountain pen. The black fountain pen signatures of both "Jacob Ruppert" and "Col. T. Huston", appear below Frazee's on the reverse. All the signatures grade "9-10," with the Huston signature experiencing slight smudging to his last name.
And that note went for $151,250, as the auction has concluded.