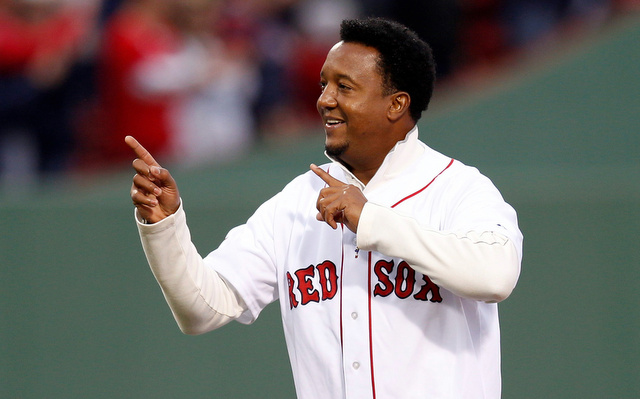 This coming Tuesday, Pedro Martinez and Michael Silverman will release their new book PEDRO, which is being billed as a "bold, no-holds-barred memoir from one of the most dominant and dynamic pitchers to ever play the game."
Martinez, who was elected to the Hall of Fame this past winter, opens up about his career and his life in the book. An excerpt was released on SI.com and features all sorts of good stuff. Pedro discusses contract talks with the Red Sox affecting his performance, Manny being Manny, and issues with the media, among other things.
Personally, I most enjoyed Martinez opening up about his willingness to hit batters and brush them off the plate. Considering he is only 5-foot-11 and was rail thin most of his career, Pedro had an impressive way of intimidating hitters. Here's part of the excerpt:
On June 11, I came off the disabled list. Early in July came another of those Yankees series in which the fate of the world seemed to rest upon the outcome. I was down to pitch the finale. Two days before my start, Roger Clemens drilled Kevin Millar. I didn't care whether it was intentional or not. Clemens hit one of my players, so I filed it at the top of my to-do list.

The first batter of the first inning was Alfonso Soriano. I nicked him, but I swear, that one was just up and in. Soriano leaned in and swung right into that ball. The umpire said it was a strikeout.

Derek Jeter was up next, and I sailed one in on his hands and got him good. Both he and Soriano had to leave the game early to have X-rays taken. I told some teammates, "At least I gave them a discount on an ambulance -- they both got to go in the same one." That comment surprised [fellow pitcher] Derek Lowe. He told me he figured that when I hit batters, it was an accident 90% of the time. He was 100% wrong. When I hit a batter, it was 90% intentional.
It's no secret Pedro would throw at hitters intentionally, but to hear him say it like that -- "When I hit a batter, it was 90% intentional." -- has a certain bad-ass quality to it.