Phillies used extra security guard to protect Bryce Harper
Monday night, the Phillies had extra security measures in place to protect Nationals right fielder Bryce Harper.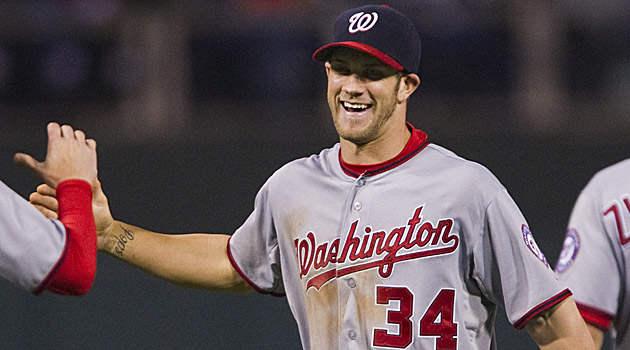 Nationals
phenom
Bryce Harper
played in Philadelphia for the first time in his young career Monday night. From batteries to Santa Claus to self-induced vomiting, we've heard the horror stories of Philadelphia crowds -- and those incidents unfairly tarnish an overall good fan base that sells out every game and leads the majors in attendance.
Still, all it takes is one moron to perpetuate the stigma with a classless act, and the
Phillies
are ready to make sure that doesn't happen to Harper.
From
washingtonpost.com
:
A Post reader who requested to be identified by only his first name, Lester, attended last night's game and noticed an extra security guard standing in front of Section 303 in right field, but only when the Nationals were in the field. He notified Dan Steinberg. This morning, the Phillies confirmed to The Post they had indeed increased personnel.

"We did take precautionary measures and added additional security in the right field area for last night's game," Phillies Vice President of Communications Bonnie Clark said in an e-mail. "We cannot discuss other details of the security enhancement. I am pleased to say there were no incidents during last night's game."
Ooh, "other details." So there's an insinuation there's more in place then just one extra body. Nice.
It goes without saying that fans should never attempt to harm/throw anything at anyone -- whether players, umpires or fellow fans -- but when there are 45,000-plus people in a stadium, the possibility that alcohol and a lack of common courtesy will get the better of someone is present. Kudos to the Phillies for the foresight.
For more baseball news, rumors and analysis, follow @EyeOnBaseball on Twitter, subscribe to the RSS feed and "like" us on Facebook.
We don't need to discuss Chipper's Hall of Fame case, so let's have fun instead

Dioner Navarro still hopes to return someday

Christian Yelich's agent says his client's relationship with Marlins is 'irretrievably bro...
The free-agent market has been slow and one player is bracing for an even longer wait

The Mets didn't want to trade a young outfielder for an older one

Josh Harrison doesn't sound pleased Gerrit Cole and Andrew McCutchen have been traded away