Report: Beltran 'would strongly consider' signing with Yankees
Carlos Beltran is once again open to joining the Yankees as a free agent, according to a New York Daily News report.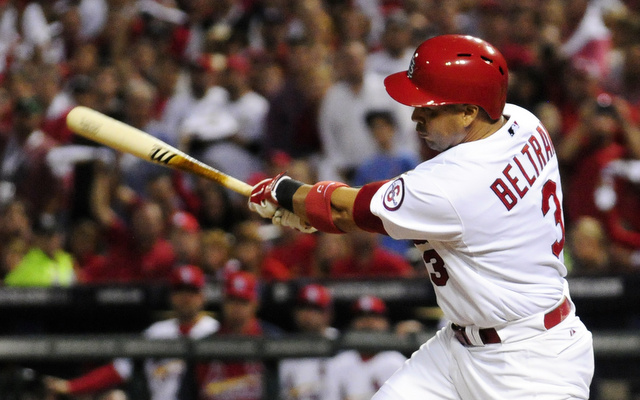 Over the years, Cardinals slugger and impending free agent Carlos Beltran has made it no secret he hopes to play for the Yankees one day. He famously offered to sign with the team at a discounted rate before being turned down and landing with the Mets, then two years ago he again showed interest in wearing pinstripes.
According to Mark Feinsand of the New York Daily News, Beltran once again "would strongly consider" signing with the Yankees when he hits the open market after the season. The Bronx Bombers need outfield help and offense in general, so Feinsand says there figures to be mutual interest.
Beltran, 36, hit .296/.339/.491 (128 OPS+) with 24 home runs in 600 plate appearanes for the Cardinals this season. He's also been a monster in the postseason both this fall and throughout his entire career, a trait that would be appreciated in New York as long as the Yankees put together a team capable of getting back to the playoffs in the near future.
The fit for both sides is obvious. The Yankees need offense, particularly a switch-hitter with the ability to hit for average and power from both sides of the plate. Beltran's defensive skills aren't what they once were, but there isn't much ground to cover in right field at Yankee Stadium and he could also spend time at DH to keep his surgically repaired knees rested.
"Ultimately, the truth of the matter is, it's my job to always find better than what we already have," said Yankees GM Brian Cashman during his annual end-of-season press conference. The team has three veeran outfielders (Ichiro Suzuki, Alfonso Soriano, Vernon Wells) under contract for 2014 as well as the arbitration-eligible Brett Gardner, but Beltran is better than all of them and would be an upgrade.
The Cardinals figure to make Beltran the $14.1 million qualifying offer after the season, entitling them to supplemental first round draft pick if he signs elsewhere. The Yankees currently hold the 18th overall pick in the 2014 draft.
Could catcher J.T. Realmuto be the next Miami player to be traded?

If the slow-play for Martinez, Hosmer and Arrieta sounds familiar, it should

The Nats will host the All-Star Game in 2018
The Orioles are looking to trade Machado heading into his walk year

The Cardinals have been linked for a while to the Baltimore star

Gallardo spent the first eight years of his career in Milwaukee