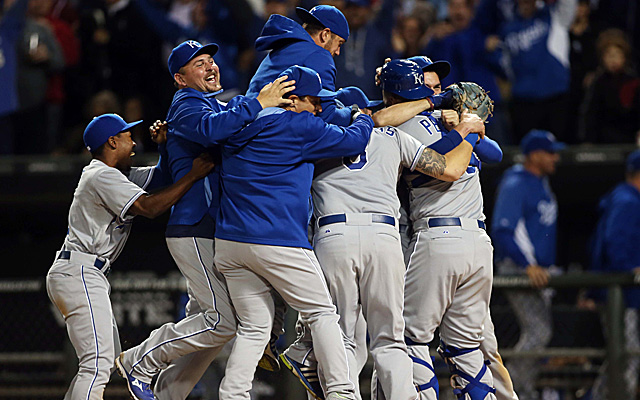 KANSAS CITY, Mo. - The Kansas City Royals were eliminated from the World Series with a Game 7 loss to the Giants Wednesday night. It followed an amazing postseason run that at what point included an 8-0 record in the playoffs. Given that they previously hadn't been to the playoffs since 1985, even a World Series loss means they accomplished a ton this season.
Anyway, with the 2014 season concluded we'll do our customary eulogy, as we do for 29 teams. This is the 29th.
What went right
As I said, the Royals made the postseason for the first time since 1985. That's a successful season, no matter how you slice it. But then factor in the amazing wild-card win in extra innings in come-from-behind (multiple times) fashion, the ALDS sweep over the 98-win Angels and ALCS sweep of the 96-win Orioles and this was overwhelmingly a successful season.
The 89 wins also marked the highest for the franchise since 1989, when the Royals won 92 games.
Alex Gordon is going to finish in the top 10 (maybe even top five) of AL MVP voting, Salvador Perez was again solid behind the plate with good power and Lorenzo Cain had a quality offensive season. Overall, the Royals ranked second in the AL in batting average and fourth in doubles.
By some measures, the Royals were the best defensive team in all of baseball, again. Perez, Alcides Escobar, Mike Moustakas, Cain and Gordon, among others, grade out as above average while some measures show Gordon and Perez among the best in baseball. When they played Jarrod Dyson in center and Cain moving to right, the outfield denfensive range was ridiculous.
On the mound, the Royals were again good. James Shields continued to throw like a frontline starter with Danny Duffy and Yordano Ventura supplying breakout seasons. Jason Vargas was mostly good, too. The bullpen was mostly good, with the back-end of the bullpen being the best in baseball. Wade Davis was one of the most valuable relievers in the game while Greg Holland continues to be an elite closer and Kelvin Herrera in the seventh gave their HDH combo some national recognition, especially in the postseason. Rookie Brandon Finnegan was a revelation down the stretch and in the playoffs, for the most part, too. 
What went wrong
Offensively, the Royals ranked ninth in the AL in runs despite the average, because they don't take walks and don't hit for power. They were ninth in on-base percentage, 11th in slugging percentage and last in home runs.
Individually, Billy Butler was overall a disappointment and the Royals still need more on a consistent basis from Eric Hosmer and Moustakas.
In the dugout, I could point to at least three different games (such as this one) where bullpen mismanagement by Ned Yost cost the Royals. Given that they lost the AL Central by one game, that's nearly ended up a season-killing botch, had the Royals not come back in the wild-card game.
Still, this was the most successful Royals season since the Reagan administration, so there's no need to break out a laundry list of negatives.
MVP: General manager Dayton Moore? Just for this season, there's no way the Royals make the playoffs without that much-discussed trade that landed them Shields and Davis. They wouldn't have even been close. Down the road, it may hurt them, but the 2014 MVP is Moore due to that move and the others that got this team to the postseason.
LVP: I guess we'd have to say Butler, though Hosmer and Moustakas (offensively only) during the regular season qualify as well.
Free agents to be: SP James Shields, DH Billy Butler ($12.5M club option), OF Josh Willingham, RP Luke Hochevar, OF Nori Aoki, RP Scott Downs ($4.25M club option), DH Raul Ibanez, RP Jason Frasor
Gameplan heading into the offseason
Atop the list is retaining Shields, postseason struggles aside. It seems like the Royals lose him, though they've said they'll do everything they can to keep him. Teams with loads more money than the Royals -- such as the Cubs and Red Sox -- will be looking to spend money on starting pitching and my guess is Shields is about to get bowled over with a huge contract he'd be crazy to turn down. I can't seem him staying.
Given his down year, I don't think the Royals can afford to pick up Butler's option, either. They could always sign him back after declining the option, of course, and he's still a good fit for the ballclub and is very popular in the area.
If no options are picked up, the Royals projected payroll for next season is around $72 million. This season it was just over $100 million. So there is some money to play with here.
If the Royals want to try and replace Shields, they could grab one of the pack of lesser-but-quality free agent starters in Francisco Liriano, Justin Masterson, Brandon McCarthy, Jason Hammel, etc.
What if they saved the money for offense, though? They could go with Ventura -- who does hae ace potential -- Duffy, Vargas, Guthrie and a fifth starter (top prospect Kyle Zimmer, perhaps?) and it's reasonable to believe that with their defense and bullpen the staff will be good enough to contend.
They could then address right field with a good on-base guy with more power than Aoki. You know who would be nice? Nick Markakis, if the Orioles don't pick up his $17.5 million option. I don't suppose they'd want another go-round with Melky Cabrera and Colby Rasmus probably doesn't want to shift to a corner, so past that there aren't many great options without making a trade.
An alternative to this would be to just play Dyson in center and Cain in right everyday. That's feasible and would leave money to be spent elsewhere (circle back to Shields?).
The Royals could also stand to upgrade at DH, assuming they let Butler walk. Will Victor Martinez be too expensive? He's 35, so maybe not. Adam Lind would work as a fallback. Torii Hunter? Nelson Cruz, if the Orioles don't extend him? Mike Morse?
Ridiculously premature prediction for 2015
In order to make the playoffs again, they'll need steps forward from Hosmer, Moustakas, Ventura and Duffy -- and probably more from several others, depending upon what's done in the offseason. It's definitely possible. There's still a lot to be determined this coming offseason, but I do think they'll finish above .500 and contend again. It's also possible the Tigers take a step back while the White Sox and Twins don't get significantly better, in which case the Royals and Indians would compete for the AL Central title. I'll say that happens and the Royals win the division with something like 87 wins in a mediocre division.