More MLB: Scoreboard | Standings | Probable Pitchers | Sortable Stats | Odds
We've hit on some all-time greats in the past three entries of the Bobblehead Project. That's always fun because our beloved game is nothing without history, but one of the reasons we started this little project was for the off-the-wall ideas.
And this one was recommended by myriad readers. It's an anonymous Cubs player smashing Sammy Sosa's salsa-blaring boombox on the last day of the 2004 season.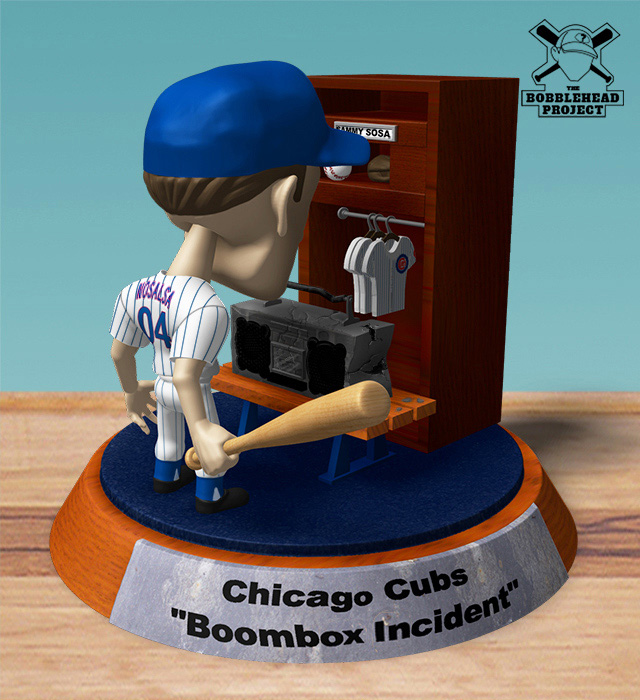 For those unaware of the story, let us provide some background.
Sosa played the same salsa CD every single day of the 2004 season, reportedly annoying many of his teammates to no end. And, after closing the season losing seven of their last nine, the Cubs missed out on the wild card by three spots. Remember, this was one season after being five outs away from the World Series and the 2004 Cubs actually appeared improved after adding Derrek Lee and Greg Maddux in the offseason -- not to mention getting a full season from Aramis Ramirez.
So, needless to say, there were some angry Cubs when the season ended prematurely.
Sosa didn't play in the last game and actually left Wrigley Field early.
For at least one teammate, that was the final straw. But who was the perpetrator?
Among the initial suspects in unsubstantiated rumors were Kerry Wood, Paul Bako and Todd Walker. All parties denied the rumors, Wood being the most vehement. And here's Bako, via chicagotribune.com:
"One thing I can tell you is I didn't see it happen, but I was still in the clubhouse when stuff was going on. But I didn't have any ill will to that area. I thought (the music) was too heavy, superstitious-wise, but that certain area, so to speak, treated me well and treated me with respect.

"I can tell you 100 percent it was not me, but as far as who it was, I'd be speculating."
It will remain a mystery until whoever did it admits as much. But until then -- with the suspect at large -- we're fine with "NOSALSA" being the player's name on our excellent prospective bobblehead.
As for Sosa, he never played for the Cubs again.
Bobblehead Gallery (click on thumbnail) ...