White Sox win with performance-enhancing facial hair
Several White Sox players sported mustaches in honor of former instructor Kevin Hickey, and rallied behind their glorious facial hair to retake the lead in the American League Central.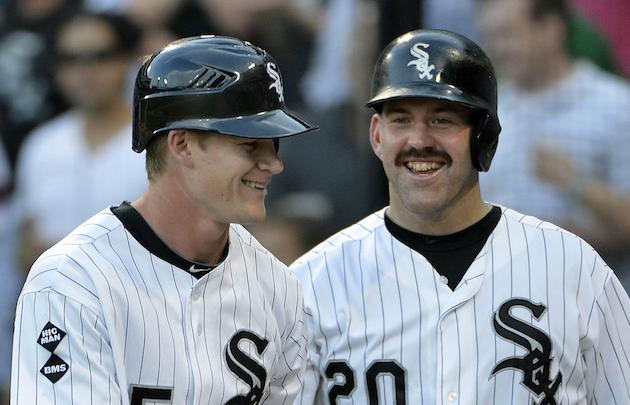 Kevin Youkilis is smiling because he looks so good. (Getty Images)
With all the talk about elevated testosterone enhancing performance, it appears Kevin Youkilis decided to do the most manly thing possible and boosted the performance of his team. Youkilis shaved off part of his goatee, leaving only a luxurious, manly, performance-enhancing mustache, spearheading a revolution on the White Sox and leading the team to a victory and back into first place in the American League Central.
Sure, it didn't hurt that the White Sox played host to the American League's worst team, the Minnesota Twins, who fell to 55-80 on the season with the 4-2 loss. Meanwhile, Detroit fell to Cleveland to drop a game behind the White Sox.
According to reports, Youkilis led the White Sox in suggesting the team sport mustaches, as Jordan Danks, John Danks, Chris Sale, Paul Konerko, Adam Dunn and Brett Myers wore the world's most manly configuration of facial hair. In addition to general awesomeness, it was also a tribute to former White Sox instructor Kevin Hickey, who died earlier this season.
"This being Kevin Hickey Night, it actually worked out pretty well," Konerko told MLB.com of the mustaches, noting Hickey wore a mustaches, as well. "With the win, I have a feeling they're going to be around for a while. It was a nice thing for Hick tonight. Maybe there's some wins in it. Maybe he's looking down, looking out for us."
Here's more of Konerko talking about the mustaches:
In that video, Gordon Beckham says he'll try to grown out his mustache and so are other of his clean-shaven teammates.
And here's Jordan Danks in his mustachioed glory: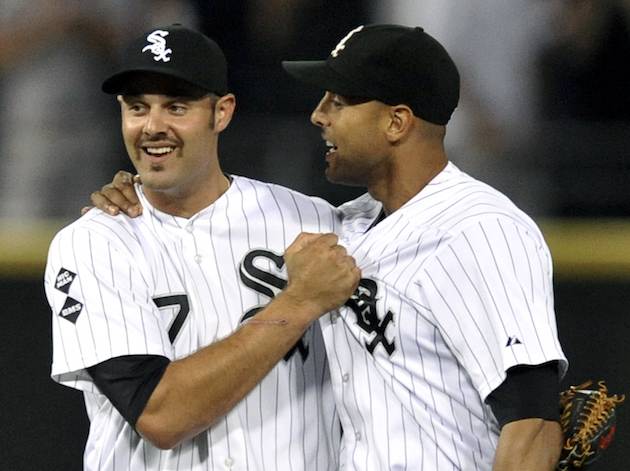 Jordan Danks discovers, if you have a mustache, people will just come hug you. (AP)
And now Chicago will also benefit from an assumed increase in ticket sales to the ladies.
For more baseball news, rumors and analysis, follow @EyeOnBaseball on Twitter, subscribe to the RSS feed and "like" us on Facebook.
Monday kicks off the final week of MLB action. Let's take a look at everything that went d...

No other rookie in baseball history has hit more home runs than Judge has this year

Jays have said goodbye to Encarnacion and will to Bautista. Should they move on from Donaldson,...
Judge's big September means Jose Altuve has some serious competition for the award

Goldschmidt? Rendon? Blackmon? Stanton if he hits 62 HR? Who would be your pick?

Bruce Maxwell of the A's has been kneeling during the national anthem