Yankees can't get away from A-Rod even when he isn't here
They arrive in Arlington, prepare for the series opener against the Rangers and the clubhouse television blasts Alex Rodriguez updates and conspiracy theories as they dress. ...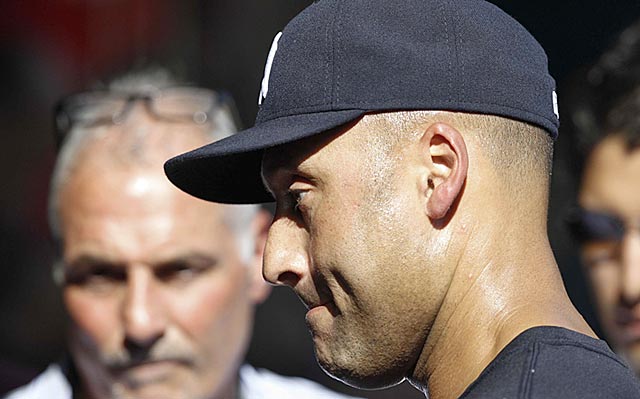 ARLINGTON, Texas -- Playing third base for the New York Yankees here Monday night and batting ... ninth?
Ahem. Yes.
Luis Cruz, ladies and gentlemen.
At one time we all were expecting. ... ?
The Yankees seemed to know as much as you, me and the man selling popcorn about Alex Rodriguez as their caravan swung into Texas following Sunday's into-the-wee-hours in Boston.
Talk about bizarre scenes. Not long after the Yankees' bus arrived from the hotel and the players filed in, the big-screen television in the clubhouse here, tuned to MLB Network, blared with coverage of A-Rod, conspiracy theories and whether he would ever play again.
Complete with analysis of how unproductive Yankees' third basemen have been this year.
And when I say blared, I mean, darn near movie-theater volume from the surround-sound system.
"Why do we need this playing so loud?" pitcher Phil Hughes asked no one in particular.
Crazy.
"I think we are going to get him back," Yankees manager Joe Girardi said. "It's what significant amount of time [he's out]. That's the thing.
"But I don't expect this to be real long."
Girardi explained that it is a Grade 1 quadriceps strain, similar to that of Derek Jeter, and that A-Rod is so much further ahead now, after this setback, than he was when he first started rehabbing from his hip injury.
"We're all hopeful of getting him back, but you've got to move on," Girardi said. "You start thinking about it a couple of days ahead [of when the club is expecting a player to return], what you're going to do, but you don't count on it.
"You know there could be setbacks."
Maybe an hour after Girardi spoke, Major League Baseball dropped the Ryan Braun bombshell, suspending the Brewers' outfielder for the rest of the season.
Now, speculation is rampant that A-Rod is on deck.
And the conspiracy theories grow a little more wild, a little more pronounced.
Is A-Rod's quad really strained?
Did he disappear because he's next on MLB's firing line?
Did he go away because he was aware Braun was going to get zapped and he didn't want to go anywhere near the spotlight?
The Yankees buttoned their jerseys and prepared for another game with (fill-in-the-blank) at third base.
"You don't consider him until he gets close," pitcher Andy Pettitte said. "A couple of days ago, he was supposed to be here in Texas on Monday and it was like, 'Great, he can help us.' "
Then, poof. Monday was gone.
"You can't worry about it," Pettitte said. "You hope he doesn't get suspended. Alex is a teammate and a friend.
"You hope he comes back healthy and productive. That's what you hope for."
Yeah, hope.
Wonderful word, isn't it? When properly applied.
Someone finally turned down the volume on the television.
"It's easy not to think about those things when he's not here," Hughes said. "We have a job to do every single night."
Easy not to think about them, except when the television is blasting and it's wall-to-wall A-Rod coverage.
"That's just the way it is," Hughes said. "It's white noise."
He stopped. He chuckled.
He couldn't help chuckling.
"I do think that blasting it in the clubhouse is a little unnecessary," he said. "It's on all the time. We do hear it.
"But we've got a job to do."