Your 2014 MVP, Cy Young favorites are ...
Bookmaker Bovada.lv has released its odds for the AL and NL MVPs and Cy Young winners for the 2014 season. What are the best bets?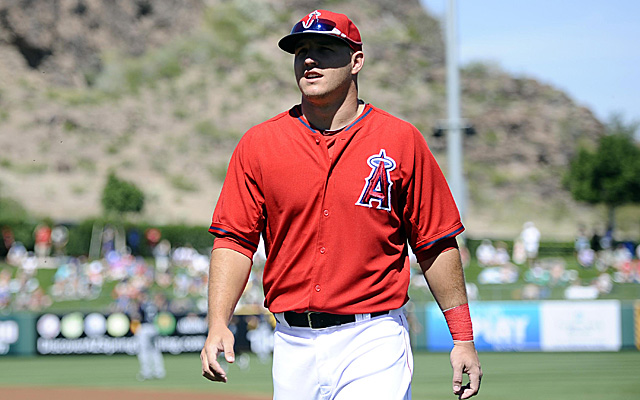 MORE: Spring Training | Scoreboard | FA tracker: hitters | FA tracker: pitchers
Hey, it's been a while since we freaked out over gambling odds, no? Let's do it again!
Bovada.lv is an online sports bookmaker and Wednesday it released odds for the 2014 AL and NL MVPs and Cy Young winners along with who the top MLB home run hitter will be.
Click on through for a full list of the available players, because the lists are rather long (but know that you can bet on Derek Jeter to win his first career AL MVP in his last season at 100-1 odds). Here are the top five in each and just for fun I'll throw in a pick I like from the players that weren't among the top. 
AL MVP
Mike Trout, 5-1
Miguel Cabrera, 6-1
Albert Pujols, 12-1
Jacoby Ellsbury, 12-1
Josh Donaldson, 12-1
One to watch: Adrian Beltre at 16-1.
NL MVP
Andrew McCutchen, 6-1
Joey Votto, 7-1
Paul Goldschmidt, 9-1
Buster Posey, 12-1
Yadier Molina, 12-1
One to watch: Bryce Harper at 16-1.
AL Cy Young
Yu Darvish, 8-1
David Price, 9-1
Clay Buchholz, 10-1
Max Scherzer, 10-1
Chris Sale, 12-1
One to watch: Felix Hernandez at 15-1.
NL Cy Young
Clayton Kershaw, 13-2
Adam Wainwright, 8-1
Stephen Strasburg, 8-1
Jose Fernandez, 10-1
Cliff Lee, 15-1
Madison Bumgarner, 15-1
Zack Greinke, 15-1
One to watch: Matt Cain at 25-1.
MLB home run champ
Chris Davis, 8-1
Miguel Cabrera, 9-1
Giancarlo Stanton, 10-1
Pedro Alvarez, 14-1
Jose Bautista, 16-1
Paul Goldschmidt, 16-1
One to watch: Jay Bruce at 25-1.
A reminder that'll surely go unnoticed by many: Betting odds aren't predictions but are instead an attempt to get the most amount of action on as many different players as possible. This is more why you see Pujols third -- not because the oddsmakers believe he'll be third in MVP voting but instead because his name still has serious cache among casual baseball fans.
I did find it surprising that Trout was favored over Cabrera, though, because I still feel like Cabrera would be the most popular pick among the masses -- having won two MVPs in a row, playing for a team more likely to contend and being that most fans still prefer traditional triple-crown stats over advanced metrics. Maybe the action will move the lines or maybe I'm just flat-out wrong on this front, which is entirely possible.
So what are the best bets? Worst? Let's hear it.
Where might the Orioles third baseman land?

Kinsler will slot in at second base for the Angels

The Marlins got a better return for Ozuna than Stanton or Gordon
The two teams are going about things in very different ways

The Marlins are indeed in teardown mode under new ownership

The Marlins still have more attractive pieces