2013 Offseason Report: Boston Celtics
Over the next month, CBSSports.com's Eye On Basketball will take a team-by-team look at the 2012-13 NBA offseason. We continue with the rebuilders, the Boston Celtics.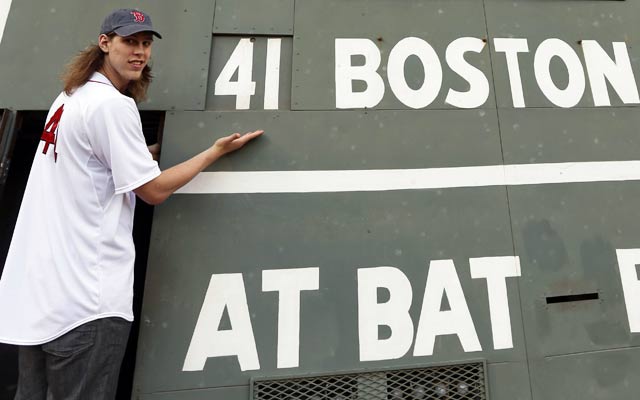 Over the next month, CBSSports.com's Eye On Basketball will take a team-by-team look at the 2012-13 NBA offseason. We continue with the rebuilders, the Boston Celtics.
How they finished 2013
Everything changed for the Celtics Jan. 28. On a seemingly innocent play, point guard Rajon Rondo tore his ACL. At that point, the team's season was effectively over. 
So we thought. Except the Celtics won six straight games after Rondo's injury and took a 21-23 record to 34-27. They were playing better without their star point guard, and it was confusing everyone. There was chatter that the Celtics were better without Rondo, that the ball moved better, that they played more as a team. 
All of that was fine logic, but the Celtics stumbled into the postseason finishing 41-40 (they only played 81 games last season), and were mostly wiped away by the Knicks in six games. And the common theme during that series was, "Man, the Celtics could probably really use Rajon Rondo right now."
The way 2012-13 crumbled for the Celtics was the final punctuation of the message that's been on the wall for a few years now. It's been painfully obvious that the Big 3 era was dying, or maybe even dead, and last season stamped it. 
Needs entering the offseason
In terms of need, the Celtics had the same choice to make they've had the last three seasons. Try and retool and restock and give it one more go, or finally just blow it all up? The improbable 2012 run that had the Celtics lose in seven games to the Heat created an illusion that the team needed one more chance, and when last season imploded the way it did, Danny Ainge finally got the message. 
So the real need was to let it all go. A difficult exercise because of loyalties and emotions, but a necessary one.
Free agency and trades
Goodbye, ubuntu. 
A couple weeks before free agency opened and days prior to the draft, the Celtics pulled the plug. Kevin Garnett, Paul Pierce and Jason Terry to the Nets for Gerald Wallace, Kris Humphries, MarShon Brooks, Keith Bogans and three future first-round picks. 
Just like that. Pierce, who has been as Celtic as a Celtic could be, was whisked away to Brooklyn unceremoniously. Garnett, who helped turn Boston basketball around, was gone. And finally Doc Rivers, the creator of the brotherhood, fled town to the Clippers in exchange for a 2015 first-rounder.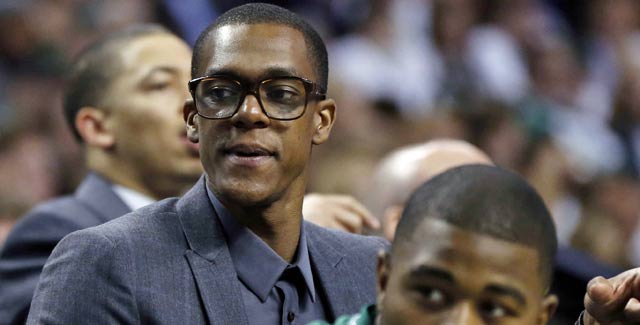 The trades had to happen. Again, for the Celtics it's been about when, not if. The rebuild was coming at some point, despite Ainge trying to put it off for seasons at a time. But this was the time to do it, which only left the question: Did the Celtics pick the right deal? 
There was a lot of rumored talk between the Clippers and Celtics that would've sent Garnett to Los Angeles to bring back DeAndre Jordan. Is getting Wallace and his ugly remaining contract -- three years, $30 million -- with Humphries' expiring deal and picks enough? 
I say yes. Look at it this way: The Celtics have three first-round picks in 2014, two in 2015, two in 2016, two in 2017 and two in 2018. Will they be high lottery selections to pick the next LeBron or Durant? Who knows? But those are valuable assets in the NBA, useful in rebuilding whether you use them, or flip them for something else. 
Break-ups aren't easy. But the Celtics wisely took Jerry's advice: Like a band-aid, right off. 
(Oh, and the Celtics also traded Fab Melo to the Grizzlies for Donte Greene. So, yeah.)
The draft
The Celtics sat 16th in the draft, but moved up to No. 13 to select Gonzaga's Kelly Olynyk. All of a sudden, this pick had a new perspective with it. Instead of being a young player to groom behind Garnett, now the Celtics were taking someone that needs to be something. They needed a player with both immediate ability and upside. They needed a player that filled a current and future need, while still trying to get the most talent for the pick. 
Olynyk seems like as close to all that as they could've gotten. He's a supremely gifted offensive seven-footer, with range to the 3-point line and great touch and feel around the rim. He's a soft defender and not a great rebounder, but the Celtics can work on that. 
And if his Summer League performance is any indication, the Celtics might've gotten a steal. Olynyk dominated in Orlando, using his unique blend of size and skill to finish around the rim and score in midrange situations. Is he a building block piece? Probably not. But with Rondo running point for him and some defensive/rebounding help alongside him, he could certainly be a high quality NBA center. 
Overall grade and accomplishments: B+
I haven't even talked about the best move the Celtics made this offseason. They hired Brad Stevens as Doc Rivers' replacement. I'm already on record as loving the move, but here are the cliff notes: It's a low-risk, high reward situation. If Stevens doesn't work out, the Celtics get better draft picks. If he does work out, they have a bright young coach to cultivate a youthful, developing roster. 
The question is if he can gel with Rondo. Rondo is an enigma wrapped in a riddle of a player, a unique blend of talent, emotion and crazy. He's a brilliant player who has developed a reputation for needing a little bit of coddling. Doc Rivers knew how to handle him and work with him. Will Stevens? That question will likely have answers soon, and could determine the next step Ainge and the Celtics make. Is Rondo part of the long-term future? Is he considered their building block? If Stevens and Rondo clash, who goes? 
Overall, though, the Celtics accomplished a lot of necessary goals. They moved on from the Big 3 era, and they did it by pulling in a pretty good haul of assets. Remember: Garnett is 37 and Pierce is 35. It's not like these guys had extreme amounts of trade value. To pull three future first-rounders out of them is pretty good. Having to take Wallace's contract back wasn't great, but look around the league and ask yourself: Who else would've wanted both Garnett and Pierce, and who could've given more than the Nets? The Nets are desperate and prime fodder to exploit because of their thirst. They wanted Garnett and Pierce desperately and weren't going to let them slip. So they paid a steep price, and probably one bigger than anyone else would've paid. 
And then there's Rivers. He was the heart and soul of the organization for a decade, but off he goes to avoid rebuilding. His choice, his wishes. He wants to contend. He doesn't want to rot in the lottery. He's threatened retirement the past few seasons, dangling it over the Celtics' head like an anvil. But instead of calling his bluff and making him do it, the Celtics "traded" him for a future first-round pick, while also unloading his bloated $24 million contract. Money saved, an asset acquired. Not bad at all. 
Hard to really get excited about an offseason that saw downgrades all over and trades made with 2016 in mind, but the Celtics did well in trying to move on from the Big 3 and still recoup talent and assets. There's a quality young core in place with Rondo, Avery Bradley, Jeff Green, Jared Sullinger and possibly Olynyk. Ainge has the flexibility to add to it and maybe turn this thing around sooner than later. It's one big step back to hopefully take two big leaps forward. 
CBS Sports HQ Daily Newsletter
Get the best highlights and stories - yeah, just the good stuff handpicked by our team to start your day.
Please check the opt-in box to acknowledge that you would like to subscribe.
Thanks for signing up!
Keep an eye on your inbox for the latest sports news.
Sorry!
There was an error processing your subscription.
The NBA had a 10-game slate on Wednesday evening

Oladipo went down late in the second quarter against the Raptors

Harden finished with 61 points, 15 rebounds, four assists and five steals
Davis suffered a finger injury in Friday night's game against the Blazers

The Lakers, Knicks and Magic are among teams reportedly interested in the former No. 9 overall...

Also, Paul George's impressive work in OKC hasn't gone unnoticed, nor has Mike Budenholzer's...