Battier starts for Miami in Game 1, Haslem starts 2nd half
The Miami Heat surprisingly started small against the Indiana Pacers, but abandoned the plan at halftime.
• 1 min read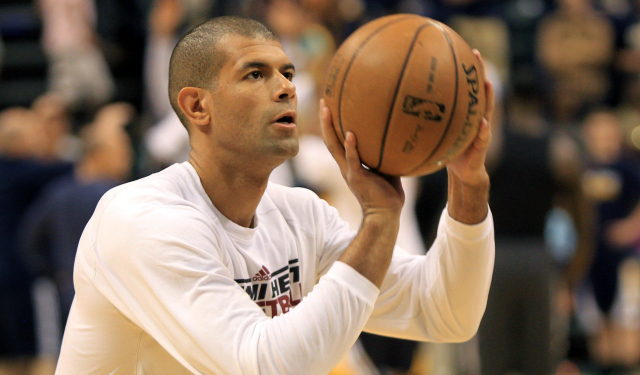 More postseason coverage: Playoff schedule, results | Latest news, notes
UPDATE: Erik Spoelstra abandoned the plan, starting Udonis Haslem instead of Shane Battier in the second half after Indiana took a 55-45 halftime lead.
---
Contrary to what LeBron James and Dwyane Wade told reporters earlier in the week, Miami Heat forward Shane Battier will remain in the starting lineup against the Indiana Pacers in Game 1 on Sunday. Udonis Haslem will come off the bench.
In a surprise, Shane Battier starts. Which means Bosh starts on Hibbert

— Ethan J. Skolnick (@EthanJSkolnick) May 18, 2014
Pacers head coach Frank Vogel predicted that Haslem would start, but instead the Heat will go small. Despite the fact that part of the reason Miami signed center Greg Oden last summer was to throw him at Indiana's Roy Hibbert, he will not be active to start the series:
Oden inactive, Beasley active. Spoelstra throws 2 curves. Goes for space.

— Ethan J. Skolnick (@EthanJSkolnick) May 18, 2014
Heat head coach Erik Spoelstra has been known to adjust his lineup mid-series, so this is by no means a guarantee that Miami will play this way for the duration of the conference finals. It is a statement, though, that the Heat will make the Pacers adjust to them rather than the other way around. 
Irving has requested a trade away from the Cavaliers

The Lakers made a strong push for Rose, but he would have been a backup in Los Angeles

The small forward spent last season with the Sacramento Kings
Knight still has three years left on his five-year, $70 million contract

The Golden State forward is accused of assault, battery and making misleading statements

The Nets get their shooter a year later, and the Blazers reportedly will waive Nicholson