Carlos Boozer says he has 'adjusted' to fewer minutes with Bulls
Power forward may be waived this summer but isn't complaining about smaller role.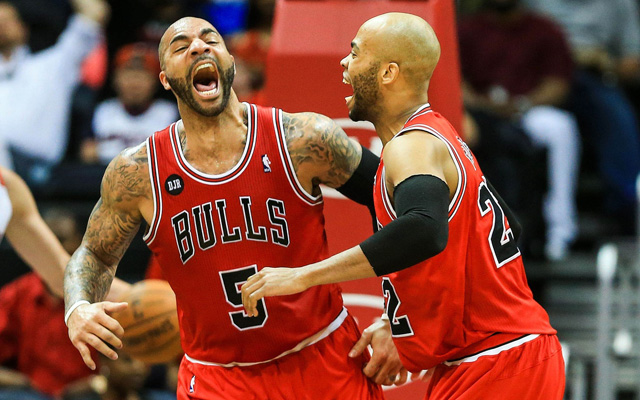 More NBA: Power Rankings | Expert Picks | Seasons in Review | Playoff Picture
Chicago Bulls forward Carlos Boozer has seen his minutes slip this season. First it was seeing his fourth quarter minutes dip as Tom Thibodeau elected to go with Taj Gibson, something he has done over the years due to Gibson's defense. But the Chicago Tribune notes that Wednesday, Boozer played only 24 minutes, the entire first and third quarters and no more for the ninth consecutive time vs. the Timberwolves.
Boozer admits that the situation is frustrating but isn't going to make a problem for his teammates headed into the playoffs.
"I've just adjusted," he said. "I'm doing whatever I can to help my team in the minutes I'm out there. I'm being a team player. It's all about winning. You make sacrifices for the betterment of the group. That's what we're all doing.

"Each night, there are different challenges depending on matchups and how often you touch the ball because that varies. But the intensity is always there. The passion is always there. Playing hard to win is always there. The numbers may vary, but the winning part is always there."
via Carlos Boozer adjusting to evolving role on Bulls - chicagotribune.com.
This is actually pretty indicative of Boozer's professionalism. It was one thing to complain about it months ago. But the Bulls are a week away from the playoffs with a real chance to make some noise. There's no reason to complain now. Boozer also told reporters he's not concerned with whether the Bulls will use the amnesty provision to waive him this summer.
Boozer is a talented power forward whose defensive struggles are real but whose effort and basketball IQ are also substantial. He's just no longer as big a part of what makes the Bulls go.
A report last week indicated Charlotte is looking to move Walker, along with one of its hefty...

Barea responds by claiming that none of Wall's teammates like him; the Wizards continue to...

Cousins finished with 44 points, 24 rebounds, and 10 assists
Love left Saturday's game, which the Cavs lost 148-124, due to illness

Kidd was fired by the Bucks on Monday afternoon

We've got all the scores, highlights and news from an NBA Monday