Carmelo Anthony gave the Knicks a $6 million discount
New York signed Carmelo Anthony to a five-year deal worth $122-123 million.
• 1 min read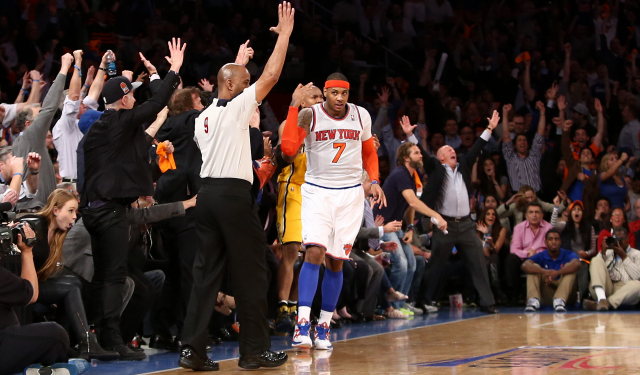 More Offseason Analysis: Coaching changes, news | Free Agency | Draft
New York Knicks president Phil Jackson said that star forward Carmelo Anthony gave the team a hometown discount of about $6 million when re-signing, via the New York Post's Marc Berman. The Knicks would have given him the absolute maximum of five years and $129 million if he wanted it.
Anthony took less to stay with the Knicks — estimated at $122 million to $123 million over five years. But it was still a lot more than what the cap space-challenged runner-up Bulls could offer — four years, $73 million.

Jackson confirmed The Post's reports Anthony structured the deal to give the Knicks more cap space in 2015. It is believed he didn't take his annual 7.5 percent raise in Year 2 and may have taken a tiny pay decrease. Under collective bargaining agreement rules, a player can receive as high as a 7.5 percent pay raise annually.

"He did exactly what we kind of asked him to do,'' Jackson said. "Give us a break in the early part of the contract when we have some wiggle room — hopefully big enough wiggle room — next year when we can exploit it.''

Anthony's sacrifice in Year 2 likely opens up about $2 million more in cap space for 2015, but the rest of his annual wages suffer by not taking the raise.
The deal was still far more than what any other team could have offered him, but it'll give New York a bit more flexibility next summer, which is also when the contracts of Andrea Bargnani and Amar'e Stoudemire will come off the books. That's when the Knicks badly want to make a splash in free agency.
In between now and then, Anthony will have to endure a transition season where his team will be viewed as an underdog to make the playoffs. 
Markieff Morris was already in line to miss the start of camp due to a pending assault cas...

The 76ers should hopefully get a lot of play out of their young guys this season

Okafor's been on and off the trade block for over a year and doesn't seem to be in Philly's...
Fisher is the fourth NBA player to compete for the Mirror Ball trophy on the show

Barkley commends the NBA, sarcastically, for extending the season and reducing back-to-back...

Enes Kanter isn't seeing much comedy in the Kevin Durant social media situation