Cavaliers hire David Blatt as coach
Cleveland's next coach will be David Blatt, a coach with 20 years of international experience, but none in the NBA.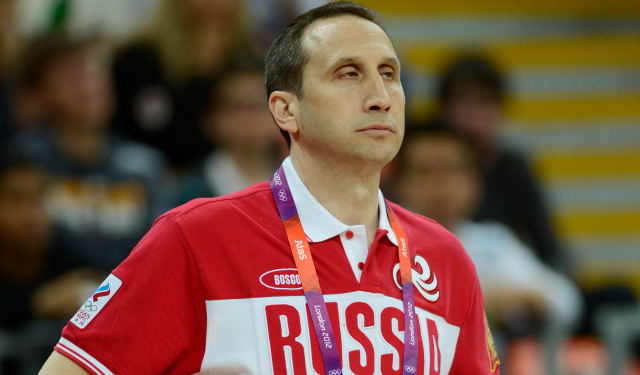 More Offseason Analysis: Coaching changes, news | Free Agency | Draft | Rumors
Update 9:44 p.m. ET: The Cavs have officially named Blatt as head coach of the Cavaliers ,via a press release. Ken Berger has more on the details of the deal.
David Blatt's deal with Cavs is three years with a team option for a fourth, source says. With incentives, total value could approach $20m.

— Ken Berger (@KBergCBS) June 20, 2014
Update 1:32 p.m.  June 20: The Cleveland Plain Dealer reports that Blatt has reached an agreement to become coach of the Cavaliers. 
David Blatt is in negotiations with the Cavaliers to become the next coach in Cleveland, CBSSports.com's Ken Berger confirms.
ESPN first reported that the Cavaliers have offered their coaching position to David Blatt, coach of Maccabi Tel Aviv in Israel and a longtime Euroleague coach.
The Cleveland Cavaliers have offered their head-coaching job to David Blatt and the two sides are in contract talks, sources confirmed to ESPN.com.

Blatt met with Cavs officials and team owner Dan Gilbert over the past two days and was offered the job on Thursday night. Los Angeles Clippers assistant coach Tyronn Lue was the other finalist for the job, sources said, after a protracted search to replace Mike Brown that lasted nearly two months and included numerous candidates.
via Cleveland Cavaliers offer head coaching job to David Blatt - ESPN.
Blatt took the lead Thursday and was considered the "front-runner" Thursday afternoon. ESPN reports this could end the Cavaliers' pursuit of LeBron James. 
Nothing against David Blatt, but if Cavs finalize deal w/him any chance they had of getting LeBron shrinks considerably.

— Chris Broussard (@Chris_Broussard) June 20, 2014
Meanwhile, Yahoo Sports reports that the Cavs are trying to convince Tyronn Lue, who was the other leading candidate for the job, to take the head assistant position, which is a little weird.
Cavs want to add Ty Lue to David Blatt's staff as associate HC, but little, if any, chance he'll leave Doc Rivers staff for it, sources say.

— Adrian Wojnarowski (@WojYahooNBA) June 20, 2014
Yeah, I would imagine there's little chance of it. Lue has worked under Doc Rivers for more than a half-decade and will have other chances at a head coaching position.
For the Cavs, it's... an interesting hire. I'll say this, it's very Cavaliers. Outside the box. Unconventional. Bold, even. Let's see if it pays off, Cotton.
Shaquille O'Neal and Sir Charles cruise to an easy victory over some hot peppers

If Charlotte indeed moves its star guard, there's going to be more people impacted than just...

Trading Kemba Walker (and dumping salary in the process) may be harder than expected for C...
Our advanced computer model simulated Friday's Jazz-Knicks game 10,000 times

There was some explosive guard play this week in the NBA's rookie class

With half of the season in the books, there were some clear favorites for our Midseason Aw...