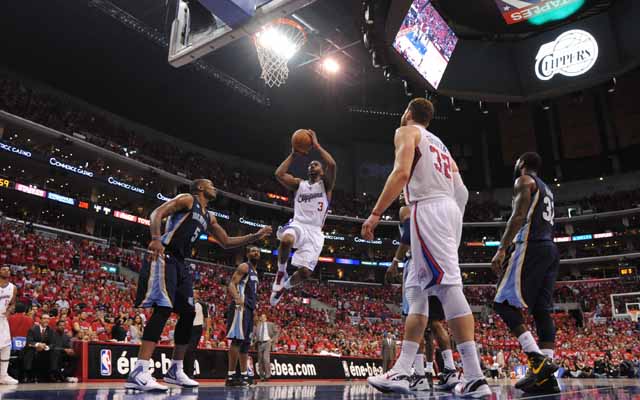 Chris Paul lead the Clippers to a 2-1 series lead Saturday.
(Getty Images)
You get the feeling this one has to go do the distance.
Three games, three close games in the fourth, two collapses from Memphis based mostly on good shots not going down and everything falling for the
Clippers
in bunches.
For months, the questions have been whether the Clippers had a formula to play playoff basketball. "Dunks don't mean wins" went the talk, despite the fact that a dunk and a mid-range jumper count the same. But the Clippers real formula is to play tough and physical, come at you constantly, play better-than-expected defense, and get it to a game of a handful of possessions at the end of the fourth. From there, they believe in
Chris Paul
. And in Game 3, Paul delivered.
More on Clippers-Grizzlies
Paul scored seven points in the fourth, working away at a seven-point
Grizzlies
lead until it came within range. And then, as is the formula for every playoff run in the history of the league, it was an unlikely contributor stepping up. In Game 1 it was
Nick Young
, in Game 3 it was
Randy Foye
, with a huge three-pointer. The Clippers are getting contributions from unlikely sources, and that's a big reason they're up 2-1 in this series.
The other reason?
Memphis' crunch time offense is an absolute nightmare.
For the second time in three games, the Grizzlies put
Rudy Gay
in the position for a pull-up jumper to win the game and for the second time in three games it would not go down. Gay's three-pointers were the only reason that Memphis was in the game to start. But in a key situation, in a game where the Clippers had sent the Grizzlies on a parade to the line, an attack to the basket should have been the call.
Instead Memphis goes 3 of 16 in the fourth quarter. Outside of those two threes from Gay, the Grizzlies went 1-14 in the fourth. That can't happen. The Grizzlies have had defensive poise in these games, rallying from deficits. But they have been unable to put together any cohesive offense.
And for a disturbing trend, the Clippers started to get
Blake Griffin
going. It's a tight series, with each side trying to hold down powerful players and unlikely role players stepping up on both sides. It's a physical series that gets tougher and tougher. It's hard to see this one being a short series, but if Memphis can't work itself into a fourth quarter offense, they could be looking at a very disappointing end to arguably their best season in franchise history.