Court Vision, where the Spurs punched their Finals ticket
The San Antonio Spurs defeated the Oklahoma City Thunder on Saturday to advance to the NBA Finals.
• 3 min read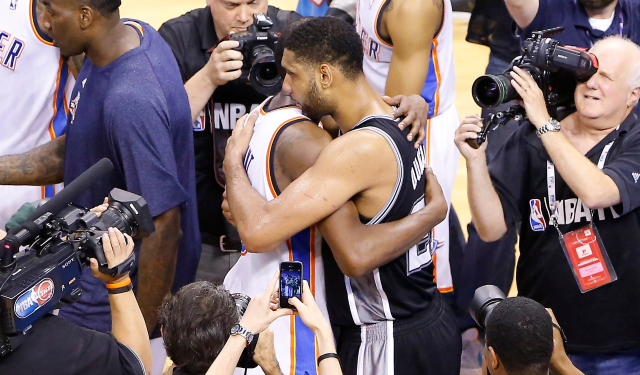 San Antonio 112, Oklahoma City 107 (OT) | Instant reaction
Here's what we learned in Saturday's Game 6 of the Western Conference Finals, where the San Antonio Spurs punched their ticket to an NBA Finals rematch against the Miami Heat. 
• We learned that the Spurs and Thunder are capable of playing a close game. In a series where the home team had won comfortably five times in a row, Oklahoma City held a narrow lead at halftime, San Antonio took control in the third and then it got really crazy down the stretch. The Thunder had a chance to tie it with a Kevin Durant 3-pointer late in overtime, but it was off.
• Durant might have been tired or bothered by an apparent turned ankle late in the game. He played 51:48 of a possible 53 minutes, and went 0 for 3 in overtime. The MVP finished with 31 points, 14 rebounds, two assists, three blocks, one steal and seven turnovers.  
• Kawhi Leonard did an incredible job on Durant and Russell Westbrook, and he made the play of the game when he blocked a Westbrook layup on a fast break with less than a minute left in overtime. He didn't have the most efficient night, scoring 17 points on 8-for-21 shooting, but he played 44 minutes and did a bit of everything. Leonard wound up with 11 rebounds, four assists, one block and one steal and made a massive imprint on the game.
• Leonard dunked on Serge Ibaka again:
• Right after the Leonard block, Tim Duncan hit a turnaround jumper that made it a three-point game. It wasn't a thrilling play -- he shot it over the much smaller Reggie Jackson and it rolled around the rim before dropping in -- but it was an enormous one. Duncan had 19 points and 15 rebounds, and he made 7 of his 8 free-throw attempts. He was masterful late in the game. 
• Tony Parker didn't play in the second half because of ankle soreness, but it was easy to forget that fact with the way San Antonio was sharing the ball in the third quarter. That was when the Thunder really lost the series, as they were outscored 37-20 in the period. Cory Joseph was cool and collected as the second-half starter, and Danny Green's four-point play just before the buzzer will be a painful memory for OKC fans. 
• Westbrook had a heck of a line: a game-high 34 points, eight assists, seven rebounds, six steals, seven turnovers, 8 for 23 from the field, 1 for 6 from deep, 17 for 18 (!) from the line. This was the full Westbrook experience. He made some incredible plays on both ends of the floor, and he also turned the ball over twice in a row late in the fourth quarter and forced a horrible 3-pointer with less than 10 seconds left in overtime. 
• Jackson had 21 points on 8-for-16 shooting for Oklahoma City, and Boris Diaw had 26 points on 8-for-14 shooting for San Antonio. Jackson looked great, and the way he's played this series makes you wonder what the Thunder's record would have been if he was starting at shooting guard all along. Diaw did all sorts of damage, most notably posting up against smaller players because the Thunder were switching everything.
• Just about halfway through the fourth, Diaw dunked with two hands. That was a moment.
• The Spurs had 51 bench points. The Thunder had five. Only five Oklahoma City players scored -- Durant, Westbrook, Jackson, Ibaka and Derek Fisher. Thunder coach Scott Brooks shortened his rotation again, not playing Caron Butler at all. 
• It seems impossible that Manu Ginobili only had five assists. He had a poor shooting night but made numerous timely passes. 
• This was almost certainly Fisher's last game of his career, and he appeared to be fighting back tears after the final buzzer.
• The NBA Finals will begin on Thursday at 9 p.m. in San Antonio on ABC.
Keep it right here for all your Friday NBA scores, updates and highlights

The Celtics have won 14 games in a row

Shaq posted a picture of his 'Broken Rim Tree' to Instagram
SportsLine's Mike McClure, a DFS pro with more than $1M in winnings, gives optimal lineup...

Paul may be getting a late start in Houston, but he promises to unlock some key role playe...

Lonzo doesn't want to throw away money for a tech, which isn't a great look for the rookie