Draft Options: What can the Orlando Magic do with the No. 4 pick?
A look at where Orlando can go with the fourth pick in the draft. Is Dante Exum the best fit? Or should they go with Julius Randle? A look at all options.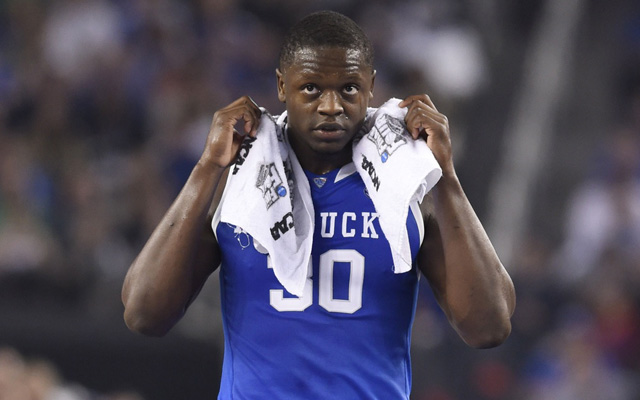 More Draft: Mock drafts | Draft news
From now until the NBA Draft on June 26, we'll be looking at the options of the teams picking based on their likely menu of choices, draft or trade. We continue today with the Orlando Magic, and the fourth overall pick. A talented team that showed real flashes of progress last year, another top-five pick could send the Magic in the direction of the playoffs next season if everything goes right.
Previous Draft Options: Cavaliers | Bucks | 76ers
DRAFT OPTIONS
For the sake of discussion, I'm capping Joel Embiid's possible fall at No. 5. If he does fall, it's because he has a medical red flag, so he could fall way further. But let's pretend for a minute that the back leaves the Cavs, Bucks, and Sixers skiddish and so Embiid is available. I'm not making the same possibility for Andrew Wiggins. He's going No. 1 or No. 2, no lower than No.3.
Draft Joel Embiid: If he slips and you're willing to take the risk on the back, you can take him ... but things get complicated. The Magic have Nikola Vucevic. Embiid's ceiling is considerably higher than Vucevic's, but Vucevic right now is a starting caliber center who's getting better with every game. You can't really effectively pair the two together, neither can play the high in the high-low game. You can draft Embiid and trade Vucevic; you'll get strong offers but you lose leverage a bit when it becomes clear you have to make room for Embiid. And the kind of young, fast, athletic team doesn't really vibe with Embiid. Do you really want Victor Oladipo walking the ball up and throwing post entry passes?
That said, if he's there, and your doctors feel confident they can make it work with him, best player is best player, and that's where the Magic are.
Draft Jabari Parker: Parker falling here is not outlandish, based on both Dante Exum and Noah Vonleh's rising stock. Parker fits well here on multiple levels. He can play next to Vucevic at power forward, and can combine with Tobias Harris as combo 3-4's. He provides another ball handler to go with Victor Oladipo, so your need to find another point guard or combo guard is mitigated to a degree.
Parker's also a high-character guy with a great work ethic. He needs strength training and development, something the Magic have been very good at under Jacque Vaughn. If Parker slips here, he might be a no-brainer.
Draft Dante Exum: This is considered the most likely scenario. The Magic are said to be wowed by the Aussie youngster, and while Victor Oladipo answered every question I had last year about his ability to run point guard, they could still use another ball handler. You stick Exum and Oladipo in a modern two-combo-guard lineup and their length and athleticism take care of the rest, along with an incredible skillset. Exum would draw comparisons to Penny Hardaway and give them a true star to build around.
One problem? Exum is represented by Rob Pelinka, Kobe Bryant's agent. Exum has a soft spot in his heart for the Lakers. Do you want to draft a guy with that kind of background, after losing two former franchise stars to LA? This is a serious concern for me if I'm the Magic. You effectively don't have to worry about it for another eight years (no one leaves off their rookie deal who's a star), but eventually, this could be an issue. It's something to think about.
Draft Noah Vonleh: This would be tempting. The Magic have Andrew Nicholson and Tobias Harris at power forward, but Vonleh's upside is a step above. Pairing him with Vucevic sets up a pretty substantial frontcourt of the future, and two Indiana guys on the team could play together pretty well, you would think. Vonleh needs time to adapt and a strong development structure, and the Magic seem to have that. He wouldn't have to be the man right off the bat and his ability to stretch the floor could be huge.
But if the Magic want to move forward with their rebuild and make sure to take a legitimate step forward next season, Vonleh may not be the guy. He's not an alpha dog and is a few seasons away. This all depends on where the Magic front office and ownership think they are in their rebuild.
Draft Julius Randle: Count me in for this plan. Randle pairs beautifully with Vucevic, and their skills complement each other perfectly. Vucevic is big with a long wingspan, Randle has T-Rex arms but can bully to the rim. Randle works in the pick and pop with Oladipo and can run the floor with the Magic's young guns. Tobias Harris provides coverage for longer stretch fours defensively and Randle gives the Magic a guy with a ruthless approach to scoring. His mentality and approach is needed on the Magic, and he makes them better right away.
This is a pretty tremendous fit.
Draft Marcus Smart: Smart is a big top-10 wild card. Some guys love him for his strength, his skillset, his toughness, and shot making ability. Others are concerned about whether he'll evolve into a gunner in the NBA and if he can work in the flow of an offense. Both his strengths and weaknesses could be exacerbated on Orlando. Without a solid hierarchy, Smart could freelance too much and not trust Oladipo enough. But he could also take the pressure off Oladipo on-ball and make plays for Orlando.
Defensively, that's where this idea is gold. Pair Smart's strength and basketball intelligence with Oladipo's length and skill, and you have a shutdown backcourt for the next eight years. It's a tantalizing prospect, but it still seems like a reach.
Draft Aaron Gordon: Speed, skill, versatility, an instant weapon in the pick and roll and a long-term weapon with his natural abilities, upside and defensive skill. The Matrix Reloaded fits well with Tobias Harris and can play in smallball lineups effectively with Vucevic. He and Oladipo would be devastating in the pick and roll, and combine with Vucevic to provide potential lockdown defenders at all three levels of the defense.
It's a bit of a reach but it also provides the best combination of upside and immediate impact of any frontcourt player they can draft.
TRADE OPTIONS
Trade down: The Magic still need a top-four caliber player, so this seems unlikely, but if it's only a spot or two, you could see them justifying his. IF Exum is off the board and they're not set on Jabari Parker or if Embiid's back comes back with a medical red flag, it might make sense for the Magic to move down a spot. The trick would be finding someone who really wants that spot. One thing to consider:
If the Lakers find themselves desperate for Exum, this would be a great opportunity for the Magic to fleece them. Talk big about drafting Exum, then offer the No.4 for the No. 7 and a future first. Then, worst case scenario, you get Marcus Smart or Doug McDermott and another pick down the line. Orlando would have to sour on the top picks in this draft, but it does present an interesting opportunity to pick up multiple long-term assets.
Trade up: The Magic actually have the horses to do this. The Cavs' No. 1 pick is out of their range. But if the Sixers or Bucks decide they would rather have Exum or Vonleh, the Magic can offer Nicholson, Harris, Arron Afflalo, or even Vucevic along with the fourth pick to move up. They are one of the few teams with legitimate young prospects to offer. Which means they can also consider ...
Trade the pick for a veteran: There's no reason to do this, and doing it essentially means that they are trying to skip steps to accelerate the rebuilding process, and that almost always ends in disaster. Ask the Cavs. But if they want to, they can package Vucevic, the No.4, and Arron Afflalo and basically offer a stud prospect, a top-four pick, and a near-All-Star last season. That's going to turn some heads. It's not a bad option for the Wolves with Kevin Love, if the Magic just really want to rent him for a year and then watch him walk out the door. Or they can offer that package for Al Horford, which would be good but too much to surrender for him.
There's talk they would be open to a major move with Golden State to get David Lee. This sounds like a smokescreen from Golden State, but that pick is just low enough to have great value without demanding a king's ransom for it. Orlando can get crazy if it wants to.
Cavs star chose to be very secretive when talking to Lakers rookie after Thursday's game

New York announced Porzingis would not return shortly after star forward left game

Teletovic missed the final three months of 2014-15 season with Nets recovering from same i...
Keep it right here for all of the news, notes, scores and highlights from around the leagu...

The NBA's City edition Nike jerseys are bold and very different

The Wolves may be smoke and mirrors, but the Pacers have the look of a team that can hang in...