Dwight Howard would fight in the UFC for $10 million
Rockets center is willing to be knocked out if he gets the big payday, he tells UFC's Dana White.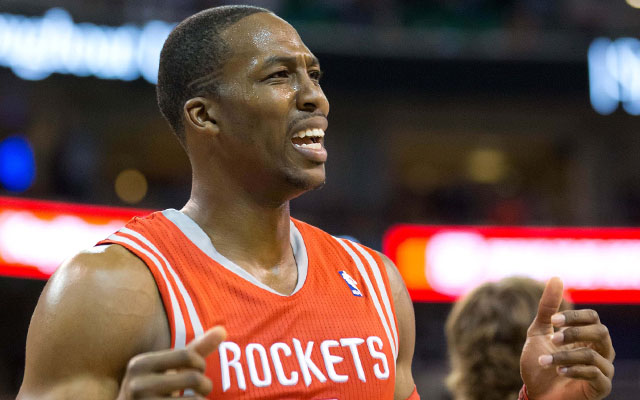 Rockets center Dwight Howard recently told UFC head Dana White that he'd step into the cage for a fight for the very reasonable price of $10 million. From For The Win: 
During a backstage visit at a UFC fight in Houston, the Rockets' big man told UFC president Dana White recently that he'd be willing to go into the cage … for $10 million.

"I would get up there and fight. If I get knocked out, I get knocked out," Howard said. "I'll get back up one day."

White immediately interjected. "I want to do that pay-per-view when you're ready, man," he said.
via Dwight Howard would do a UFC fight for $10 million | For The Win.
You can see Howard's full comments here (warning: NSFW.
With gangly limbs, a wide body, and a back injury, this sounds like a great idea, even if Howard did it after his playing days were over. Getting knee strikes on him would seem like a problem, though.
Oklahoma City has reportedly offered the MVP a five-year extension worth over $200 million

The big man was a big part of the Warriors' championship run last season

The Cavs jokes were out in full force after Golden State reportedly agreed to sign Antonius...
New York seems to be at the top of Irving's list of preferred destinations

Is it just a normal workout, or is LeBron continuing his recruiting efforts?

Chris Bosh answered on the spot about the LeBron James and Kyrie Irving situation