Friday Q&A: Damian Lillard and life beyond the breakout
Portland Trail Blazers guard discusses expectations, criticism, growing up in "the hood," and how he's improving as an NBA defender.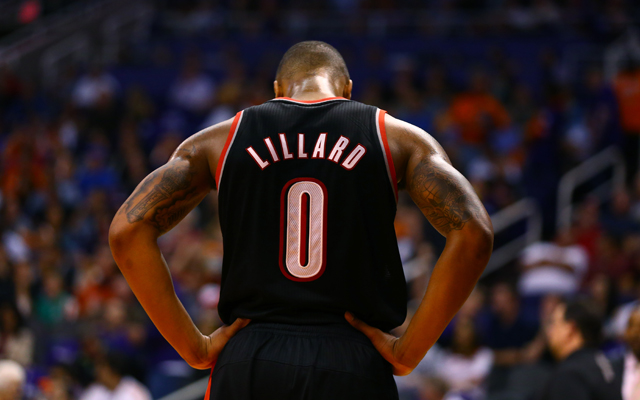 You've conquered the world. Now what?
That's the question that the reigning Rookie of the Year considers this season as he tries to go from last season's hot name to bonafide All-Star. Damian Lillard has never backed away from the honesty in his beliefs. That he can be an All-Star. That he can be MVP. That he can win championships. 
There's a youthful energy to the 23-year-old Portland point guard, but there's also a fascinating mix of confidence and humility. He's keenly aware of the opportunity he's been given to compete on this stage, yet he has absolutely no intention of giving an inch on his goals. 
He sits down in a hotel boardroom the boy who would be king, and the guy many feel will be "the Man" for the Blazers over the next decade. His legs are sore from an early season practice but he speaks with a comfort and casualness that belies his years. He seems, oddly, wrapped up in the experience of being a young NBA star and strikingly aware of how this is the good part. 
In a conversation with CBSSports.com, Lillard discusses the dissection of the modern NBA rising star, what it was like growing up in an environment of poverty and violence, how that's shaped his NBA career, and where his focus has been for his on-court improvement this year. Oh, and he eats a bunch of candy in a short period of time. 
Matt Moore, CBSSports.com: How was practice?
Damian Lillard, Portland Trail Blazers: Pretty good.
(Lillard takes a pen and sketches an elaborate signature on a stray piece of paper for no apparent reason.)
Just had to sign in.
(Lillard takes several pieces of candy from a nearby container and starts both loudly eating the candy and playing with the wrappers.)
MM: Home openers are tough on the road, man. (Lillard's Blazers lost in Phoenix in their season opener Tuesday, 104-91.)
DL: They are. (Crunching sound of candy being eaten.)
MM: It's something I don't think people talk about enough, how tough those games are.
DL: Yeah, they make a bunch of shots, crowd gets behind you. It's tough.
MM: Did you guys open at home last year? I don't remember.
DL: Yeah, we did. It was the Lakers... and we made every shot.
MM: I know you're way into music, rap especially. What's the best Nas album and why?
(Portland PR weighs in with "Illmatic" Nas' first album, )
DL: "Stillmatic." Because I can play it all the way through. To this day, I can play it all the way through.
MM: I read you're a big fan of (hip hop artist) J. Cole?
DL: Yes, I am.
MM: You ever read Passion of the Weis? It talks about how he's constantly compared to Nas and a bunch of other guys (among a great number of other things about Cole), and how that's not really fair to him and who he is. Do you ever feel that same dynamic as an NBA player?
DL: (Lillard plays with a candy wrapper for a moment while he thinks.)
Sometimes it can be an honor, but we're all individuals. I might have a different background than someone they compare me to in the past, or I may think differently than they do. It's one thing to say 'He reminds me of this guy from the past,' but it's different if you say 'He's just like..' You know?
MM: How would you describe your background?
DL: Solid.
(Pause... more wrapper crinkling.)
I grew up in... (air quotes) "the hood" I guess you'd call it. And it was tough for me growing up. I was exposed to everything. Gangs, drugs, violence, it was right there. It was right there my whole life and it was something I had to get past. Because I knew a lot of people who played basketball just like me but they were involved in all those things.
It was a challenge just for me to stick to what I wanted to do instead of falling off course.
MM: Have you been back since you blew up?
DL:Yeah, of course.
MM: What's it like when you go home?
DL: It's pretty much the same. People say 'I can't believe you're in the NBA!' and 'Keep doing your thing!' But they don't treat me like somebody else because they knew I grew up there and I've been there my whole life. So when I go back it's the same thing. They've just got a higher level of respect for me now.
MM: Is it difficult when most of the criticism in your job comes from people who don't or can't understand coming from that background?
DL: It is. We're under a microscope more than anyone else. So if we do something wrong, its going to be magnified. But if we do something right, it's also going to be magnified. So you gotta accept the good with the bad. We chose to be this, this is what we all wanted for ourselves. So we have to accept both sides of it.
MM: Is it easier to take advice from the other guys when they grow up under the same conditions?
DL: It's a lot easier. Some people don't understand. You take someone who came from a stable household with both parents, a lot of family support, maybe a couple of brothers and sisters. You understand sharing. You understand what it's like to have people behind you. As opposed to someone who might have been raised by their mother, might have been a single child, and you don't know how to share, you don't have a brother to share with. You've only got one person.
And all you know is 'I know my mom got my back and everyone else is against us.' So they might come to the NBA and they don't know how to work with other people, and they don't know how to not be selfish.
MM: Has there been anyone outside of your teammates who have reached out and been supportive?
DL: Baron Davis.
MM: Oh yeah?
DL: Yeah, I've got a good relationship with Baron because he's from LA, he's an inner city guy. He reminded me of myself. When I watched him as a kid, he's a competitive guy, he could take over a game.
He reached out to me and said 'I respect what you've got going', but he wasn't afraid to tell me 'You can do this better.' That's how my brother is. He's proud of me, but he'll be the first one to come to me and say 'Yeah, but you need to do this better, You didn't do this great.' And that's how BD got at me.
We kept in touch, we spoke, and ever since then, he's been like a big brother to me.
MM: Was there anything specifically on court he said you needed to work on you can tell me?
DL: It wasn't so much in-game, but on-court approach to the game. Having the weapons around me like Nico (Nicolas Batum), and LA (LaMarcus Aldridge), and Wes (Wesley Matthews) and Mo (Mo Williams) and Dorrell Wright, Robin Lopez, being able to make them better and get defenses to pay attention them. Then, to go into my attack mode and dominate the game.
The thing we talk about most is managing the game.
MM: What have you focused on defensively over the summer?
DL: I know in the NBA all the teams run a lot of the same stuff. We'll have different names for them, but it's stuff like 'Fist' or "Weak' and it's terms that you just know what you are. Now as opposed to last year, I'm a step ahead because I know those terms better and I know what they mean so I know what's coming.
I think that has a lot to do with it as a rookie because you hear these calls and you don't know what they mean. So you're just playing it by ear. I think that's why with experience guys get so much better is because they know what to expect. You can see things before they happen because you've heard them before.
MM: How's the communication with your bigs?
DL: They do a really god job communicating. I think with point guards, it's our job to keep telling them they need to let us know these things. Let us know which side it's on, what coverage do you want. I think the more we keep putting that on their mind, and keep reminding them, it'll make it easier for them to tell us what coverage to go to.
Robin's a defensive center. He's very vocal on the court. And he's a big body, so if a mistake does happen, he can make up for it with his size. Same thing with LA. He's calling it out because he wants to make it easier on me and I want to make it easier on him. I think our bigs do a good job of it.
MM: How do you respond to the letdown of losing your opener, with all the expectations you guys have put on yourselves this year to be a playoff team?
DL: It was rough. It was a game that we wanted. But it's an 82-game season. Any real competitor isn't going to feel that way afterwards, though. You're going to be pissed off about it. And then you watch film, have a good practice, and you realize there's another game coming up the next day.
MM: What was the tone of practice?
DL: Same as always. Pretty normal. We've moved on from it, I can tell you that.
MM: You happy with your 2K Sports rating? (Lillard was rated an 84.)
DL: It's fine. If I wanted to I could get on the game and make myself a 99. So who cares?
MM: Did you have to learn to pace yourself last year, in terms of your body and stuff like that?
DL: I don't pace myself. I just play. With our training staff, they do a great job of trying to stay in control of how hard we practice and how long we go in the weight room, how hard we go on our bodies and that plus pride, those things mean we don't have to pace ourselves.
We don't have to worry about those things we just have to do what we've been doing and get after it.
Altman addressed the media about Irving during his introductory news conference

Toronto's center has an uncertain future; can we still talk about this 25-year-old's poten...

Oakley was vague with his response on when he'd attend another Knicks home game
The NBA commissioner said expansion is 'inevitable,' but not a priority right now

The NBA social media world was buzzing after a leak of what looks like the Cavs' new jersey...

The guard's injury hampered him in the NBA playoffs but he's slowly ramping up his on-court...