J.R. Smith, Knicks agree to four-year, $24 million deal
The Knicks have agreed to four-year, $24 million deal with Sixth Man of the Year J.R. Smith.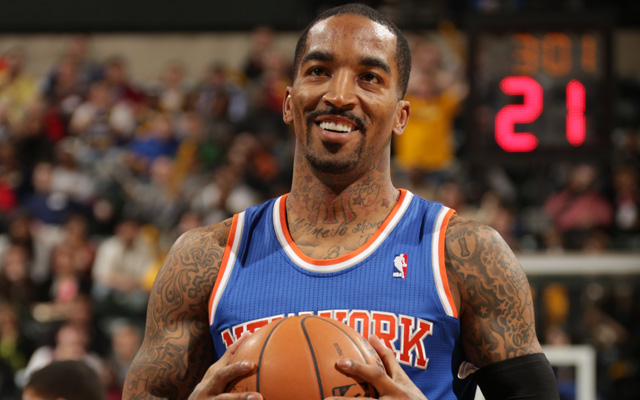 Update July 4th, 12:06 p.m.: Ken Berger of CBSSports.com confirms the deal is agreed to at four years, $24 million. The Sixth Man of the Year will continue shooting a lot for New York in the coming years. 
---
New York's Daily News reports and Yahoo confirms the New York Knicks are close to getting their Sixth Man of the Year back in uniform, and this time, it's for the long term. 
J.R. Smith and the Knicks are finalizing a contract extension that will keep the NBA's reigning Sixth Man of the Year with the club for another four years.

According to a Knicks source, the deal could be completed by Thursday.

Smith is expected to receive the "average player salary exception," which could amount to $24 million over four seasons.
via J.R. Smith set to return to Knicks as details of four-year contract are hammered out  - NY Daily News.
That's $6 million per season or, as I've come to call it, the Michael Beasley Line, after the Suns signed Beasley to a three-year, $18 million deal last summer. Smith is a better player than Beasley, to be sure, and he was the Sixth Man of the Year last season. So this has to be great value, right? 
Smith averaged 18 points, five rebounds and three assists last season on 42-percent shooting with a 17.6 PER. From Dec. 1 through March 15, he shot just 39.5 percent. The good news is that, in the playoffs, the Knicks' essential, free-to-fire gunner shot 33 percent, with 157 points on 163 shots. 
So there's that. 
The New York Post reports the deal is still being negotiated and could wind up with a much more reasonable deal: 
The Knicks had talked to Smith about a two-year package (worth roughly $11.5M). After the two years are up, Smith could then re-sign with the Knicks with full Bird rights and get a maximum contract.
via Father: J.R. could sign with Knicks Friday, but still seeking other offers.
But Smith is whom the Knicks wanted, he's part of their plan and, with no cap space, they needed to get a shooter. So they re-sign Smith and make another run with last year's team, plus Andrea Bargnani. 
The possibility of a Prigioni-Smith-Melo-Bargnani-Stoudemire lineup is worth the price of admission to any Knicks game. 
Jonah Keri talks with NFL and NBA broadcaster Ian Eagle

SportsLine simulated Wednesday's Nuggets-Clippers game 10,000 times

Galin Dragiev has his finger on the pulse of the Lakers and just locked in a play for Wedn...
No more McNuggets allowed in the Barnes household

Leonard has played in only nine games this season for San Antonio

Pierce is set to have his jersey retired on Feb. 11, but there's been a lot of controversy...