Knicks coach Woodson won't commit to starting lineup
Mike Woodson says no starters beyond Carmelo Anthony, Tyson Chandler, and Raymond Felton are set going into camp next month.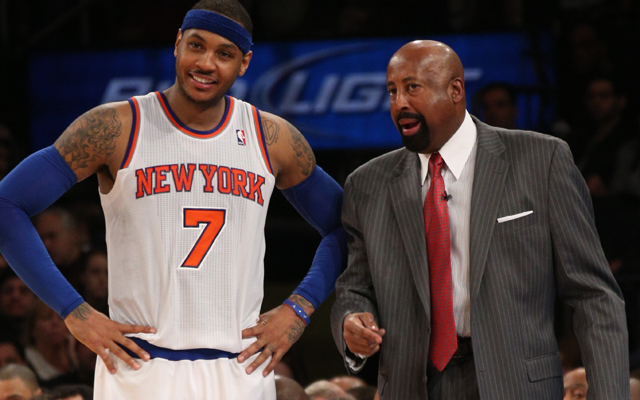 Speaking at a camp this week, Knicks coach Mike Woodson said that there are no established starters going into training camp beyond Carmelo Anthony, Tyson Chandler, and Raymond Felton.
"Thats what we use camp for. I have no idea who's going to start," Woodson said. "Camp should be pretty competitive based on the talent, and that's how it should be."

Noticeably absent from that list of starters was Iman Shumpert, who started all 45 games he played in last season after returning midway through the season from an ACL injury suffered in the 2012 playoffs. Shumpert also started all 12 of the Knicks playoff games last season.

"You've got to go in and earn a spot," Woodson said when asked about Shumperts status as a starter. "That's how I look at it."
via Mike Woodson unsure of Knicks starting lineup.
The idea there is that any number of combinations could be used. The biggest question is about Iman Shumpert, who has arguably earned a spot with both his athleticism and performance/effort in the last half of the season and playoffs. With the departure of Jason Kidd, it would make the most sense to shift Shumpert into the starting lineup, but then the question becomes who starts at the 3 or 4 should Melo hold his spot at power forward. 
Really the best idea would be to move last year's Sixth Man of the Year gunner J.R. Smith to shooting guard, move Shumpert to small forward, and keep Melo where he's had the most success, at the four alongside Chandler. But there's a pretty good chance that newly-acquired Andrea Bargnani or Amar'e Stoudemire returns to the four and Melo shifts back to the three, due to the changes in Knicks depth. It'll be an interesting question to watch going into training camp, and it's also slightly unnerving if you're Shumpert to know you're still scrapping to earn that starting spot. 
(Note: Starting in the NBA is the most overrated concept imaginable and is really just a matter of pride used as currency. Closing lineups matter a lot more.)
Knicks forward had his truck stolen out of his driveway

The Celtics will send No. 34 to the rafters in Boston when they take on his old rival

It's never too early to look at June's NBA Draft
Cousins uses some colorful language to get his point across

The awards are voted on by peers in the NBA and adds to Russ' league MVP award he won this...

Minnesota is facing even bigger expectations headed into next season, and they'll be difficult...