FULL FIRST-ROUND SCHEDULE | EXPERT BRACKETS
Marcus Smart is not a superstar, but no one should tell him that. His performance in the Boston Celtics' 104-95 overtime win over the Atlanta Hawks on Sunday was enough to make you at least think about him playing full-court pressure defense in the All-Star Game one day. In the game that tied the series 2-2, Smart had 20 points, eight rebounds, five assists and two steals. He shot 7-for-15, including 3-for-8 from deep. He played 42 minutes, and Boston outscored Atlanta by 24 points in that time. This is only possible because he believes there is nothing he can't do.
Fundamentally, Smart is a strange player. He was drafted as a point guard, but he spends much of his time playing alongside an All-Star point guard in Isaiah Thomas. Smart is often praised for his poise and maturity, but he often launches ill-advised jumpers. The Celtics might very well have lost this game if coach Brad Stevens didn't have the 6-foot-4 Smart defend power forward Paul Millsap down the stretch.
"I'm a basketball player," Smart said. "I don't really define myself as any position. And I think that's what's been so unique about me growing up and playing ball."
Stevens made the change with about nine minutes left in the fourth quarter. Millsap had 41 points at the time. 
"I was just like, 'OK,'" Smart said. 
With 5:35 left in the fourth quarter, Millsap backed Smart down. Millsap created contact, created space and made a layup. It gave Atlanta a two-point lead. 
"Too little," TNT analyst Reggie Miller said on the broadcast. "There's no way that Smart, the way Millsap is rolling -- 43 points -- is going to be able to guard him down low."
Miller was wrong -- that was the only shot Millsap made against Smart. The Hawks All-Star finished with 45 points, scoring one more time on a cut when Smart double-teamed Al Horford. 
Stevens said he was "throwing darts," trying to find someone to stop Millsap. He then praised Smart for making Millsap take tough, contested shots and then keeping him off the glass.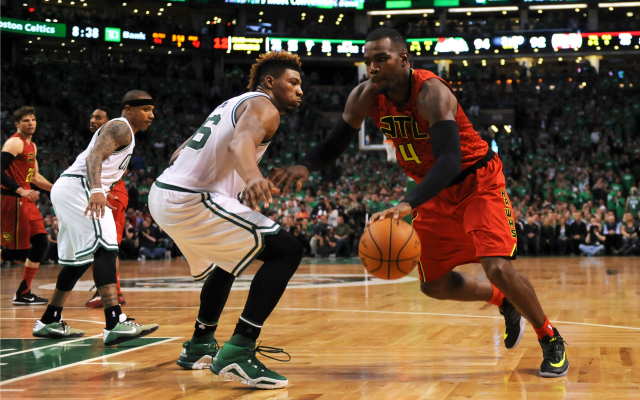 "I can't describe it," Thomas said. "I mean, you give Marcus Smart an assignment, he's probably going to get it done. No matter who he's playing against, he's a hell of a competitor. You need guys like that to win in the playoffs, and he played an unbelievable game tonight."
If this was Smart rising to the occasion, he reached even bigger heights months ago. Back in January, Stevens had Smart defend New York Knicks rookie Kristaps Porzingis, who is 11 inches taller than him.
"I pride myself on defense," Smart said. "And this team knows that. My teammates know that and my coaches know that and they trust me to do that."
In this particular game, Boston also needed his offense. With Avery Bradley out of the lineup because of a hamstring injury and Kelly Olynyk limited because of a shoulder injury, the Celtics' 13th-ranked offense has taken a hit in the playoffs. In the fourth quarter, Smart came to the rescue. 
There was the driving dunk on the baseline. Then there were the back-to-back 3-pointers on the left wing. It all happened in 71 seconds, and it made TD Garden go crazy. When Smart grabbed a couple of key rebounds later in the game, it was clear why he's the sort of player coaches say impacts winning when his shot isn't falling. When it is falling, though, he is a force.
In the regular season, Smart made 25.3 percent of his 3-point attempts. In this series, Smart has taken six 3-pointers per game and made 37.5 percent of them. The way he shoots them, it is obvious that he doesn't care what it says on the scouting report. He thinks he will make every shot, and he has no fear of performing on this big stage. It is scary to think how dangerous he'll be if and when the 3s go in consistently. 
"He's going to be special in this league," Thomas said. "He's only 22 years old. Imagine in a few years what he's going to be like."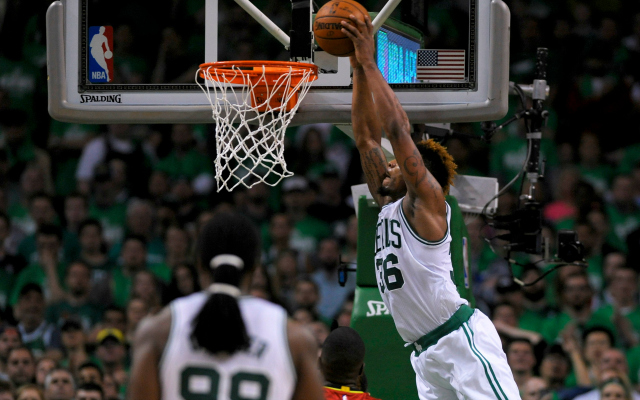 CBSSports.com Experts' NBA Playoff predictions
 


Ken
Berger


@KBergCBS


Bill
Reiter


@sportsreiter


Zach
Harper


@TalkHoops


James
Herbert


@outsidethenba


Matt
Moore


@MattMooreCBS


Ananth
Pandian


@Ananth_Pandian

Eastern Conference
Hawks
vs.
Celtics

in 6

in 6

in 7

in 7

in 6

in 6
SERIES RESULTS, SCHEDULE:
Eastern Conference First Round
Game
Date/Series
Location
Time
TV
Game 1: Hawks 102, Celtics 101
Atlanta leads 1-0
Philips Arena
7:00 p.m. ET
ESPN
Game 2: Hawks 89, Celtics 72
Atlanta leads 2-0
Philips Arena
7:00 p.m. ET
TNT
Game 3: Celtics 111, Hawks 103
Friday, April 22
TD Garden
8:00 p.m. ET
ESPN2
Game 4: Celtics 104, Hawks 95 (OT)
Sunday, April 24
TD Garden
6:00 p.m. ET
TNT
Game 5: Celtics at Hawks
Tuesday, April 26
Philips Arena
TBD
TBD
Game 6: Hawks at Celtics
Thursday, April 28
TD Garden
TBD
TBD
Game 7: Celtics at Hawks
Saturday, April 30
Philips Arena
TBD
TBD