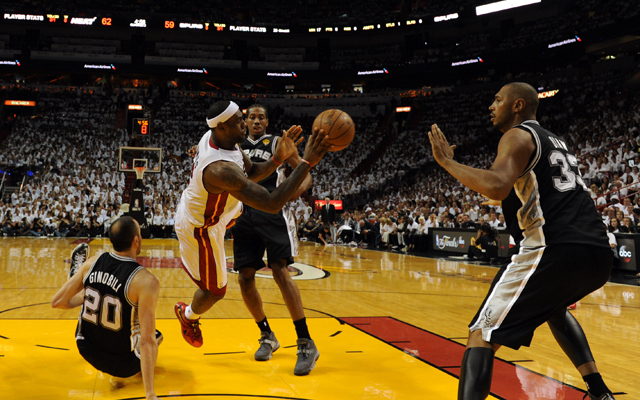 MIAMI -- Is Kawhi Leonard a "LeBron stopper?" 
This is where we're at after Game 1 of the NBA Finals, due to the fact that the Spurs defeated the Heat on Thursday night. Had Tony Parker's last nanosecond shot not counted and LeBron tied or won the game, the conversation would be entirely about how the Spurs can't stop James. 
But in reality, there's room for both. Here's the truth. LeBron James had a triple-double with 18 points, 18 rebounds, and 10 assists. It's just not possible to have a bad game with those numbers. LeBron made a huge impact in Game 1 and played well because he's the best player on the planet. 
But Kawhi Leonard also defended James well, made him work, and forced him into 18 points on 16 shots. That's inefficiency you rarely see from James, and an indication of how successful he was. So a great player played great, and a great young defender stepped up to challenge James. 
Here's the best part. On Friday, Leonard was having none of the idea that he shut down or affected LeBron James. 
"I think I did all right," the Spurs forward said. "We won the game, but he had a great game. Had a triple-double. Found his teammates and knocked down shots. I've just got to come out next game a little more focused and try and make it tough on him."
"Making it tough on him" was the Spurs' go-to concept to a man. Just making James work for his shots, not giving him anything easy, and staying focused. You have to dig and claw with San Antonio to get anything of meaning out of them. But Leonard did talk a little bit about his approach and what works vs. James. 
"My quickness," Leonard said. "Just being quick with my feet and having long hands and arms."
It's an interesting concept because so many think that Leonard's size is the biggest deterrent. Veteran forward Boris Diaw pointed to it not being any one factor with Leonard. 
"[Kawhi has] got everything, I think," Diaw said "He's got length, he's got quickness, he's got strength, he's a good defender."
"I think it's all of the above," said Danny Green, who also spent time on James. "You need all of those things. He's fast, strong, quick, long, athletic. Kawhi has a great number of those things. He's quick enough, he's physical enough, even if he's not as much as LeBron, he's got that ability."
But it wasn't all Leonard in Game 1. San Antonio brought help defenders from the wing to attack his dribble, Tim Duncan to shade him away from the lane, and another big man to help challenge James at the rim.
The Spurs were adamant Friday that they didn't make any adjustments to their scheme to attack James because, you know, they're the Spurs and that's what they say. But they did finally admit that against James, the most dangerous player in the world, they're allowed to help off more than they normally would. 
"Yeah, depending on who you're guarding," Green said. "You have to know your personnel and who you're guarding. You're not going to leave Ray Allen, you're not going to leave Mike Miller, but the big men have a little more freedom. We have to trust each other, help, and rotate on a string."
Spurs big man Tiago Splitter says you have to help against James. There's no other option. 
"It's the only way to do it. Nobody can guard LeBron one-on-one. He's a fantasic player, great one-on-one. We've got to make plays."
"Helping is the main focus of our defense," Diaw said, with a smile. "But we just give [James] a lot of attention." 
That help is what makes them so effective, but it's also what helps give a young player like Leonard the confidence to take on the best player on the planet. 
"I just basically try and keep him in front of me. Try to make him take tough shots. If he gets by me, it's just basketball. My teammates will come help."
Leonard remained humble after winning Round 1 vs. LeBron, despite the MVP's triple-double. It shows you how high the execution is in this series, where limiting James to 18-18-10 is a victory and a job well done for the man out on his own island with the best player in the world.