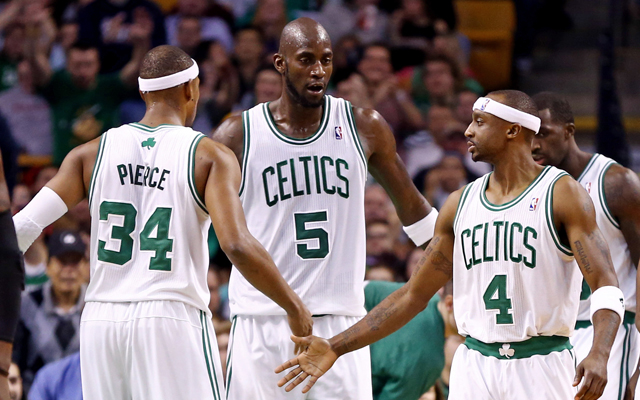 The deal that was reported before the 2013 NBA Draft, which sends Kevin Garnett and Paul Pierce to the Brooklyn Nets has been completed. The teams had to wait for the July 10 free agency moratorium to end before they could finalize the deal, but it was officially announced by both teams on Friday. 
The trade sends Kevin Garnett, Paul Pierce, Jason Terry and D.J. White to the Nets. In return, the Celtics receive Kris Humphries, Gerald Wallace, Keith Bogans, MarShon Brooks, Kris Joseph and three first-round picks. The Celtics also have the option to swap first-round picks with the Nets in 2017. From the Celtics:
The Boston Celtics announced today that they have traded forward Paul Pierce, forward/center Kevin Garnett, guard Jason Terry and forward D.J. White to the Brooklyn Nets in exchange for forwards Gerald Wallace and Kris Humphries, guard/forward Keith Bogans, guard MarShon Brooks, forward Kris Joseph, three future first round draft picks and the option to swap first round picks during the 2017 draft.

"We would like to thank Paul, Kevin, and Jason for everything that they have done for this franchise. We would not have won Banner 17 without Paul and Kevin and they will go down amongst the all-time great players to have ever worn a Celtics uniform," said Celtics President of Basketball Operations Danny Ainge. "At the same time we are excited to welcome Gerald, Kris, Keith, MarShon and Kris to the Celtics family. They bring a wealth of talent, experience, depth, and flexibility to our team."

"Paul and Kevin exemplified everything it means to be a Celtic," said Celtics Managing Partner and CEO Wyc Grousbeck. "They were instrumental in bringing back Celtic Pride and providing our fans with the franchise's first championship in over 20 years in 2008. We wish them nothing but the best in the future."
This adds star power and big names to a Brooklyn team that has been acquiring big salaries over the past season. With their offseason moves and the increased luxury tax repeater penalties in play with the collective bargaining agreement, it's estimated the Nets will pay roughly $83 million just in luxury tax payments alone. Overall, they'll likely exceed $180 million with salaries and penalties. 
Brooklyn Nets owner Mikhail Prokhorov clearly isn't worried about cutting a big check. He's just happy the Basketball Gods are smiling on Brooklyn:
"Today, the basketball gods smiled on the Nets," said Nets Principal Owner Mikhail Prokhorov. "With the arrival of Kevin Garnett and Paul Pierce, we have achieved a great balance on our roster between veteran stars and young talents. This team will be dazzling to watch, and tough to compete against."
Garnett and Pierce join a team that was already ninth in offensive efficiency last season. They'll join Brook Lopez, Joe Johnson and Deron Williams, along with rookie coach Jason Kidd. Kidd took over the reins on the sideline this offseason after P.J. Carlesimo wasn't brought back to coach the team following his interim position as the team's coach. 
With this move and the reported signing of Andrei Kirilenko, we now start wondering just how big of a threat the Brooklyn Nets are to someone like the Miami Heat. 
For the Celtics, this marks the end of an era with Garnett, Pierce, Ray Allen and coach Doc Rivers. They formed the core that won the 2008 NBA title together and now they are all gone. The big holdover from that era is Rajon Rondo, who will try to help new coach Brad Stevens keep the team competitive as they rebuild the franchise.