Report: Carmelo to start at power forward, Bargnani off the bench
Knicks coach Mike Woodson reportedly has a starting lineup and it means Andrea Bargnani will come off the bench. Can this lineup play defense well enough?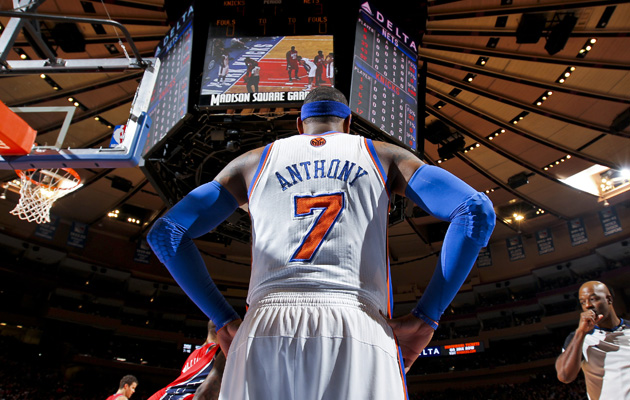 Mike Woodson's been playing with different starting lineups for the Knicks all preseason. Now the New York Post reports that the coach has his first five for Wednesday's opener vs. the Bucks. Carmelo Anthony starts at the four, and Metta World Peace at the three. Andrea Bargnani will come off the bench.
Mike Woodson would not commit to World Peace starting for Bargnani on Wednesday, but Anthony revealed the move by saying he would play at power forward.

"I didn't expect it, we didn't expect it,'' Anthony said. "That's what he's going with. I think guys are ready for the move. Everyone seems on board with that. Whatever position we have to play, we have to go out and do it.''
via Knicks won't start Bargnani; give World Peace a chance | New York Post.
The only question left is whether Woodson will do the sensible thing and put Iman Shumpert at shooting guard or start a two-guard set with Pablo Prigioni as he did last year with Raymond Felton and Jason Kidd. 
Moving Melo to the four is the most sensible solution. The Knicks need bench depth, Amar'e Stoudemire or no Amar'e Stoudemire, and Bargnani can provide that. Meanwhile, the Knicks' best lineups offensively have always been with Melo at the four and World Peace can help defensively against power forwards. 
It's a sensible decision by Woodson, at least to try. If needbe, he can always try a lineup with Melo at the three and MWP off the bench. World Peace won't object to that. But to get things started right, the Knicks need to focus on defense, and this configuration plays best to that. 
Not many games, but still plenty of action and intrigue Sunday in the Association

An old rivalry is reignited between LeBron James and the Cavaliers and John Wall and the W...

SportsLine's Mike McClure, a DFS pro with more than $1M in winnings, gives optimal lineup...
LeBron had 29 points, 11 rebounds, and 10 assists in the Cavs' 109-100 win over the Jazz

The montage showed Carmelo's best Knicks moments before playing the Thunder game

KCP can't leave California for 25 days due to the terms of his pleading guilty to a misdemeanor...