Report: League personnel prefer Jabari Parker as No. 1 draft choice
An anonymous poll suggests Jabari Parker could go No. 1 in June's draft.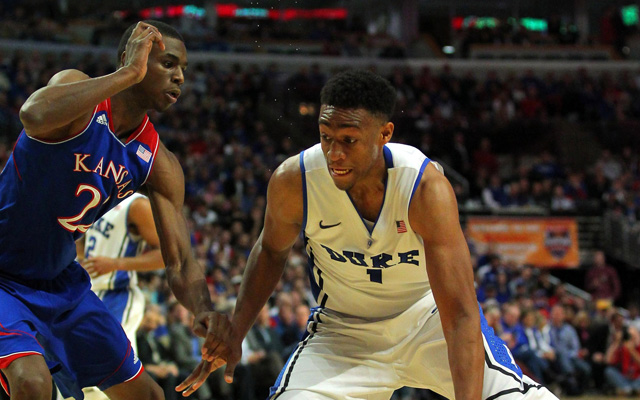 More Draft: Emmert meets with owners | Early entries this year | Draft news
ESPN.com reports that in a survey of 30 NBA front office personnel, Jabari Parker is considered the top choice in the draft. 
However, after polling 30 NBA executives shortly after all three players had officially declared for the draft -- from numerous GMs to player personnel guys and NBA scouts -- you might be surprised at the results of who they would choose No. 1 overall:

Jabari Parker: 17 votes

Joel Embiid: 8 votes

Andrew Wiggins: 5 votes
via NBA Draft - Jabari Parker favored over Embiid and Wiggins among 30 NBA executives - ESPN.
The author Jeff Goodman notes that most executives prefer Parker based on intangibles and NBA readiness. While I agree Parker's at the top on both of those lists, there are two factors to consider. 
Before the draft, GM's talk about readiness. They want a guy who can conribute now. That's an easy answer to media people. Who wants to be known as the guy who's taking pie-in-the-skie chances that Andrew Wiggins will grow a stegosaurus spine over the guy who can come in and dominate right now? 
But when the draft choice is actually in front of them, then it becomes "Do I want to pas up on what this guy could be?" That changes the dynamic. Andrew Wiggins is easy to pass up on for who he is now. But in four years, that's different. The hitch? Most league personnel won't be in their same jobs in four years. Surviving the process of growing the roster around whoever they draft is difficult. That plays a part as well.
Parker can go No. 1, it wouldn't surprise anyone. Neither would it if Embiid or Wiggins went. Embiid remaining in front of Wiggins considering the back injury is a little surprising, but then, big men make scouts and GMs go nuts. It'll be interesting to see how this shakes out after teams start scheduling workouts. 
SportsLine's Mike McClure, a DFS pro with more than $1M in winnings, gives optimal lineup...

Leonard was recently shut down again to rehab the nagging quad injury

Ellington is averaging a career high 11.2 points, and shooting 41 percent from 3-point lan...
Multiple players said the meeting did not go well

The Cavaliers, you might have heard, are slipping

Here's how to watch Jimmy Butler and the Wolves take on Blake Griffin and the Clippers