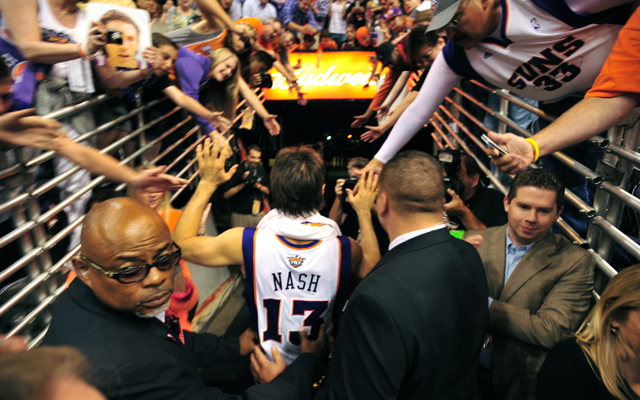 Steve Nash already has one offer to consider, and it's a big one.
(Getty Images)
Steve Nash said money still has something to do with his free agency decision. Well, if it has a lot to do with it, his decision was just made much easier by the Toronto Raptors.
According to ESPN.com, the Raptors have offered the 38-year-old Nash a three-year, $36 million deal. Nash, a two-time MVP that has played some of his best basketball in his advanced years, would be looking at $12 million a year. Amazing. (Nash made $12 million in Phoenix during the last year of his deal.)
The Raptors were said to be planning a hard push for Nash. Well, they're pushing and it's most certainly a firm one. They clearly wanted to knock his socks off, and I'm assuming they did.
There has been a lot of chatter that Nash would take a paycut to sign on with the Heat or Mavericks or Knicks in order to chase that elusive championship. I'm sure a title shot has a lot to do with his choice, but money talks. And $36 million at 38 years old is a lot of talking.
Part of the hook is that Nash is Canadian, and his popularity in Canada is already off the charts. In fact, Nash is the general manager of Canada basketball.
The Raptors already have Jose Calderon, a quality point guard, but they could waive him with the amnesty clause, or move him in a trade. Or keep him for a pretty good point guarding tandem. 
Problem is with the Raptors, they aren't that good. Nor is there really a vision to be good in the future. Last season, Toronto went 23-43 and will return virtually the same roster. Their 2011 lottery pick Jonas Valanciunas could potentially join the team, but it will mostly be DeMar DeRozan, Andrea Bargnani, Amir Johnson, Ed Davis, new pick Terrence Ross and Calderon. Is adding Nash to that equation enough to make them a playoff team, much less one that's in title contention?
Of course with a three-year deal, there's potentially some long-term planning to be had and Nash has said he doesn't feel it's a must to cap his incredible career with a ring. In the twilight of his career, maybe going out in his homeland trying to help the Raptors to respectibility is intriguing.
It's not out of the question that Toronto can turn things around a bit. A title contender? That could be a stretch, but the East is still open in terms of playoff slots and adding Nash with the assumption young talent will develop could yield something positive.
Also intriguing: $12 million a year. He won't be seeing that from anyone else. The Suns have reportedly considered giving Nash a two-year, $20 million deal, and that seemed extremely generous at the time. Nash has defied age for quite some time but at some point, it really does have to catch up, right? Right???
Nash isn't done hearing out his free agency options and he'll get pitches from the Knicks, Suns and a few other teams like the Heat and Mavericks, most likely. But it's a question as to what's most important to him. Nash is a loyal, honest person and isn't afraid to acknowledge that money matters. Because it does. Especially when it's a long-term deal totaling $36 million, which in actual terms, is a raise from his last deal.
Nash has talked about how he felt this free agency period was going to be interesting and fun for him. How he thought he'd have some good options to consider. Not even a day in, and he's got a fairly huge offer. If he wants to get paid and try and build a winner in Canada, he can. If he wants to shine in the Big Apple, he can. And if he wants to hitch on for run at a title in Miami, he most likely can.
Not too bad for a 38-year-old.