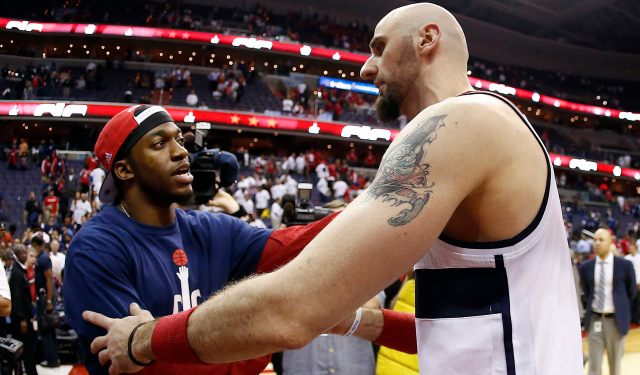 More Offseason Analysis: Coaching changes, news | Free Agency | Draft
The Washington Wizards will do all they can to re-sign center Marcin Gortat in free agency, and it starts with a trip to Poland to visit him, via J. Michael of CSN Washington.
Now that the NBA draft is over, the full-court press is on to convince Marcin Gortat to remain with the Wizards, who are sending a contingent to Poland before the free-agent negotiation period opens July 1, CSNwashington.com has confirmed with multiple persons with knowledge of the situation. 

Coach Randy Wittman and Tommy Sheppard, senior vice president of basketball operations, are leaving Friday to visit Gortat who has been coordinating basketball camps across his homeland. Wizards assistant coach Pat Sullivan already has been there assisting Gortat, who is coming off one of his best seasons as a pro -- and his first in Washington -- with 13.2 points and 9.5 rebounds per game. 
Wizards forward Chris Singleton is already with Gortat in Poland, helping at his camp, as shown in a recent Instagram photo.
Washington surrendered the Phoenix Suns a first-round pick, which turned into Tyler Ennis on Thursday, in exchange for Gortat just before the start of this past regular season. He was a big part of the team's success, and he had good chemistry with John Wall in the pick-and-roll. It would be quite a setback for the Wizards to lose him, and the franchise appears to have no intentions of letting that happen.
The challenge will be bringing Gortat back at a reasonable cost. He made $7.7 million last season, and he is 30 years old. Washington also wants to keep forward Trevor Ariza, who will also hit free agency and be seeking a long-term deal.