Rumor: Mavericks interested in targeting Chris Bosh as a free agent
Dallas could go after Dallas-native Heat PF/C as a free agent to work alongside and eventually replace Dirk Nowitzki.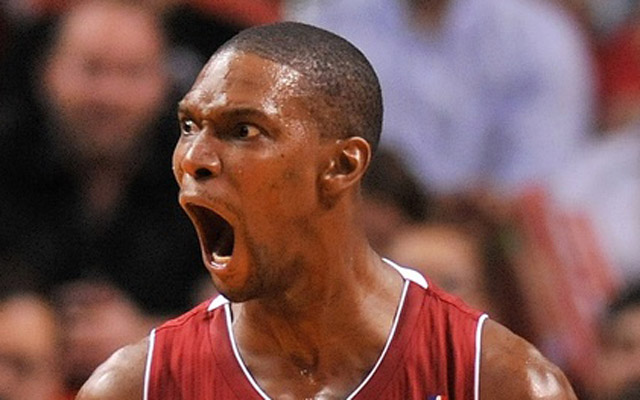 ESPN reports that the Dallas Mavericks could make a run at Chris Bosh in free agency this summer. 
There are a few long shot entries. The Bulls could clear cap space with a few roster moves but the knee injuries to Derrick Rose have changed their landscape. The Dallas Mavericks will have cap space and some star power but league executives expect them to target another Heat free agent, Dallas native Bosh.
via Grip on LeBron strong as Heat visit Ohio - Miami Heat Index Blog - ESPN.
The Mavericks have missed out in the past three years on LeBron James, Bosh, Carmelo Anthony, Deron Williams, and Dwight Howard. So their track record isn't great. Bos, like Deron Williams, is from the Dallas area, so you imagine that's a pull. Putting Bosh next to Dirk Nowitzki would be weird and awkward but if you really wanted to run a smallball team, it could work, theoretically. 
It would also provide a gap between Nowitzki and the future. 
It brings up an interesting question of just what happens with Bosh. If LeBron James decides to re-sign with Miami or doesn't opt out, does Bosh look elsewhere for what may be his last major payday? Or stay in Miami to continue the success he's had there, albeit as a third wheel? The drama continues to unfold for the Triad. 
Mirotic was reportedly hospitalized following the incident during Tuesday's practice

Thomas recently said that he may never speak to Ainge again after being traded by Boston

LeBron said he'll give 'passion, commitment, and inspiration' while he's wearing a Cavs un...
SportsLine's computer model simulated Celtics vs. Cavs 10,000 times with surprising result...

There are a lot of rumors, but Irving is keeping quiet about his motives for leaving Cleve...

From the Warriors to the new superteams to the Sacramento Kings, get ready.