Heading into the 2016-17 season, a great crop of third-year players is entering pivotal a time in their careers. For some, they need to make sure they don't fall off and make their teams hesitant to offer a max extension off their rookie contract. Others are looking to prove they deserve big money and are worth keeping around to prevent rival teams from coming in with offer sheets their current clubs wouldn't match. Still more will be asked to increase their roles or prove last season's big finish was no fluke.
Here are seven players that are looking to make a big leap in their third seasons.
The top pick from the 2014 NBA Draft and the savior of the Wolves franchise before they drafted Karl-Anthony Towns, Andrew Wiggins has an enormous third year in the NBA ahead of him. All he's really known in the first two years of his career is chaos. He was traded a month after signing his rookie deal with the Cavaliers, spent much of his rookie season without his point guard Ricky Rubio and then his head coach, Flip Saunders, passed away right before his second season. It hasn't exactly been a steady environment for Wiggins, and yet he's still been better than most casual observers recognize.
Wiggins has been a pretty efficient high-volume scorer for Minnesota but his 3-point shot has not come around yet. He's been a very good on-ball defender (especially when you factor in his age and assignment of best scorer on the opposing team every night) but his help defense has been inconsistent at best. He's struggled with some ball handling and passing, but his comfort with the ball looks better this summer as he works with trainer Drew Hanlen. He was also making a lot more of these plays toward the end of the season.
Going into his third season, Tom Thibodeau's culture will either expose Wiggins as a fraud in hiding (unlikely) or begin to unlock the massive potential people believe he has. He will be brainwashed into making the right defensive decisions. He will be freed offensively by an offensive system that is emphasizing 3-point shooting (based on Thibodeau's various comments throughout the offseason) and doesn't leave Wiggins swarmed by three or four defenders and no space.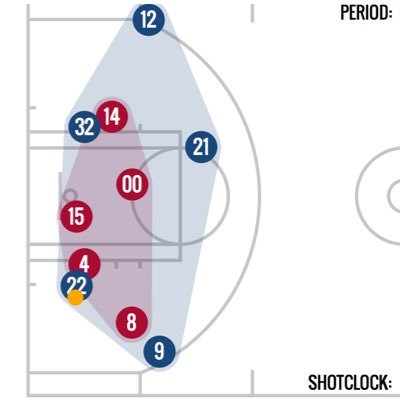 His stats (20.7 ppg, 3.6 rpg, 2.0 apg) may not change a whole lot, but his effectiveness and impact on the court should rise considerably. This will be the first season the advanced stats begin to love him.
Things got a little complicated by the acquisition of Serge Ibaka. Aaron Gordon is probably best used as a power forward in today's NBA desperate for small forwards that can play power forward without giving up anything on defense. Gordon has often been compared to a newer iteration of Shawn Marion, and while that can be unfair to lump that kind of versatility and effectiveness on a young player, they do have some stylistic similarities. They're about the same height. They both have big wingspans. They're both athletic in extraterrestrial ways.
It makes sense to try to make Gordon your new Marion, even if you're Orlando and you never had a Marion (Bo Outlaw sort of counts). But the Magic went aggressive by acquiring Ibaka and signing Bismack Biyombo. They're committed to those two guys and still have Nikola Vucevic as their starting center (for now). That leaves Frank Vogel plugging Gordon in primarily at small forward to begin games and that means he's going to have to make jumpers in order to fully unlock the hell fire and chaos he can cause for opponents.
Gordon has struggled with his jumper in his first two seasons. Synergy Sports has him at 0.786 points per possession and 31.2 percent accuracy on all jump shots. That scoring "efficiency" puts him at 152nd in the league for players who took at least 230 jumpers last season. He was sandwiched between Kobe Bryant and Raymond Felton, which is not a good thing in 2016. He made 29.6 percent of his 3-pointers, which ties him with Russell Westbrook and puts him barely ahead of Iman Shumpert.
Maybe there is some level of optimism in those percentages though. It was an increase from the 0.700 PPP he scored on jumpers his rookie season and it was higher than the 27.5 percent he connected on. His 3-point percentage was up from 27.1 percent, so there was some improvement. The jumper also looked physically better. More comfort, better structure, a better base, and no hitch. That's what you need to see before you get a big improvement in performance.
Even if we see the same increase in effectiveness with his jumper that we saw from rookie to sophomore season, Gordon will shoot 34.9 percent and score 0.872 points per possession on jumpers. That's not good yet but we're getting into the area of "good enough" to start justifying him as a small forward with all of the other absurd athletic endeavors he does on the court. And when he's on the court with Ibaka and Biyombo, the other team may not score -- so he'll have less pressure to make that jumper.
While the frustrations of injuries and missing the playoffs when they were knocking on the door were certainly there for the Utah Jazz, the emergence of Rodney Hood as their second-best wing seemed like a godsend. As Alec Burks dealt with a broken ankle and the Jazz had to piece together some frontcourt combinations with the injuries to Derrick Favors and Rudy Gobert, Hood was becoming a consistent threat throughout different roles in the offense. Quin Snyder trusted Hood to be the spot-up guy to space the floor. More importantly, he trusted Hood to be the main initiator at times running pick-and-rolls with anybody out there.
When the offense broke down and they needed to isolate Hood to get a bucket, he was one of the best in the NBA. He made great decisions in the pick-and-roll and the Jazz got him to beat himself up less and less when he made mistakes. It's really the biggest thing they've needed Hood to work on with his game as his skills have become sharper: Don't obsess over the mistakes in a bad way. Just learn from them. He started doing that and it meant when he had a chance at taking big shots in the clutch and missed, he wouldn't be too down. He would just be ready for them the next time.
Going into his third season, Hood can make his biggest leap behind the 3-point line and the Jazz are set up to make it happen. Utah was 12th in the NBA in 3-point accuracy and took the 15th most 3-pointers despite playing the league's slowest pace. They want to be able to move much higher up the list this season and the additions of George Hill, Joe Johnson and Boris Diaw are a big step toward doing that. These additions to the roster may end up asking Hood to do less on the court, but it could dramatically raise his 3-point percentage.
He's been a 36 percent shooter from deep his first two years. It's good and slightly above league average but it's not great. He can be great at it. When he was given catch-and-shoot opportunities last season, Hood was able to knock down 38.2 percent of his shots from distance. When he took open or wide-open 3-pointers, he knocked down 38.3 percent of them. This is where the Jazz envision his outside attempts coming from moving forward.
The offense will have the depth, weapons and passing to give guys like Hood a lot of space. And with the defense still keying in on Gordon Hayward first and foremost, Hood should have a lot more catch-and-shoot, open opportunities. Don't be shocked if Hood is knocking on the door of 40 percent from deep and we're still wondering how he fell out of the lottery and to the Jazz at 23 in 2014.
A very good thing happened during the first Denver Nuggets game of this year's Las Vegas Summer League: Gary Harris looked bored. He looked really bored on the court as he dominated his first and only game of the summer. That's what you want from any player going from his second to third season: boredom with the summer league process. At that point, they're supposed to be too good to play in Vegas and that's exactly what Harris proved. There wasn't going to be any benefit from him being out there for another second, so the Nuggets intelligently pulled him out of the competition.
With the big leap we saw from his rookie to sophomore seasons, it shouldn't be a surprise he's too good for summer league. Harris' minutes more than doubled, his field-goal percentage jumped 16.5 percent, his 3-point accuracy jumped 15 percent, he cut down on his turnover rate and he improved his assist rate. After such a mediocre rookie year in which he wasn't put on the court for a lot of meaningful moments, Michael Malone trusted him last season to be a key cog for the Nuggets.
Harris can do a little bit of everything, so honing the accuracy on his 3-point shot will be the next step in unlocking his potential and becoming a Bradley Beal-esque type of shooting guard. Harris hit 35.4 percent of his 3-pointers overall and 37.3 percent of his catch-and-shoot attempts. When he was open (4-6 feet of room), Harris was a dead-eye shooter at 39.6 percent. Oddly enough when Harris had more than 6 feet of room, he made just 31.5 percent on 108 attempts.
That's the biggest thing for unlocking his next step. It's not that teams think "we can leave Harris open" and live with that. But being a guy who shoots extremely well when foolishly left all alone just ingrains in the defense's psyche that this man can never be left. And that will not only benefit Harris, who can attack off that tight coverage, but it will also give someone like Emmanuel Mudiay more room to operate.
With the leaps we saw from Year 1 to Year 2 with Harris, that comfort and that boredom with lesser competition is encouraging for the future. He wants to attack more and he wants to go against the elite.
Clint Capela may have no choice but to make the leap for the Houston Rockets in the 2016-17 season. Under Mike D'Antoni in just one offseason, the Rockets went offense-heavy. Dwight Howard predictably walked after the tumultuous combination of him and James Harden fizzled out. They brought in Ryan Anderson and Eric Gordon as their big free agent acquisitions. The Rockets showed the offensive push was going to be their emphasis now more than ever, they're going to be fun even if they're not elite in the West ... and they trust Clint Capela.
Their third-year big man is an intriguing case. He's barely played 1,500 minutes in his first two seasons and finally got some decent run during the chaos of the 2015-16 season for the Rockets. When so few things with that team seemed certain, Capela on the floor helping their defense shone through. The Rockets were four points per 100 possessions better defensively with Capela on the floor. For whatever reason they were 1.1 points per 100 possessions better on offense with Capela playing, as well. Without him on the floor, they were a losing team at minus-2.0 points per 100. With him on the floor, they were a plus-3.1 per 100.
That doesn't make him their MVP but it makes him as important as they appear to trust him to be moving forward. His block rate dropped a bit but he was still a very solid rim protector. His timing and the work he does before challenging a shot is encouraging to say the least. His positioning needs to keep getting better in help, but that comes with experience. Capela isn't the household, star name Daryl Morey has been seeking in his acquisitions, but he's the right guy for the job in protecting the rim for D'Antoni.
He'll need the help of improved effort on the perimeter, but Capela's defense is as important to the Rockets this year as anything not named James Harden. Let's just hope his free-throw percentage (37.9) is higher than his rim protection percentage (49.3). Or Houston would probably settle for even.
Much like Wiggins, Zach LaVine enters the grueling world of Tom Thibodeau and through it we may see the great potential LaVine showed last season become a reality. We also will find out if the great potential LaVine showed at the end of last season was a farce at the end of a throwaway season when opponents maybe weren't as worried facing the Wolves as they were against other teams. That's the tricky thing about encouraging performances at the end of a broken season: you just don't know how much is a breakthrough and how much is just a relaxed opponent who doesn't feel threatened.
If it's indeed a breakthrough, LaVine could be a legitimate No. 3 weapon for the Wolves. For about a year and a half, the Wolves kept throwing LaVine at the point guard position despite not believing he was a point guard at the NBA level. The idea was to help him better understand the offense and where his teammates were supposed to be while honing some underdeveloped playmaking skills. For the most part, it hurt the team but some around the organization believe it accelerated the process of his understanding of the little spacing their offense had last season.
In the second half of the season, the Wolves used assistant David Adelman to help unlock the offense a bit and they put LaVine almost exclusively at the shooting guard position, which was far more natural to him. The results were pretty stunning. Adelman helped simplify the offense and get them playing at a faster pace. This unlocked a lot of the athleticism of the Wolves' roster and put LaVine in better places to unleash a dramatically improved 3-point shot.
In the final 28 games of the season, LaVine took more right corner 3-pointers than he took right and left corner 3s combined in the first 54 games of the season. He was utilized to stretch to the corners more than he was above the break, but he was hitting with more comfort from pretty much everywhere beyond the arc.
LaVine under Thibodeau will benefit in three ways, in theory: 1) His role will be defined as they're out of that point guard development tool phase, 2) the offense will be more tailored to weaponizing a 3-point shot for LaVine that helped boost his true shooting percentage 7.4 percent from pre- to post-All-Star break, and 3) the defensive lapses and poor technique will be hammered out of LaVine unless he's not crazy about playing.
Considering he spends as much time in the gym as anybody on the Wolves, it's safe to say he's crazy about playing and will likely want to improve a defensive stance that makes him look like he's about to lose a game of Twister. We should find out pretty quickly just how much of his post-All-Star production was the future and how much of it was simply in the past.
Since the NBA started caring about players shooting quality shots and not just chucking anything and everything like they did in the 1950s, Marcus Smart is the worst shooter in NBA history through his first two seasons. He has the lowest field-goal percentage (35.7) ever for a player in his first two seasons (with at least 3,000 total minutes) and he has the lowest true shooting percentage (47.6), as well. Even Ricky Rubio (35.9 and 48.0) managed a better accuracy and that was with him coming off an ACL tear in his second season.
The Boston Celtics don't need Smart to fix his shooting and become the next Steph Curry (although they wouldn't be opposed to it either); they just need him to no longer be historically bad at making shots. And it's not like you can just look to him getting to the basket more because his 43.8 percent around the basket put 400 players ahead of him last season in accuracy, according to Synergy.
Having Smart on the floor defensively is where the Celtics get super excited about him. When he played last season, the team gave up just 100.2 points per 100 possessions. They allowed just 33.2 percent from downtown and the opposing team turned it over nearly a full percentage point more with Smart playing. Along with Avery Bradley in the backcourt, the Celtics provide one of the most terrifying defensive combinations on the perimeter that we've seen in this 3-point-heavy era.
So getting Smart to a place where he can be even a mild offensive threat like he was in college while also harnessing the power of his defensive intensity and production becomes a huge key to unlocking the Celtics and their dominance of everything in the Eastern Conference that doesn't reside in Ohio. Where the Celtics should be encouraged is with Smart's ability to run a pick-and-roll.
When he was just a scorer as a pick-and-roll ball handler, the results were poor. He generated 0.774 PPP on these possessions. However, when he was a passer and not a scorer in those situations, he generated 0.903 PPP with his passing, which is an enormous jump in offensive production. The scouting report on him is likely to be that you make him try to score instead of pass as a pick-and-roll guy. And in doing so, there should actually be more room for him to make shots, either with a jumper off the dribble or by attacking the rim and finally becoming a finisher.
If Smart can make an improvement and get toward average production in these situations, it's another weapon for the Celtics to use. He'll have more attention elsewhere after the addition of Al Horford, and running PnR sets with Horford as the screener means more freedom and space to score. He just needs to put the ball in the basket.
10 honorable mentions

If Jabari Parker takes and makes 3-pointers in his third year, it will look stupid having him just as an honorable mention. However, I'm not sure how comfortable he is taking these shots, and he said during last season he's not asked to take them so he doesn't extend his range. Parker had a great bounce-back season coming off ACL surgery and was a slightly more efficient scorer. But he limits himself as a power forward if he continues to take a 3-pointer every other game.
Following the All-Star break in a post-Joe Johnson existence in Brooklyn, Bojan Bogdanovic had a great finish to the season. His scoring average went from 9.4 points to 15.1. His field-goal percentage went up 1.1 percent. His 3-point percentage was already good at 36.6 percent but he increased his accuracy to 40.6 percent. And this is all coming with a seven percent increase in usage. Only question is how he'll fit together with Jeremy Lin right away.
How will Elfrid Payton fare under Frank Vogel in Orlando? He improved his finishing at the rim last season, which made him a slightly more efficient scorer. He was a bad 3-point shooter (32.6 percent) but he wasn't the abysmal shooter we saw as a rookie (26.2 percent). He didn't have the confidence of his coach, but under a new coach he has the chance to remedy this. He also has D.J. Augustin and C.J. Watson breathing down his neck for minutes. It's hard to be certain he'll be the point guard Vogel trusts the most in tight situations.
Not knowing where Nerlens Noel is going to be heading into this season makes it hard to project or assume just how big of a leap he could make. Trade whispers with him are getting louder and not a lot of people expect Noel to be on the Sixers when the regular season begins. We know the defense will be very good but can you get by on just that if you're expected to be more than what Capela is above?
Nikola Mirotic looked a lot more comfortable in his second season with the Chicago Bulls than he did in his "rookie" campaign. If the 39 percent from deep is more representative than his first year of 31.6 percent then he should be fine. The Bulls need his shooting but they may need Taj Gibson's defense more.
This looked a lot more certain to include him prior to the Miami Heat signing Dion Waiters. Now, Johnson will have fewer minutes and opportunities to justify the back end of that $50 million they matched away from Brooklyn. Johnson can really play but he'll need to be healthy and prove he should be given heavy minutes over D-Wait.
We think he's going to be the starting power forward for the Lakers but what if No. 2 pick Brandon Ingram can play right off the bat? If Ingram comes out and shows he deserves minutes on the court from the jump, we could see a lot more lineup with Ingram and Luol Deng at the two forward spots than Deng and Randle or Ingram and Randle. Luke Walton may value the versatility after his time with the Golden State Warriors.
Jordan Clarkson is a huge success story for a second-round pick, and he just netted himself $50 million this offseason. However, while his scoring went up last season, his field-goal percentage, assist percentage and overall efficiency went down. He increased his 3-point accuracy to 34.7 percent, but he's still below league average. His free-throw rate also plummeted. Some of this makes sense with D'Angelo Russell on the team but Clarkson really needs to do more.
I want to believe in Kyle Anderson making a leap in his third year. He can be a perfect small ball 4 under Gregg Popovich and give the Spurs a good chunk of what they lost when they traded away Boris Diaw. But I'm not 100 percent convinced Anderson will get a huge increase from his 16 minutes per game last season and the Spurs need him to rebound, cut down on the turnovers and be way better than 32.4 percent from deep. The tools are all there for him though.
Jusuf Nurkic looks like he's dropped a lot of weight and by some accounts he's about 35 pounds lighter than last season. That's good because he's skilled and effective but the lighter frame will keep him agile enough to use it and healthy enough to not miss games. But Nikola Jokic jumped him on the depth chart after last season and it may be tough for Nurkic to get his spot back.