Spanish coach says Pau Gasol played against medical staff's advice
Bulls star logs 31 minutes in dramatic win over Poland, but does so after doctor's said he shouldn't play more than five minutes straight.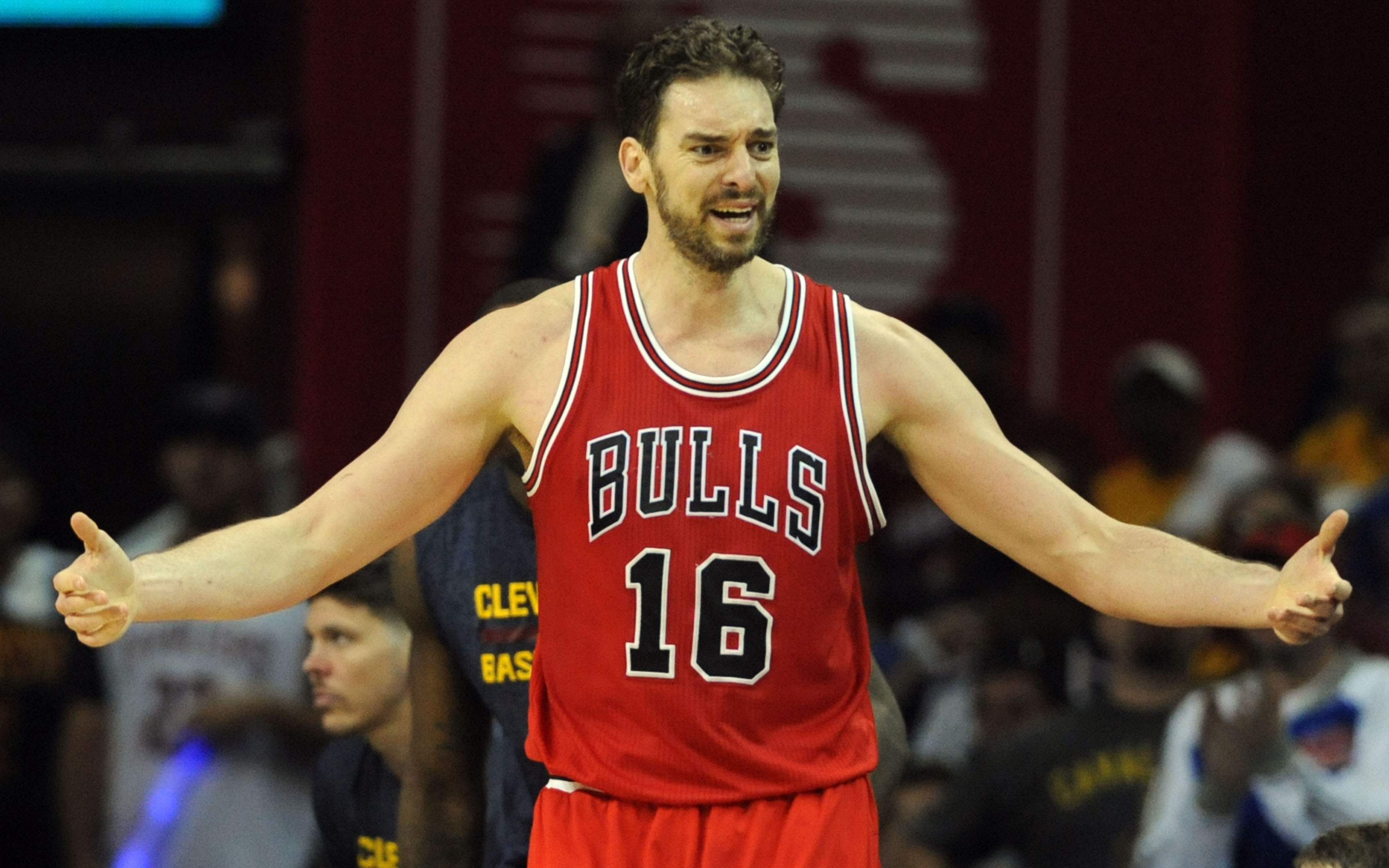 Pau Gasol loves his country, Spain. That's why he's played with the team constantly since 2001 when he was on the Under-19 FIBA team. He's one of just two NBA star participants this summer for Eurobasket alongside Nikola Mirotic (with Serge Ibaka, Marc Gasol, Jose Calderon, and Ricky Rubio all sitting out). A lot of players have taken it upon themselves to participate this summer for their country's pride, with Rio 2016 ramifications on the line, but Gasol is 35. Should he be out there participating? Ultimately, that's his call. 
Especially when he's apparently ignoring doctor's orders. 
From EuroHoops.Net: 
Pau Gasol was in pain just before the start of the game against Poland and he had to run to the locker rooms in order to get medical treatment. However, this was the start of an amazing story.
As Spanish coach Sergio Scariolo revealed in the press conference: "The doctors told me that Pau couldn't play more than five minutes straight. But after the first five minutes, when I asked him to come to bench he told me now. "I will take the risk", he answered me and he had an amazing game."
Spain's leader led his team to the quarter-finals with an extraordinary performance, having 30 points on 6/7 from the three-point range. And while Rudy Fernandez is day to day and may miss the next big game versus Greece in the quarterfinals, Gasol is ready to play: "I never jumped off the boat and I will not do that now. We play against Greece, I will play for sure".
Source: Scariolo: "Pau took the risk" - Eurohoops. 
So Gasol was supposed to not play for more than five minutes at a time. He played 31 total minutes. 
Well, it's good to know that Tom Thibodeau's patented approach for running his players into the ground despite injury concerns has rubbed off on the guy Kobe Bryant once described as a Black Swan. But that entire blockquote above has to give everyone in the Bulls' front-office palpitations. 
Spain is still looking to qualify for Rio in 2016, but there's no reason they wouldn't be able to qualify next summer. Meanwhile, Gasol has already had seasons over the past four years impacted significantly by injury concerns. He started off red-hot last year, and played at an All-Star level. But over the year, he was slowly ground down. For Gasol to be playing through injury to the point of disregarding doctor advice, that's an awfully risky situation for Chicago. 
Luckily, Gasol came out fine and obviously had a huge game, but this is something that has to be a concern for the Bulls organization, which parted ways with Tom Thibodeau this summer in part because of how many minutes he put the players through. 
Trusting a player with his body is a good thing, but it's alarming from a team perspective when that directly contradicts the advice of the medical staff. It's awesome that Gasol came up once again as such a hero for his national team, but that's a pretty stark contrast between what the doctors wanted and what he did. 
Warriors' forward doesn't understand the reasoning behind the all-too-common double technical...

Hardaway Jr. gave a 'safe' call like he was an umpire in baseball

Barnes hits the trey with less than a second left to lift Mavericks to dramatic 95-94 vict...
Kevin Durant was once again back in Oklahoma City

Gregg Popovich has never seen an injury lead to the issues that Kawhi Leonard has been fac...

Kobe Bryant, of course, had his 81-point game against Rose and the Raptors back in 2006