Spurs' international experience helped them adjust to Game 1 temps
Manu Ginobili and Tony Parker have played without air conditioning for years in Europe, so Game 1 wasn't a problem for them after the air conditioning went out.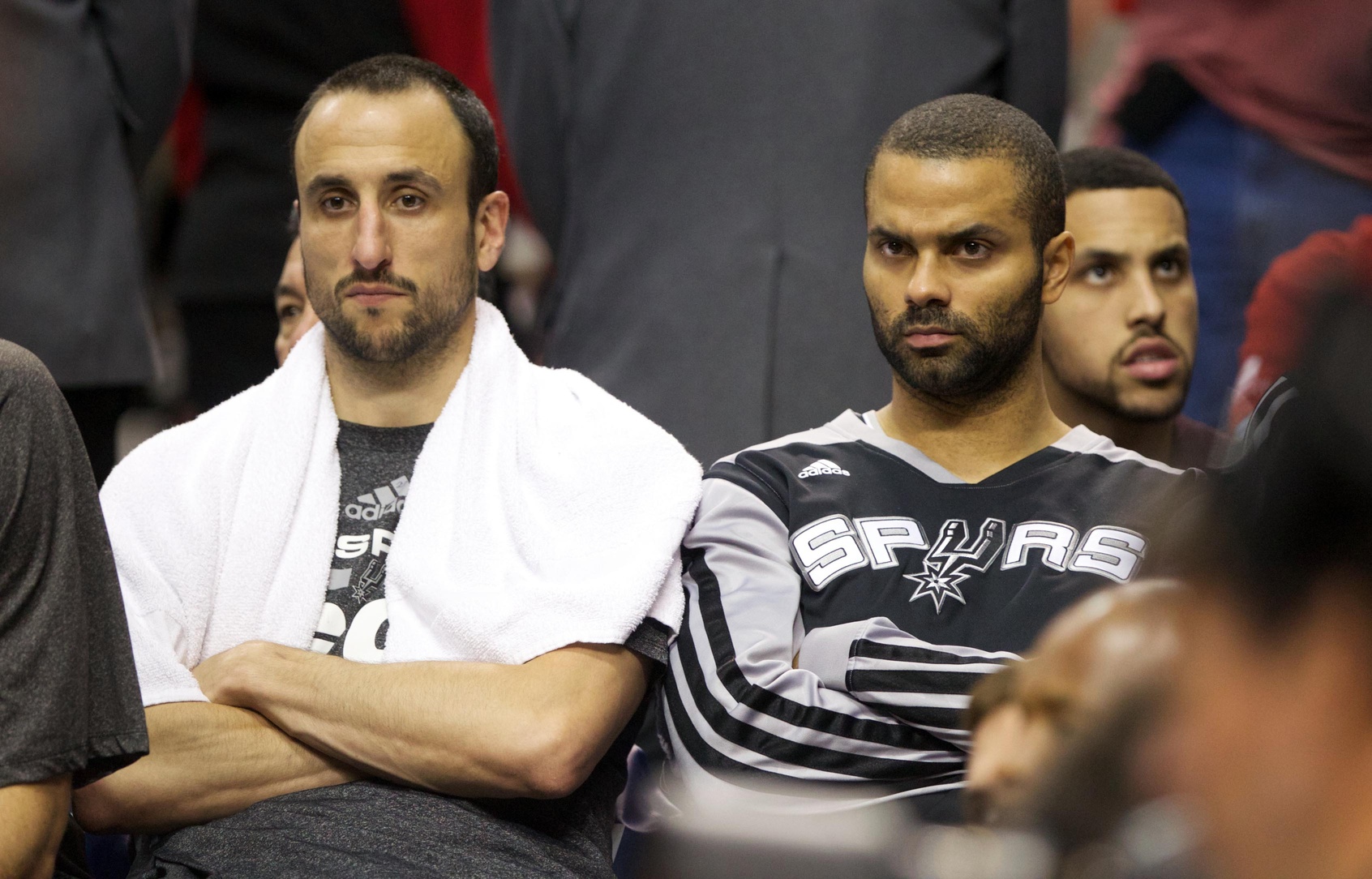 More Game 1: Court Vision | LeBron's cramping | Steamy conditions
SAN ANTONIO -- For years people have marveled at the San Antonio Spurs' basketball diversity. They feature the most players of any team with international backgrounds. It's part of their team culture. Often the media have tried to pry into how that dynamic works, and if it gives the Spurs an advantage. In the Spurs' 110-95 win in Game 1 of the NBA Finals Thursday, it's entirely possible the Spurs' international flavor did give them an advantage, but for a very odd reason.
They're used to playing without air conditioning. After the AC went out in the AT&T Center, and temperatures rose over the course of the game, the Spurs' players said it didn't affect them, because it was normal going for them.
"Me personally, it didn't bother me," Tony Parker said. "Felt like Europe. We never have AC in Europe, so it didn't bother me at all."
"For sure, I've played more years in situations like this than with AC on the court. Not a big deal in that case," Manu Ginobili said.
The same could not be said of Heat forward LeBron James, who was forced to leave the game with cramps after suffering dehydration in the sweltering AT&T Center in the fourth quarter and could not return as the Spurs went on a massive run to win Game 1. The Spurs feature 10 foreign-born players on their roster, with many having played in Euroleagues or smaller gyms without air conditioning.
The Spurs weren't the only players to say the conditions didn't bother them.
"For me personally, it was a great feeling," Heat guard Ray Allen said, citing how the sweat helped keep him loose.
Chris Bosh said growing up in Texas, he was used to the heat, and that "it didn't play a part" in how the rest of the Heat played. "I haven't felt that kind of heat since high school. I don't think it played a factor, though," he said.
But despite Bosh and Allen's defiance, the Heat locker room was a sauna after the game. James Jones couldn't take how hot it was, electing to dress in the hallway instead of the sweaty mass of reporters and players. Bosh showered twice after the game. Greg Oden sat with a giant ice pack on top of his head to cool down.
The Spurs' locker room was similarly chaotic, as the PR staffs split the players into locker rooms and a separate mini-podium in the adjoining room to keep the heat down. (Note: It did not work. It was still sweltering.) And while Danny Green said he'd never seen anything like Game 1, and that the players definitely "felt it," the Spurs as a whole seemed nonplussed.
Who would have ever thought a lack of air conditioning in European arenas would possibly open the door to a title for San Antonio? You never know what's going to happen next in the NBA.
Eric Bledsoe is going to be traded at some point and these tweets will explain how it got...

Curry's outburst will cost him some money, but he won't miss any games

A look at the ups and downs for various suitors as Bledsoe has left the team.
Mike McClure, a DFS pro with more than $1M in winnings, gives optimal DraftKings and FanDuel...

Eric Bledsoe will not be playing against the Kings. Could there be more to come?

J.R. Smith back in the starting lineup after Dwyane Wade's early struggles to start the se...