Spurs-Lakers Game 4: Lakers without four players, including Nash, MWP
Steve Nash, Jodie Meeks, Steve Blake and Metta World Peace are out vs. the Spurs on Sunday.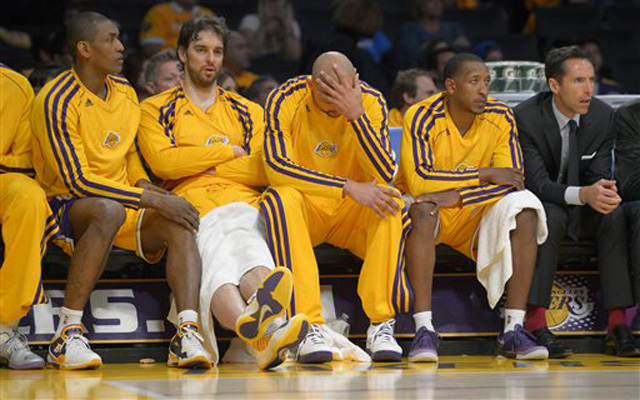 And now, for something entirely different, the Lakers have injury issues. 
Metta World Peace (knee), Steve Nash (back, etc), Jodie Meeks (ankle) and Steve Blake (hamstring) are all out for Game 4.

— Mike Trudell (@LakersReporter) April 27, 2013
Oh, and Kobe Bryant as well. And Pau Gasol tore something in his foot two months ago. And Dwight Howard has a torn labrum and is coming off back surgery recovery. 
Earl Clark is fine, though. 
For now. 
Tiago Splitter is out for the game, so that ... does nothing. It does nothing. The Spurs are incredibly, amazingly better than this team without all its components, and there is no hope. Is there a chance? Sure. There's always a chance. 
But, seriously, this thing is done. And it needs to be. The Lakers need to set the remnants of this season on fire, put them in a box and bury them deep, deep within the earth forever. 
The Cavaliers are ready to reset everything if they have to. Their interest in Lou Williams...

It sounds like the Cavaliers are going to be active before the NBA trade deadline on Feb....

We've got all the scores, highlights and news for Friday night
George Hill, who is unhappy in Sacramento, could be a solution to Cleveland's backcourt si...

Shaquille O'Neal and Sir Charles cruise to an easy victory over some hot peppers

If Charlotte indeed moves its star guard, there's going to be more people impacted than just...