VIDEO: Cleveland Cavaliers introduce Kevin Love
The Cleveland Cavaliers introduced Kevin Love on Tuesday and the power forward talked about LeBron James calling him, his new number, and much more.
The Cleveland Cavaliers introduced Kevin Love on Tuesday after acquiring him in a three-team deal that sent the last two No. 1 picks (Andrew Wiggins and Anthony Bennett) to the Minnesota Timberwolves. Love will join LeBron James and Kyrie Irving in Cleveland, hoping to earn the franchise its first NBA championship. Considering the Cavs are currently the favorites in sportsbooks to win the championship, the pressure and expectations will be there.
Love told the media on Tuesday that he was LeBron's first call after he committed to sign with the Cavs. And while Love wouldn't talk specifics about staying with the Cavs after he hits free agency in 2015, he did say, "I'm committed to this team, committed long-term to the end goal and that's to win championships." Love is eligible for a contract extension but stands to make more money over more years if he opts out of his current deal in 2015 and re-signs a five-year max deal.
According to Love, he and LeBron have already spoken about preparing him mentally for playing into June. The All-NBA forward never made the playoffs in his six years with the Timberwolves and will be experiencing new things on the court (i.e. - playoffs and playing with All-Stars) on the Cavs right away. Love told the media he believes he'll still be able to play his game and recognized what was being expected of him on both ends of the floor.
His explanation for why he pick No. 0 as his jersey number was with 42 retired for Nate Thurmond and his Olympic No. 11 retired for Zyndrunas Ilgauskas, he looked at No. 7 because it was his mother's lucky number for him as a kid. That number is retired for Bingo Smith, so the next number he could think of was zero due to a story from when he was a kid and was stuck with that number after being the last one to show up for a team he was playing on.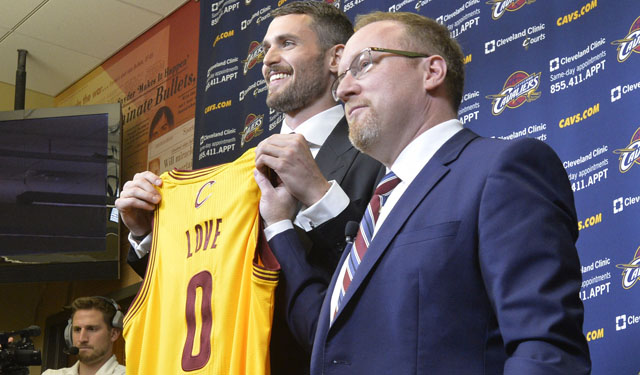 Westbrook's late layup gave the Thunder a 109-108 victory

LeBron became the seventh player in league history to reach the milestone

There were a few things that stood out from Tuesday's All-Star selections
Here are three players from each conference who had legitimate claims to make the game

LeBron achieved the milestone in the first quarter Tuesday

Here are the full lineups for the 2018 NBA All-Star Game