Where do the Spurs go from here?
San Antonio won its fifth title of the Tim Duncan-Greg Popovich era. What's next?
• 3 min read
More Offseason Analysis: Coaching changes, news | Free Agency | Draft
The San Antonio Spurs obviously don't need a major makeover heading into the 2014-2015 season. The NBA champs are elite on both ends of the floor, and the first priority should simply be continuity.
Tim Duncan refused to offer any insight into his thinking on the idea of retirement during the NBA Finals, and it's possible he hasn't thought about it yet at all. He has a $10 million player option for next year, and he has to notify the Spurs whether or not he will take it by June 24. The 38-year-old big man could obviously change the team's trajectory if he decided to walk away, but San Antonio owner Peter Holt doesn't seem too worried about that possibility.
Assuming Duncan is back, the next question is whether or not Finals MVP Kawhi Leonard signs a contract extension. Either way, he'll return. There aren't any big holes to fill here; the Spurs just need to try to retain their free agents. Forward Boris Diaw, guard Patty Mills and forward Matt Bonner will all be unrestricted, while center Aron Baynes is restricted. There's also a decision to be made on forward Austin Daye -- if he is waived before the end of the month, San Antonio will only owe him $250,000 of his $1.06 million salary next season. Daye played sparingly after being acquired from Toronto at the trade deadline.
Diaw and Mills are the most important pieces here, and on other teams there would probably be more concern about them leaving. The two of them were phenomenal in the playoffs, played key roles in the Finals and showed the world what the Spurs had seen all season long. Diaw made $4.7 million this season, and might be in line for a raise, but he clearly loves playing with this group and fits perfectly. San Antonio has historically been able to get its guys to accept less money in this sort of situation.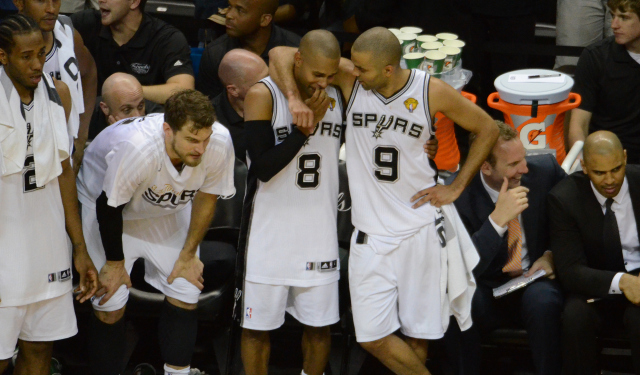 Mills made just $1.3 million this year, which was essentially robbery. He was one of the league's best backup point guards, and there should be a long line for his services in the summer. Much has been made of his transition from towel-waver to game-changer, and high-volume, 42.5-percent three-point shooters aren't available all the time, let alone ones who almost never turn the ball over and are universally praised as great teammates. He is a poor defender but losing him would hurt, even though Cory Joseph is a capable reserve in his own right. 
Bonner quietly signed a four-year, $13.89 million deal back in 2010, and he's the longest-tenured Spur outside of Duncan, Manu Ginobili and Tony Parker. While he's been a reliable floor spacer throughout his eight years in San Antonio, his minutes have dwindled. The fact he started twice against the Oklahoma City Thunder in the conference shows that head coach Gregg Popovich has confidence in Bonner, but he might be asked to take a pay cut. 
The team has the 30th, 58th and 60th picks in the upcoming draft, but perhaps the most intriguing thing about the Spurs' summer is who they might add from other teams. Regardless of what happens with their own free agents, could San Antonio's success attract role players who want to play Popovich's style and compete for a championship? Marco Belinelli had a disappointing playoffs, but was effective during the regular season and said all along that he chose the Spurs last summer because he liked the way they played and wanted to win. He's now a champion. Would free agents like Andrei Kirilenko or C.J. Miles think that way and take a discount? It's not crazy to think about.
Check in throughout the night for the latest news and highlights from NBA games

The Lakers legend details why the NBA popularity will continue to rise

SportsLine's Mike McClure, a DFS pro with more than $1M in winnings, gives optimal lineup...
If the Thunder forward doesn't know the reason, he has a very short memory

The 76ers star doesn't see a bright future for Jon Snow

Valanciunas played professionally in Lithuania before joining the Toronto Raptors