Wolves' owner Glen Taylor opens up about Kevin Love trade
Minnesota Timberwolves owner Glen Taylor opened up about the Kevin Love trade and had some interesting things to say about the player.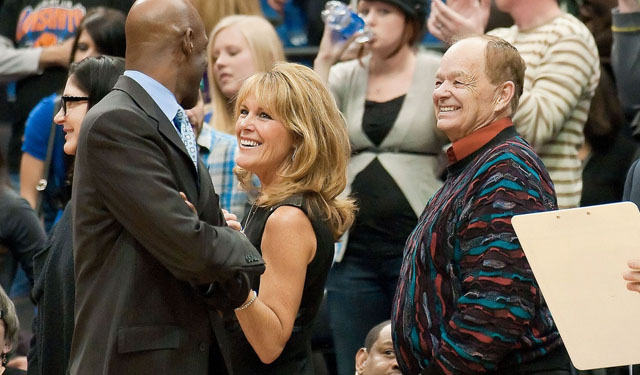 During the Minnesota Timberwolves' festive introduction of Andrew Wiggins, Zach LaVine, Anthony Bennett, and Thaddeus Young to Wolves' fans at the Minnesota State Fair, Wolves owner Glen Taylor opened up about the Kevin Love trade situation. The Wolves traded their franchise player to avoid losing him in free agency for nothing in 2015 and ended up with a haul of Wiggins, Bennett, and Young. It adds excitement to the Wolves' future even though it hurts their present building situation.
It also puts Love on a title contender and a playoff team for the first time in his career. Taylor, who opted against giving Love the five-year max extension he wanted back in 2012, had comments about what he thinks is best for Love and his concerns about Love's new situation with the Cleveland Cavaliers. He even took a shot at Love's defense. From Derek Wetmore of ESPN1500.com:
"I question Kevin if this is going to be the best deal for him because I think he's going to be the third player on a team. I don't think he's going to get a lot of credit if they do really well. I think he'll get the blame if they don't do well. He's going to have to learn to handle that.

"I think he's around a couple guys are awful good. Now I'm not saying that Kevin's not good, but I think where maybe he got away with some stuff, not playing defense on our team, I'm not sure how that's going to work in Cleveland. So I would guess they're going to ask him to play more defense. And he's foul-prone," Taylor said.
It's nothing new to criticize Love's defense. It's the go-to criticism for a player with a less than stellar reputation on that end of the floor. Classifying it as "getting away with some stuff" when it's coming from the owner's mouth is a whole other can of worms to open. Where Taylor is incorrect is the assessment that Love is foul-prone. If anything, that's been his biggest problem on defense the last three years. Love hunts for contact and does a great job of drawing fouls when he has the ball but doesn't provide physical resistance on the other end of the floor.
He'll often give up a shot inside uncontested in an effort not to get into foul trouble. It was part of the reason the Wolves gave up the second highest field goal percentage in the restricted area last season. Since Love became a starter playing major minutes in 2010-11, he's never averaged more than 2.8 fouls and was down to 1.8 last season.
Taylor went on to talk about the actual situation of Love wanting a trade and how he went about it. He even indirectly slighted the way Love handled it, citing a story about Al Jefferson being traded a few years back and how he personally requested it. Taylor and the organization's concern about Love's health and ability to play through full seasons for the next five years was a big part of the reason they never extended the five-year offer to Love. He even went so far as to say Cleveland should have that same concern.
"I spoke the truth when I said if Kevin [Love] would stay here then we would have the best season. Inside I knew Kevin wasn't giving us that alternative even though it's what I wanted," Taylor said Tuesday. "So now you have the thing where Kevin kind of said, 'trade me or you're going to pay the fine next year if you don't trade me.' I think once we got going on that, we had about four teams that came to us with significant offers. But this one truly had the biggest upside. Flip [Saunders] pushed it and negotiated it the best he could so I'm really happy with it."

Taylor said Love never told him directly that he wanted to be traded. Later, he told a story about how Al Jefferson once called Taylor personally to share his wish to be traded if there would be a minutes crunch at power forward, which Taylor said was a classy move. Love's agent, though, made it clear to Wolves brass that it was his preference not only to be traded, but to be traded to a marquee destination where he could have success. That limited the Wolves' options, but they got one of the best hauls ever for a superstar player.

Taylor said he underestimated Love's ability to develop a lethal offensive game. But the reason Taylor didn't push for the five-year max, he said, was heath concerns about Love.

"I think Kevin, his offensive skills got better than I think we estimated. The only thing that I still have a question mark about will be his health. I had that concern then, I still have that concern and I think Cleveland should have that concern, too," Taylor said. "If they sign him to a five-year contract like they're thinking about, I mean that's a big contract in a guy that's had sometimes where he's missed games."
This isn't the first time Taylor has said some critical things to say after trading away his franchise player. After trading Kevin Garnett in 2007, Taylor questioned the effort of Garnett at the end of a failure of a season. It caused some lingering distaste Garnett has at times for the Wolves' organization. We'll see if Love has any response for these comments or just goes about moving on to the Cavs and playing next to LeBron James.
We've got you covered for all the scores and highlights from Sunday's NBA games

The Cavs superstar compared Kaepernick to Martin Luther King Jr. and Muhammad Ali

The Warriors coach isn't surprised that the president and LaVar Ball are in a war of words
Kyle Kuzma is tired of how his teammate Lonzo Ball is being treated

The Warriors used a huge third quarter to come back from a 23-point deficit to get the win

Three takeaways from Golden State's 24-point rally past the Sixers