2013 NFL season preview: Chicago Bears
With Jay Cutler in the final year of his contract and a new head coach, the Bears will attempt to reach the top of a rugged NFC North. Here's a preview of their season.
• 4 min read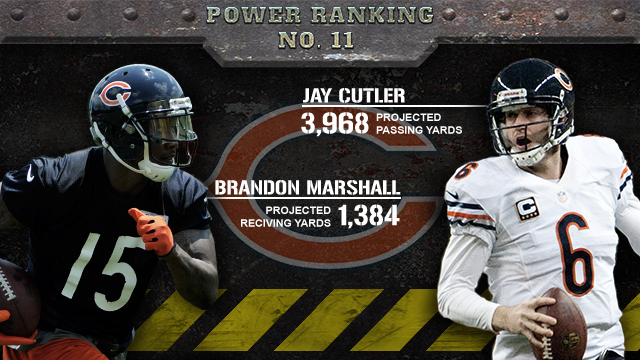 The Bears went 10-6 last season, but missed the playoffs and then fired coach Lovie Smith.
Now, we'll get to see if new coach Marc Trestman and offensive coordinator Aaron Kromer can reinvigorate the Chicago offense for, really, the first time since Mike Ditka was the coach in the early 1990s.
They'll try to do so with a West Coast-style offense, and one reason quarterback Jay Cutler hasn't been signed to a long-term extension by general manager Phil Emery is because nobody seems to know if Cutler can succeed in a new offense. This season will, in many ways, be a referendum on Cutler. If Trestman isn't a fan, he can just start over with a new signal-caller next season.
In the past six seasons, the Bears have made the postseason just once, and this year won't be any easier with an NFC North that looks solid or better from top to bottom. Trestman has had success as an NFL offensive coordinator in the past, including helping make Rich Gannon a top-notch quarterback, and he's coming off a successful stint in Canada. Unlike many new head coaches, he doesn't necessarily have a major rebuild ahead of him. His new team has talent.
Offense:
Bears' Rivals: NFC North


2013 Preview • Schedule
Lions @ Bears: 11/10 (1 p.m. ET)
Bears @ Lions: 9/29 (1 p.m. ET)


2013 Preview • Schedule
Packers @ Bears: 12/29 (1 p.m. ET)
Bears @ Packers: 11/4 (8:40 p.m. ET)


2013 Preview • Schedule
Vikings @ Bears: 9/15 (1 p.m. ET)
Bears @ Vikings: 12/1 (1 p.m. ET)
If you're Cutler, you have to like looking to the side of the field and seeing receiver Brandon Marshall, or looking behind you to see running back Matt Forte, or looking to the other side of the field and seeing newly-signed tight end Martellus Bennett. And you really have to like looking to your left and not seeing J'Marcus Webb playing tackle.
Instead, it'll be free agent signee Jermon Bushrod on the left side to go with left guard Matt Slauson, a solid player that came over from the Jets, and first-round pick Kyle Long at the right guard spot (Webb, meanwhile, is now playing right tackle).
All of this is to say that Cutler has weapons to whom he can throw, and he has better protection on the offensive line than he's had the past few years. Honestly, Cutler has the kind of skills that can make him a permanent mainstay as a top-10 quarterback in the league, and if he doesn't do it this season, he'll likely have to try again somewhere else.
Defense:
The biggest loss felt by the Bears on defense is the retirement of Brian Urlacher, the eight-time Pro Bowler who had been at the heart of the team for the past 13 years. But Urlacher wasn't the same player he was when he was younger, and now that he's gone, D.J. Williams will have his chance to be the No. 1 man at middle linebacker (one small problem: he's been injured during camp, and he's been pushed for the starting role by second-round pick John Bostic, so the sentence before this one might not be applicable by the time you read it).
In the secondary, Tim Jennings, the league leader in interceptions last season, and Charles Tillman are one of the best cornerback tandems in the league.
The Bears front four, featuring defensive tackle Henry Melton and veteran defensive end Julius Peppers, is solid or better. The linebacker corps will probably be the weak unit on defense, but the Bears are hoping the linemen and the secondary can more than make up for that.
Final thoughts:
I think Cutler is a fine quarterback, but I have little faith that he can be the quarterback that leads Chicago back to being a Super Bowl contender. He's probably only the third-best quarterback in the NFC North, and he's going to present a real quandary to the Bears front office in the next offseason. Chicago has a number of nice pieces on the team, but Marshall and maybe Melton are the only extra-special players at this point. Those two can't turn around the team's fortunes by themselves.
More 2013 NFL season previews: Select a team
AFC North
AFC South
AFC East
AFC West
NFC North
NFC South
NFC East
NFC West
Breaking down why the underdogs are very dangerous against the Patriots

All of the information you need to know about the 2018 Super Bowl

Here's all the details you need to know on watching Super Bowl LII between the Patriots and...
No one wants to give the Eagles any respect

Here's a look at the NFL's entire postseason schedule for 2018

Here's everything you need to know about Super Bowl LII