A.J. Green on Andy Dalton: I don't want any other QB throwing to me
A.J. Green says Andy Dalton is his guy and he doesn't want to be catching passes from any other quarterback in the NFL.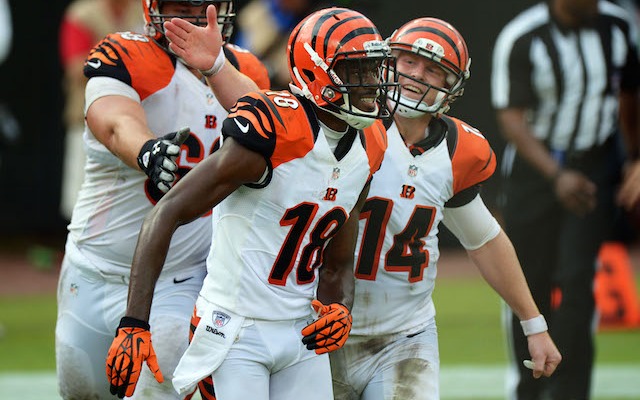 Bengals owner Mike Brown has been openly hesitant this offseason about signing quarterback Andy Dalton to a big money, long-term contract. Dalton is heading into the final year of his rookie deal and the two sides haven't been able to agree on what he's worth.
Dalton might not be looking for any help in negotiations, but he got some anyway from wide receiver A.J. Green on Wednesday. During the NFL Network's Top 100 Reaction Show, Green made a strong endorsement for Dalton, saying he didn't want to catch passes from anyone else.
"We came in together and that is the great thing for me and him," Green said. "I know he's my guy. I don't want any other quarterback throwing me the ball. I think he feels the same way about me."
Both Green and Dalton were taken in the 2011 NFL Draft. Green was taken with the fourth overall pick by the Bengals and Dalton was taken at No. 35. The Bengals don't have to worry about extending Green just yet because the receiver is signed through the 2015 season.
All first-round picks have a team option for a fifth-year and the Bengals picked up Green's option. On the other hand, second-round picks like Dalton only sign four-year deals.
Green likes Dalton because he'll throw him the ball in almost any situation -- and that's also a reason why Dalton makes Bengals fans so nervous. 
"He feels confident that whether I'm double covered, triple covered, it don't matter I'm going to come down with the ball," Green said. "And I feel like we've grown over these last three years and I feel like this year is going to be another key year for us." 
Dalton also got an endorsement from offensive coordinator Hue Jackson in late June. Jackson said he believes that Dalton and Green are the top receiver-quarterback tandem in the league.
"I think they're the best in the game in my opinion," Jackson said. "I know people will fight that and say differently, but I've watched these guys and these guys have grown. They came in together. They started off hot, they're still hot."
What does all of this mean for negotiations between Dalton and the Bengals? It's hard to say because once Brown decides how much a player's worth, that's how much he's willing to pay and he's not usually willing to budge. 
Finally, just for fun, lets relive Dalton's 51-yard Hail Mary to Green against the Ravens in Week 10 of 2013.
Lawrence says the NFL should protect pass-rushers like it protects quarterbacks

With their 2017 season basically over, it's time for Redskins fans to turn their attention...

The Eagles quarterback reaffirmed his faith and said he plans on coming back stronger than...
The Buccaneers are 4-9 and firmly out of the playoff mix, and now their best player is hur...

It might be time for Johnny Football to head to the Great White North

Rodgers has been out with a broken collarbone since Week 6