Champion Seahawks not built with blueprint(s) en vogue around NFL
The Seahawks did not hire fritter away a wad of cash on free agency, hire a top assistant as head coach or go after a big-armed QB. Instead, they hired a guy fired twice in the NFL and found 53 guys who bought in.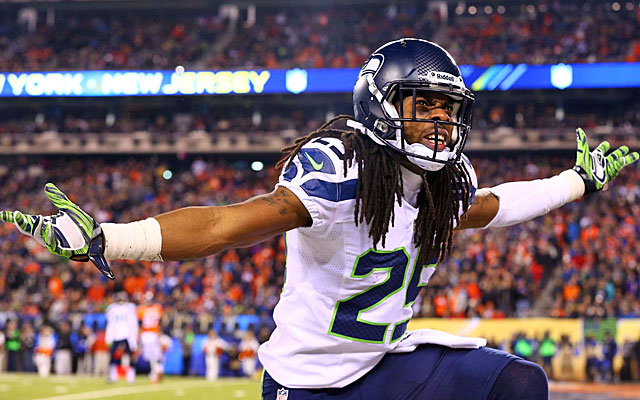 More SB coverage: Seahawks win, 43-8 | Photos | Numbers | More news
After watching the Seattle Seahawks win the Super Bowl and examining how they got there, I wonder how many other NFL owners are looking at what they're doing and scratching their heads about how to build a winner with a chance to sustain success.
The Seattle Seahawks did not get the memo on how to build a Super Bowl champion.
They didn't use all their salary cap space and use cash over cap to try and "rent" a title-winning team which has to be dismantled the day after the game.
They didn't think they needed a 6-foot-4 quarterback with big passing numbers.
They didn't spend their top draft picks on cover corners, pass rushers and 6-5 wide receivers so they could win in the red zone.
They didn't pick some hot young assistant coach to run their team, instead hiring a guy who had been fired twice in the NFL.
The truth is Seattle exposed all the clubs that operate under the impression there is one blueprint for success.
As we walk through Seattle's roster, keep in mind that coach Pete Carroll and GM John Schneider kept turning it over until Carroll had 53 guys who bought into his program. He never had that opportunity as coach of the New England Patriots, but he learned it was the most important factor toward success when he went to USC.
Some quality players on this world championship team will take the money and run to other clubs, but those clubs should be wary of Seahawks players. I went after and secured a number of Pittsburgh Steelers players when they were an elite team and I found out quickly that those players just weren't as good when they weren't in a Steelers uniform. Trust me, Carroll will take a wave of late draft picks and street free agents to build this team up once again. It's the model, not the names, that make the Seahawks a special franchise.
Seahawks roster breakdown
Drafted players
Round 1: Russell Okung , James Carpenter , Bruce Irvin , Earl Thomas (4 starters)
Round 2: Golden Tate , Max Unger , Bobby Wagner , Christine Michael (3 starters)
Round 3: Russell Wilson , Brandon Mebane , Jordan Hill (2 starters)
Round 4: Red Bryant , Walter Thurmond, Robert Turbin , K.J. Wright (2 starters, 1 role player)
Round 5: Richard Sherman , Kam Chancellor , Luke Willson (2 starters, 1 role player)
Round 6: Byron Maxwell , Jeremy Lane (1 starter)
Round 7: J.R. Sweezy , Malcolm Smith , Michael Bowie (1 starter 1 role player)
College free agents: Doug Baldwin , Jermaine Kearse , Alvin Bailey , Lemuel Jeanpierre , Benson Mayowa , Mike Morgan , DeShawn Shead (1 starter, 2 role players)
Unrestricted free agents: Zach Miller , Michael Bennett , Cliff Avril (3 starters)
Street free agents: Michael Robinson , Ricardo Lockette , Paul McQuistan , Kellen Davis , Tarvaris Jackson , Derrick Coleman , Heath Farwell , Clint Gresham , Steven Hauschka , Jon Ryan , O'Brien Schofield (1 role player and both kickers)
Practice squad: Breno Giacomini (1 starter)
Trades: Marshawn Lynch , Chris Clemons , Percy Harvin , Clinton McDonald (2 starters, 2 role players)
Keep in mind, that Sidney Rice and Jesse Williams were on injured reserve this season, which will only fortify the 2014 roster. And not one NFL owner looking to hire a coach was willing to wait for either of Seattle's coordinators -- Darrell Bevel or Dan Quinn -- to offer them a head coaching position and they most likely will return.
Finally, since my days working with Pete Carroll, he has taken a lot of criticism for his style and philosophy but he was right all along and many of his critics are now finding out the hard way.
An example of how not to use social media

Mike McClure, a DFS pro with more than $1M in winnings, gives optimal DraftKings and FanDuel...

Let's check in on the Giants a day after their loss to the Lions
Mike McClure has made over $1 million playing DFS and gives his best daily fantasy football...

The veteran linebacker is the franchise's all-time leader in sacks

It's unclear when Timmons, a free-agent signing in the offseason, will make his Dolphins d...