Complete corner Webb assumes larger leadership role with Ravens
Lardarius Webb has evolved from overwhelmed rookie to one of the NFL's most complete corners. Jason La Canfora says Baltimore will lean on Webb to fill the void left by Ray Lewis and Ed Reed.
• 10 min read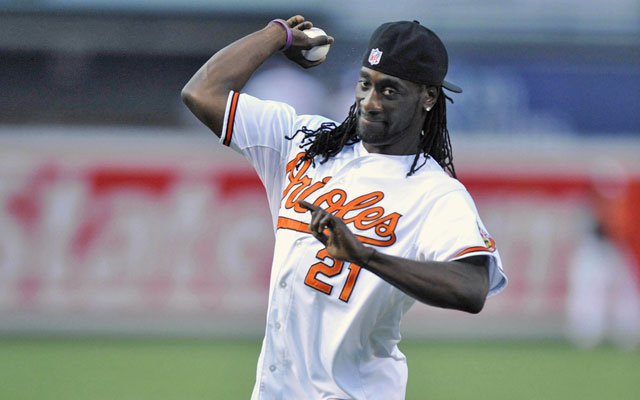 OWINGS MILLS, Md. -- Thousands of fans flocked to sparkling Ripken Stadium on Sunday, packing the home of the Aberdeen IronBirds, a Single-A affiliate of the Baltimore Orioles. Only, the IronBirds haven't even begun their season, and these were football fans, adorned in purple and black.
Ravens cornerback Lardarius Webb was holding his annual charity softball game, an event that has grown to become one of the signature offseason fundraisers in these parts, with the 6,000-seat stadium filled with people eager for a look at their Super Bowl heroes swinging a bat.
The game has made Webb's connection to his adopted hometown even stronger. His work in this community (along with that of running back Ray Rice, for one) and his standing in the Ravens locker room have only grown with the departure of long-time fixtures and future Hall of Famers Ray Lewis and Ed Reed. Webb is one of the players on this roster best equipped at trying to fill that significant void.
One of the most shocking things about Baltimore's run to the Lombardi Trophy last season is that it came without Webb on the field -- the Ravens' top defensive back went down in Week 6 with the second ACL tear of his career. His return -- at Thursday's OTA, Webb was getting more active in individual drills, his mobility steadily improving -- is just one of many reasons the Ravens, their defense in particular, could actually be much improved in 2013. And Webb's calming presence is a primary reason this coaching staff and front office aren't fretting about a leadership void in the absence of commanders Lewis and Reed.
Webb's national profile might not be as high as some other corners, but make no mistake, his importance to the Ravens -- on multiple levels -- cannot be overstated, and his bond with this community is very real.
Webb signed a six-year, $50-million deal last April that included $10 million guaranteed. The deal is reflective of his superior play since entering the NFL as a third-round pick in 2009 out of Nicholls State. He has evolved into a leader since his first training camp, when coach John Harbaugh called him out in front of the entire team and questioned whether Webb had what it took to be a Raven.
Now, in many ways, this is his defense. With dominating figures like Lewis and Reed no longer around, it's up to Webb, Terrell Suggs and Haloti Ngata to instill the principles passed down from their former leaders and get this unit back among the NFL's best.
"He's already established himself as that kind of guy," Harbaugh said. "He's been a leader and the thing that's interesting to me, I really don't understand how people kind of miss the point on leadership or our team dynamic. Leadership begets leadership; that's how it works. These guys have been led well, and they've followed, and you don't become a great leader unless you first understand what it means to follow.
"For Webby to have been in the secondary with Ed and others, and be in the same defensive room with Ray all these years, he's learned some things, and he's a natural leader anyway. It's not just Webby, it's all the guys, and that's how you build a program. That's what you build on. It's a cycle of life, and we've been through this every single year in one degree or another. And we're very well equipped to keep building."
Webb, from Opelika, Ala., had trouble just staying on the field early in his first summer with the Ravens, battling hamstring injuries and looking a bit overwhelmed at times. He was a small-school college safety with some great athleticism, joining a defense loaded with stars. Carrying the heaviest of expectations, the transition was, not surprisingly, a little rocky.
"John really challenged him in his first camp," said former Ravens special-teams standout Brendon Ayanbadejo, another imposing voice who departed the Ravens this offseason. "Webby was struggling some and John got on him. All of a sudden we heard this voice and it was, 'I'm not sure you have what it takes to be a Raven! Are you sure we didn't waste a draft pick on you?'
"He challenged him in front of everybody, and I really think that was the turning point for Webby. That was a spark for him. Some guys respond to that and from that point on, man, he was on his way. And that's kind of the Harbaugh way -- he can either massage it out of you or go right after you, and this brought the best out of Webby."
Webb chuckled while reminiscing on his initiation to Harbaugh, sitting on the sidelines during practice as a rookie when that diatribe came, and said he has made a point ever since to make sure he showed the Ravens he was more than worthy of his draft slot. That became obvious during his rookie season when he flashed playmaking skills, a mean tackling streak and excellent return skills.
"I always worked my ass off from then to prove and show that there was a reason they drafted me," Webb said. "That's the reason I'm here. I just go out and bust my butt."
Webb also absorbed all that comes with leadership, from the impassioned speeches and pregame dancing of Lewis, who fired up a huddle as few ever have. He also soaked in Reed's more laid-back approach of leading by example on the field and mentoring young players with regular extra film sessions at his house, always eager to impart knowledge or make a suggestion. Make no mistake, no one on this roster will have that same gravitas or command the locker room in quite the same manner, but there are still pillars here.
"I just always tried to pay attention to them," Webb said of Reed, now with the Houston Texans and the retired Lewis. "Not even really talking to them sometimes, just seeing how they carry themselves in a normal day, seeing how much they watch film. Ed would invite me to his house to watch film and show me what he's watching, showed me what he saw, and I tried to just emulate those guys.
"And now, I'm always open, always open and showing the guys what I'm watching at night, show them what I'm studying, giving them study keys. We talk about it in meetings and when we're at practice or even just watching practice, I'll tell them what I'm looking at now, what I see, and give them something to keep in their head and take home with them."
Coaches trust Webb implicitly and players gravitate to him, not just rookies.
Veteran safety Michael Huff, a newcomer this offseason but with plenty of experience, knows he can turn to Webb with any questions as he tries to master a new defense. Webb is in a unique position: He can man up on a receiver on the outside, he's a superb slot corner and he understands the defense like a safety (and could well transition into a ball-hawking safety as he gets deeper into his career). He's also Baltimore's premier blitzing option from the secondary (especially with safety Bernard Pollard gone), and he's more than willing to get physical against the run.
"He's been a leader of our group, and obviously Ed Reed has been holding that general spot for us," said corner Jimmy Smith, a 2010 first-round pick who has gravitated to Webb and might be poised for a breakout season himself. "But I think Lardarius has always been vocal with the corners and very hands on, and he helps us as a group.
"He's helped me learn to diagnose plays, how to read things, player recognition, as far as getting in and seeing things the way he sees them. He's helped me a lot, and he's pretty much our oldest corner now. Collectively, we're going to jell together with him in that leadership role."
Corner Corey Graham said: "He could play safety; he could play any position in the secondary. He really could. He's a very talented guy, a smart guy, he knows the defense and knows the system and, for our sake, it's great because when it comes down to it he could play any position back there for us and make sure we're all where we need to be, and that's a big plus. You can do a lot more when guys know what's going on."
Webb truly blossomed in 2011, playing at a Pro Bowl level, picking off five passes (including a 73-yard touchdown return), defending 20 passes, forcing one fumble and recovering two, thriving whether playing manned up against a top receiver out wide or beating one up in the slot, thriving despite difficult assignments. He was also arguably the Ravens' best defender through six weeks last season before he went down.
"He's our best blitzer out of the secondary, our best outside cover guy, our best slot guy," Harbaugh said. "He's a complete corner, no doubt about it. He does everything well, and he still, to me, definitely has his best football still in front of him from a technique and understanding of scheme and football standpoint, and from a health standpoint."
Last year, the first with Dean Pees as coordinator, the defense got back to its roots in being more aggressive, bringing more numbers in the pass rush (remember, 2011 Defensive Player of the Year Terrell Suggs was never really healthy all season). They had more of an innate attacking mindset than when Greg Mattison was coordinator (2009-2010). Webb was a central figure in that, and Pees has big plans for him.
"You saw it early in the season," Pees said. "We used him a lot when we blitz him from the slot. He's our nickel back. He's a good corner. He makes plays. He's a good tackler. He doesn't look that big out there (generously listed at 5-feet-10), but the guy throws his body around and thinks he's a linebacker.
"It's just the way he plays, the tenacity that he plays with. He just brings an extra spark to that whole secondary. Yeah, it's critical we get him back, and we want him back."
Harbaugh is being very careful. No one is rushing Webb, and the focus is on January around here, not July. Just seeing Webb back in uniform for OTAs, running around, has lifted spirits. Teammates are happy to see Webb's ebullience back after being crushed by his injury back in October.
"He was as down as I've ever seen him," said Webb's agent, Marc Lillibridge. "He was pretty devastated."
Now it's all smiles, with the Ravens meeting President Obama on Wednesday and getting their Super Bowl rings Friday night (a monster combination of bling and precious metal that would be best measured in pounds and not carats). He recently married (Harbaugh is strongly urging him to choose Hawaii for the honeymoon after hearing whispers that Biloxi might be in the equation) and is still in the afterglow of his wildly successful softball game and the accompanying auction and fundraiser at the Four Seasons at the Inner Harbor last weekend. Alas, much has changed since the pain of last fall.
Webb's presence alone helps make this unit look better on paper, and while the rest of the football world might be fretting about how to replace iconic leaders like Lewis and Reed, the Ravens are embracing change fortified in the lessons already passed down by their mentors.
"I'll just be myself," Webb said. "I thought I was a natural leader while Ed and Ray [were] here, and I just try to be myself. I talk to everybody, I communicate with everybody and when young guys have problems they feel they can open up and talk to me.
"So I just try to be myself and kind of be open and cool with everybody, so if they do have issues they can come talk to me about it, and when I'm out here and I'm working hard, people pay attention to how hard you work."
Everything you need to know for Week 3 of the 2017 NFL season is here

The Rams picked up their first win at Levi's Stadium in three years

The Jaguars are taking some cool cleats with them to England
Tickets are dirt cheap and very much still available for the TNF matchup

The Lions are being recognized after beating two popular preseason picks to make the playo...

Hernandez was 27 when he committed suicide in April 2017