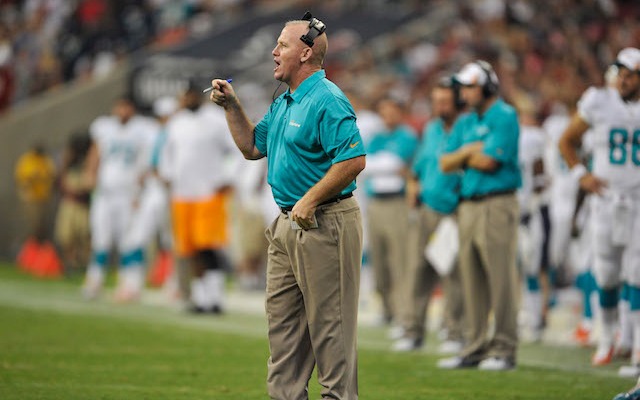 Wells report: Harassment details | Martin considered suicide | Coach involved | Racist messages | Incognito lawyer response | NFL, NFLPA, Dolphins to 'review'
Heads are beginning to roll in Miami. The Dolphins announced on Wednesday that offensive line coach Jim Turner has been fired. Miami's head athletics trainer, Kevin O'Neill, was also fired.
Both moves come after Dolphins owner Stephen Ross had a chance to review the Ted Wells report. Ross believes that both men exhibited poor judgment and therefore had to be let go.
"The language and behavior as described in the Ted Wells report are against the core values of our organization," Ross said in a statement. "After receiving the report, I conducted my own internal review of the facts to determine the appropriate steps for our organization. Jim Turner and Kevin O'Neill are good people who care a great deal about their profession and the players whom they serve, but both exhibited poor judgment at times which led me to this conclusion."
Turner's fate became pretty clear early on Wednesday when the Dolphins decided not to send him to the NFL combine in Indianapolis. 
In the Wells report, both Richie Incognito and Jonathan Martin agreed that Turner took part in some of the hazing involving an unidentified offensive lineman, however, when he was asked about it, Turner said he couldn't remember.
Here's an excerpt from the report involving Turner and Player A, who was later identified as Andrew McDonald. McDonald currently plays for Carolina.  
Turner was aware of the running "joke" that Player A was gay, and on at least one occasion, he participated in the taunting. Around Christmas 2012, Coach Turner gave the offensive linemen gift bags that included a variety of stocking stuffers. The gifts included inflatable female dolls for all of the offensive linemen except Player A, who received a male "blow-up" doll. [Jonathan] Martin and another player reported that they were surprised Coach Turner did this; Martin further said that he was offended that Turner had endorsed the humiliating treatment of Player A by participating in it. Incognito and others agreed that this incident with Coach Turner occurred. When interviewed, Turner was asked if he gave Player A a male blow-up doll. He replied, 'I can't remember.'
Dolphins coach Joe Philbin mentioned the Wells report as the reason Turner was let go.
"As the Head Coach of the Miami Dolphins, it is my responsibility to create an atmosphere that allows each player the opportunity to reach his full potential," Philbin said in a statement. "As Stephen Ross said, and I agree, the language and behavior outlined in Ted Wells' report was disappointing and unacceptable."
Turner had been with the Dolphins since February 2012 when Philbin hired him to serve on his first coaching staff in Miami. Before that, Turner was the offensive line coach for four years at Texas A&M.