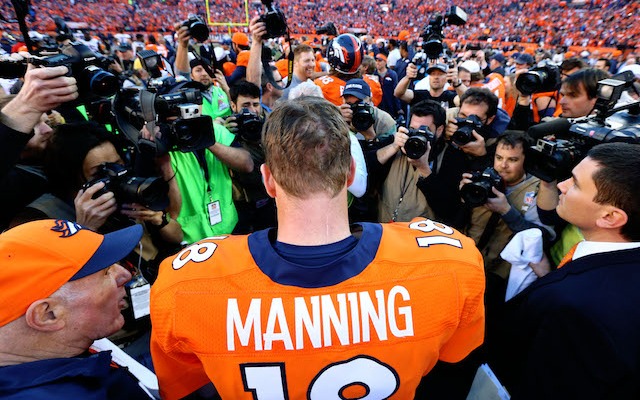 Former Chargers quarterback Ryan Leaf has made a lot of bad decisions in his life -- if you need proof, just click here, here or here -- and now everyone in Indianapolis should be thankful for at least one of those bad decisions. According to a new book by former NFL agent Leigh Steinberg, Leaf sabotaged the 1998 NFL Draft process so that the Colts wouldn't draft him. 
That's right Indy, Ryan Leaf didn't want any part of your city. According to Steinberg, Leaf purposely skipped out on a meeting with then-Colts coach Jim Mora so that Indianapolis wouldn't draft him. 
Charles Woodson, Ryan Leaf & Peyton Manning hang out while shooting a commercial weeks before the 1998 draft: pic.twitter.com/YQPWFqD3ZH

— Andy Gray (@si_vault) April 25, 2013
According to Steinberg, Leaf was the frontrunner to go No. 1 overall to Indy, but Leaf wanted to go to San Diego at No. 2. At that point Steinberg hatched a plan for Leaf to skip the meeting with Mora, which you can read about below in an excerpt from his book, The Agent (Excerpt via For the Win). According to Steinberg, former Chargers general manager Bobby Beathard also knew about the plan. 
It was not until several months before the draft that I realized Ryan might present challenges I didn't anticipate. By then, it was too late.

"No way do I want to play in Indianapolis," he told me, referring to the Colts, who owned the No. 1 pick. Instead, because of the exceptional weather and the more laid-back lifestyle, he preferred the San Diego Chargers, who would go second.

"That's fine," I warned him, "but the way to achieve this is not exactly going to help your image. You'll get a lot of criticism." Ryan didn't care about his image, though, only his destination.

Making his wish come true would not be easy. The Colts leaned toward choosing Ryan. Many scouts also saw him as a better prospect than Peyton Manning. Hard to believe now, isn't it?

I told Ryan it would do no good to approach Colts GM Jim Irsay. Irsay saw the sport the same way he viewed his other passion, rock 'n' roll. Just as musicians tended to be a bit eccentric, so did football players, and that did not stop him from drafting Jeff George or trading for Eric Dickerson. "Leigh," he used to say, "it's about the freaking talent." If someone is that gifted, in Irsay's opinion, you simply find a way to deal with his personality.

Instead, the case needed to be made to the Indianapolis coach,

Jim Mora, and it couldn't come from anything Ryan said. It had to come from what he did, or, rather, did not do.

"If you go to the combine," I told Ryan, "but fail to show up for a meeting with Mora, that should do it. Jim is a real prideful person who has a tendency to explode. I am not recommending you do this, but if you are desperate to go to San Diego, this is the way."

Ryan approved, but I first cleared the idea with Chargers general manager Bobby Beathard, lest San Diego also question my client's reliability. Beathard went along with the ruse. If he'd had a problem, Ryan would've shown up for his meeting with Mora.
The ploy worked and the Colts ended up taking Peyton Manning No. 1 overall instead of Leaf. If Steinberg's story is true, then the people of Indianapolis might want to build a Leigh Steinberg statue. 
However, it should be noted that former Colts general manager Bill Polian disputes Steinberg's account. During an interview with Mike and Mike on Tuesday, Polian confirmed that Leaf skipped a meeting, but he's not buying the part where Steinberg purposely hatched a plan so that Leaf would drop to the Chargers. 
"Agents cannot manipulate anything in the draft," Polian said, via ProFootballTalk. "Leigh and other agents for years and years have told kids that they can get players drafted by a certain club at a certain spot, and nothing could be further from the truth. That assumes that we on the club side are idiots, that we're able to be manipulated, that we don't do our homework, that we don't watch the tape, that we don't go all the way back to the junior high school coach and high school principal, teachers, doing our due diligence. It's just the kind of hubris that existed among agents years ago where they told kids flat-out, 'I can get you taken here, I can get you taken there.' Nothing could be further from the truth."
Beathard, the former Chargers general manager, said on Tuesday that he knew nothing about the events described by Steinberg. According to Beathard, the story doesn't even really make sense because the Chargers wanted to take Manning over Leaf. 
"We absolutely wanted to draft Peyton," Beathard said "I knew Archie and Olivia [Manning], I knew the family. And that's who we wanted. I had seen both quarterbacks personally. I had some reservations about Ryan."
In the end, everything worked out for everyone involved. Except for Beathard, and the Chargers, and Leaf, and former San Diego coach Mike Riley who was stuck with Leaf as a starting quarterback for 18 games over two seasons.