Front-office changes could be in store for the Houston Texans
The Texans got their guy in Bill O'Brien. But are more changes on the horizon? Jason La Canfora reports that GM Rick Smith may get ousted as O'Brien reshapes the franchise.
• 1 min read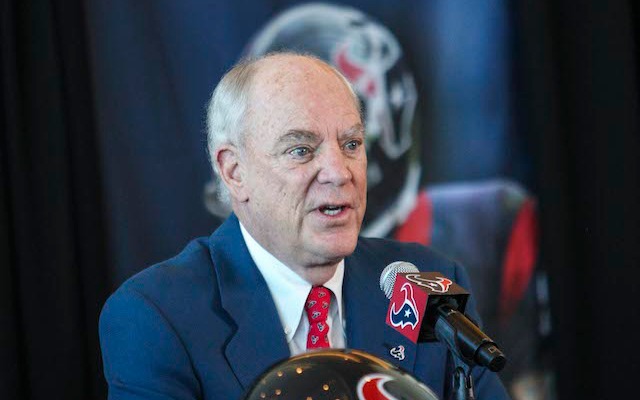 More NFL coaches news: Coaching change tracker | Latest news
For more news and notes from Jason La Canfora, tune into The NFL Today on Sunday at 2 p.m. ET on CBS
The Texans could be reshaped in the coming years by new head coach Bill O'Brien, and that process began last week with the team letting go of well-thought-of pro scouting director Brian Gardner, as well as pro scout Kevin Murphy. Team sources said there is definitely an atmosphere of concern for more change with the new coaching regime.
Texans owner Bob McNair named O'Brien coach following 14 consecutive losses to the end a season that began with Super Bowl expectations, paying more than $6 million to Penn State just to get the coach out of his contract there. O'Brien comes from the Bill Belichick family tree at the pro level, which is a model set up for the head coach to have extreme authority and many believe that O'Brien will eventually bring in a personnel man closely aligned with him.
McNair used an outside firm to lead his coaching search, not GM Rick Smith, who is very well regarded and who has had a very strong relationship with ownership. Many other GMs believe Smith would have pushed Ken Whisenhunt for the coaching opening (McNair ended up not waiting to interview the Chargers offensive coordinator, who was still in the playoffs), and if O'Brien does curry more favor there, then the shakeup this past week may be a precursor to more change down the road.
O'Brien, a quarterback guru, will obviously have significant say on the first overall draft pick and how to use it, given that a need at quarterback is the primary concern for the entire organization at this point. Some have speculated that former Chiefs GM Scott Pioli, who worked with O'Brien in New England (the two also share an agent), could eventually join that franchise in some capacity as well.
Ken Norton Jr. didn't even last a week in San Francisco

One bettor in Vegas is going to make some serious money if the Jaguars win it all

The Jaguars, Vikings and Eagles have combined to win exactly zero Super Bowls ever
The Steelers wilted under the pressure of the postseason

The Bears fan is now officially linked up with the Packers quarterback

The Cardinals have the future in mind at quarterback with the dynamic Louisville quarterback...