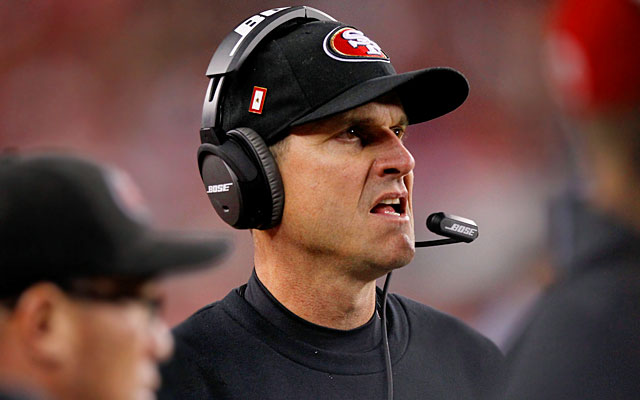 Oakland Raiders owner Mark Davis remains hopeful of landing Jim Harbaugh to be his next head coach, league sources said, and is prepared to spend big bucks and part with draft pick compensation to do so. Harbaugh, whose family has expressed a strong desire to remain in the Bay Area in the past, has Raiders ties, and several sources connected to emerging coaching searches believe Oakland will be his most serious suitor.
While many are connecting Harbaugh to the opening at Michigan, where he was a star quarterback, sources close to the coach maintain he is not interested. Harbaugh's family has close ties to outgoing Michigan coach Brady Hoke and Harbaugh is much more interested in NFL possibilities.
It is a foregone conclusion he will not be back in San Francisco, with the 49ers hoping to land draft pick compensation from an NFL team for him (he has one year left on his contract and, interestingly enough, the 49ers are in Oakland this week). Also noteworthy is that Davis' father, Al, was involved in the last coaching trade, sending Jon Gruden to Tampa Bay.
Trading Harbaugh out of the NFC would be a priority for the 49ers, and while having Harbaugh remain in the same media market as San Francisco would not be ideal, Davis could offer the best return.
Despite the Dolphins' 7-5 record, team owner Steve Ross remains one of Harbaugh's biggest supporters. Ross tried to hire him in the past, he is desperate for a face-of-the-franchise to attract fan support, and he could end up being Davis's primary competition for Harbaugh. Davis's desire for Harbaugh cannot be understated, sources said, with him, too, in a stadium quandary and desperate for a coach he can sell and try to add value to his franchise as he seeks a move to Los Angeles.
The Jets could be a possibility for Harbaugh as well, and it would require owner Woody Jonson parting with general manager Jon Idzik in the process, which could be in the works regardless.
With Gruden very likely to remain in the broadcast booth at this point, and ditto for CBS Sports' Bill Cowher, who isn't even entertaining coaching options, Harbaugh will be the first big domino to fall in the annual coaching cycle. If he truly does desire to stay in the Bay Area, or at least California, there will be an option for him should the Raiders move south.
And if he ends up in Oakland, it would be anything but a surprise.